National party leaders running for cover in Tamil Nadu

Radhika Giri
&nbsp | &nbsp Chennai
08-September-2012
Vol 3&nbsp|&nbspIssue 36
With tempers running high in Tamil Nadu over the Sri Lankan President Mahinda Rajapaksa's proposed visit to Sanchi in Madhya Pradesh to lay the foundation stone of a Buddhist learning centre there, leaders of national parties in the State are now trying their best to quietly distance themselves from the controversial invitation.
After the BJP state president Pon Radhakrishnan distanced his party from the invitation extended to Rajapaksa, it is the turn of the Congress leaders now to dissociate their party from the Lankan leader's visit, which threatens to snowball into a major political controversy.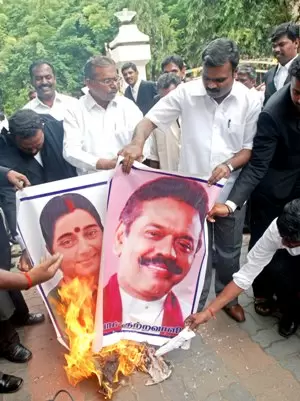 Protests against Rajapaksa's visit to Sanchi are being held in many places in Tamil Nadu
Commenting on the issue, union shipping minister and senior Congress leader, G K Vasan today told reporters in Chennai on the sidelines of the third Southern Region Shipping conclave that it was the Madhya Pradesh government that had extended the invitation to Rajapaksa.
"The invitation was given by the MP government. You must ask them about it," said Vasan.
The state BJP had since 2009 painstakingly built an image of being sympathetic to the Tamil cause, projecting itself as an alternative to the Congress which is perceived to be working against Sri Lankan Tamils.
With BJP leader Sushma Swaraj's announcement of the visit of Rajapaksa to her constituency in MP, that image is slowly disintegrating among sections of Tamil parties that supported a BJP alternative to the Congress in centre.
Since the controversy broke, the state BJP president had called on Vaiko to explain that it was the Congress's decision to invite Rajapaksa.
However, Vaiko seems unconvinced and appears firm on taking bus loads full of party cadres all the way to Sanchi in MP, a state ruled by BJP's Shivraj Singh Chauhan, to show black flags to Rajapaksa.
"An invitation to Rajapaksa anywhere in India by anybody is an invitation for trouble. We are determined to show our displeasure to a visit of Rajapaksa anywhere in India," MDMK spokesperson G Nanmaran told The Weekend Leader.
MDMK cadres, including Vaiko, will be leaving Chennai on 17 September in buses, to arrive at Sanchi on 19 September with 1000 cadres for the demonstration.

Also Read
'India should not entertain a war criminal'

Trending Now: