'India should not entertain a war criminal'

05-September-2012
Vol 3&nbsp|&nbspIssue 35
Recent protests in Tamil Nadu against the racist regime of Sri Lanka have had the desired effect in bringing back the spotlight on President Mahinda Rajapaksa, who is responsible for the killings of thousands of Tamils during the last stages of the country's civil war that ended in May 2009.
None of the recent developments in the State are aimed at ordinary citizens of Sri Lanka, as it is being made out in sections of the media.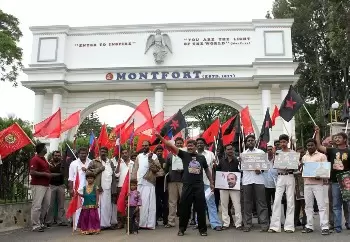 Pallam Raju's statement that India will continue to train members of the Sri Lankan armed forces triggered the protests (Photo courtesy: Nakkheeran Bi-Weekly)
The call for snapping of sporting and business ties with Sri Lanka and the protests against the Sinhalese pilgrims are signs of frustration in Tamil Nadu over New Delhi's failure to make Rajapaksa face trial in the International Court of Justice for war crimes.
Minister of State for Defence Pallam Raju's irresponsible statement that India will continue to train members of the Sri Lankan armed forces, at a time when passions were running high in Tamil Nadu over the training provided to Sri Lankan defence personnel at Wellington, aggravated the situation further.
Before the anger over Raju's remarks subsided, reports of Rajapaksa's visit to India appeared in the media. That was the immediate provocation for the protests in Tamil Nadu targeting the Sri Lankan tourists.
India should not entertain a war criminal, a man accused of killing thousands of Tamils in cold blood and presiding over a regime, where voices of dissent are silenced with the gun, and journalists and political opponents are abducted in white vans never to be seen again.
The efforts made by India and few other countries to pretend that everything is ok in Sri Lanka and that this modern-day Hitler has done no wrong, are not going to save this man from the gallows.
On the contrary, it is going to complicate matters. New Delhi remains stuck to an ostrich policy and fails to understand the public sentiment in Tamil Nadu. It lets itself to be misled by an elitist bureaucracy and a section of the media, which has failed to report facts.
By continuously ignoring the protests in Tamil Nadu against the Rajapaksa regime, and calling these protestors as Tamil chauvinists and members of fringe groups, and misrepresenting these protests as against the Sinhalese people, New Delhi is allowing the wounds to fester.
On a positive note, the time is now ripe for mobilizing public opinion across India against Rajapaksa. Parties in Tamil Nadu should treat Rajapaksa's Indian visit as a godsend and enlist the support of Dalit Buddhist groups in North India to build up opposition to Rajapaksa among the Indian Buddhists.
Rajapaksa is expected to visit Sanchi in Madhya Pradesh on September 21 to lay the foundation stone of the Centre for Buddhist Studies. MDMK leader Vaiko has already announced plans to stage a massive protest rally in Sanchi against the former's visit.
Both the BJP and Congress leadership have close relations with Rajapaksa. In fact, Rajapaksa is visiting Sanchi on the invitation of senior BJP leader and leader of Opposition, Sushma Swaraj. Sanchi falls under Sushma's constituency, which is just one of her interests in inviting Rajapaksa over for the function.
It would make sense for Vaiko and other Tamil politicians to seek the help of other North Indian leaders like Ram Vilas Paswan, who are sympathetic to the Tamil cause and ensure that Rajapaksa is not able to enter any part of India, and not just Tamil Nadu alone.
P C Vinoj Kumar is Editor, The Weekend Leader

Also Read

Singer Hariharan urged to boycott Colombo concert

Trending Now: