Singer Hariharan urged to boycott Colombo concert
05-July-2012
Vol 3&nbsp|&nbspIssue 26
A Tamil Nadu based human rights outfit, May 17 Movement, which has been spearheading a series of campaigns against the Sinhalese racist government of Sri Lanka, has urged singer Hariharan of the popular band 'Colonial Cousins' not to take part in a music concert organized by the Sri Lankan government on July 7 at Colombo's Bloom Fields ground.
Pointing out that the Sri Lankan government has been accused of genocide and crimes against humanity, the group said Colombo has been organizing various cultural events as part of its public relations to restore its 'tainted image' in the wake of the UN report that indicted the country's security forces for its conduct during the last stages of the war against the LTTE in 2008-2009.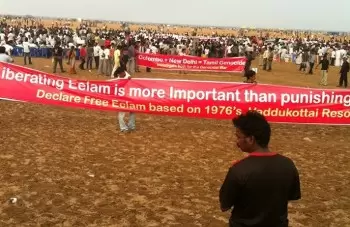 May 17 Movement has been spearheading a series of campaigns against the racist government of Sri Lanka
Urging Hariharan to boycott the concert, the statement said: "These events are designed to create an image of Sri Lanka as a peaceful and democratic country and convince the world community that it is free of Human Rights violations.
"In direct contrast to its attempts, the International Committee of the Red Cross (ICRC) declared yesterday, that nearly 15,000 Tamils have disappeared since the end of the civil war in May 2009."
The May 17 Movement has begun rallying the support of civil society members and film industry personalities to urge Hariharan to cancel his visit to Colombo.
According to the statement, award winning Tamil lyricist Tamarai has already contacted the singer and has expressed the anguish of Tamils over his decision to participate in the event.
Directors Bharathiraja, Ameer, and Vetrimaran have also requested Hariharan to boycott the concert.
In his letter to Hariharan, Ameer has pointed out that even the American reggae band Big Mountain had declined to perform in Colombo.
Explaining its decision Big Mountain wrote in their blog: "We were recently invited to perform songs like Big Mountain at a reggae festival in Sri Lanka. We were encouraged by this invitation as it provided yet another opportunity for us to share our de-colonial message with our brothers and sisters in humanity.
"We are declining this invitation, however, due to our concern with the violence that has transpired there as of late and that has been described as part of Sri Lanka's "civil war."
"Whilst we would be honored to help convey a message of peace and reconciliation, we also feel that to play a concert of this type, at this moment in time, would help to gloss over or legitimate conditions of systemic violence that have transpired in that region and towards indigenous populations in particular." – TWL Bureau

News Update

Hariharan has cancelled his Colombo trip respecting Tamil sentiments. Posted July 7, 2012



Trending Now: