Green buildings are inevitable, consensus opinion at workshop

Radhika Giri
&nbsp | &nbsp Chennai
30-July-2012
Vol 3&nbsp|&nbspIssue 30
The 'Trends in Green Buildings' workshop organized by The Weekend Leader last week achieved its goal as leading architects, builders and renewable energy experts engaged in a conversation with budding architects drawn from some of the finest architecture schools in the State and triggered their interest in the fledgling green movement in construction.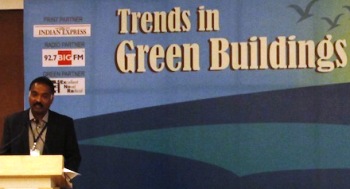 Chitty Babu (Photos: Blesson Andrews)
If some of the speakers went by their experience of going by the laid down norms of international green building rating organizations, others like Chitra Vishwanath (Principal Architect, Biome Environmental Solutions, Bangalore) and Deepak Thakur (Corporate Head, Solar Business Group, Thermax India, Pune), were radical and attempted to turn existing mainstreamed ideas on their head.

Setting the tone for the event was TChitty Babu, Secretary, Confederation of Real Estate Developers Association of India, National, who spoke of the inevitability of green buildings in the context of global warming and climate change, and predicted that many green buildings would be built in the future.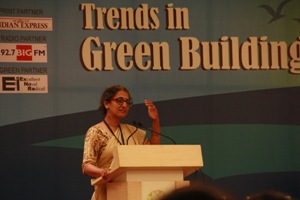 Chitra Vishwanath
Chitra shared details of her own house in Bangalore, which she described as "an experiment still in the making." Her house was constructed using the dug up earth from their property. She urged her audience to help their future clients understand that they had to "adjust to the surroundings rather than expect the climate to adjust" to them.

Vineeta Badawe, Resident Director, V V Architects, designer of India's highest rated green buildings cited examples from some of her projects including the Titan building at Hosur which needs no air conditioning. She also gave several instances of innovative designs to let in natural air and ventilation, which reduced the power consumption.
Vineeta Badawe
Speaking on the topic "Achieving Carbon Neutrality: A Case Study" Deepa Satiyaram, Founding Director, En3, said that green buildings would make sense when we understand how we occupy and operate from them.

"What we do occupying the building is more important than constructing a green building itself," she stressed advising a complete change of lifestyle. Simplifying the concept of carbon footprint she suggested creating an inventory of one's own carbon footing in day-to-day activities and accounting for it in a balance sheet in the manner of accounting money, in a month, in a year, and go in for a lifestyle change.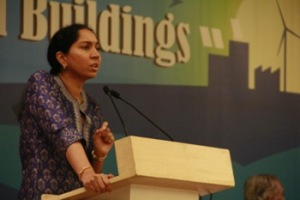 Deepa Satiyaram
"Understanding whether the current life style is really sustainable is important and is more crucial than certifications. And sustainability is a necessity, not a luxury," said Deepa.

Suresh Krishn, Managing Director of Chennai based Isha Homes, which is coming up with South India's first pre-certified Platinum rated project, the Isha Mia Villa, touched upon the need of developers to sustain the growth with minimum negative impact on the environment at a time when paddy fields are turning into homes.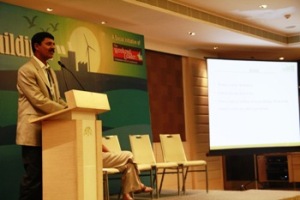 Suresh Krishn
Raising the toxic effect of painting in buildings, he said developers had to think of smart designs. "Cross ventilation, allowing for daylight inside the house, high roof and energy saving fixtures" were some of his suggestions for a future smart home.

Speaking on "Solar Hybridized Comfort Cooling Solutions - Concept to Reality," Deepak Thakur said that solar cooling solutions are set to become a visible reality in the years to come.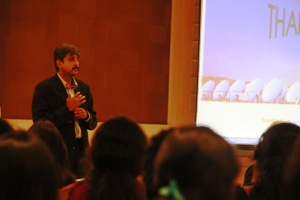 Deepak Thakur
Stating that the energy saving potential in every building stands at about 40-50 percent, he said that upcoming models of the vapor absorption system in air conditioners can bring down consumption of electricity to 0.5 watt of electricity from the 16 watt of electricity consumed currently with existing models of air conditioners.

Delivering her talk on "Creating Sustainable Places, Lessons from England - From Micro to Macro," Sarah Allan, founding director, Field Work Enterprise, United Kingdom spoke of the challenges in planning dwellings, and providing for public spaces that would sustain the environment in a developed nation like the UK.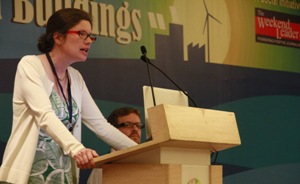 Sarah Allan
Working with politicians and winning them over can help matters in managing a city, she told the young audience.

Speaking on customizing solar power solutions for the common man, Vikshut Mundkur of Solar Electric light Company India, explained his organization's work in delivering solar power solutions for simple lighting and mobile charging needs in rural India.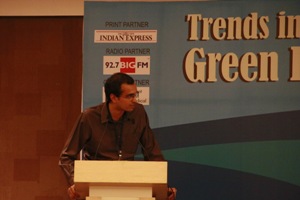 Vikshut Mundkur
Solar companies had to ensure responsible service support to their products, he said. "If a company falters on service back up, people tend to blame the solar technology as a whole and not the company. This is a problem."
In his valedictory address, C N Raghavendran, Chairman of LEED India and the Chennai Chapter of CII-Indian Green Building Council, pointed out that large buildings have become guzzlers of resources and emphasized on the need to introspect our lifestyle.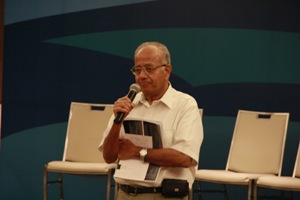 C N Raghavendran
He cautioned students against thinking that technology can solve all problems without understanding its downside. "For every green building there are thousands calling for attention. That is the challenge for the next decade," he said.

He also took on the issue of social implication of such development and said that all this resource guzzling will eventually push the poor to suffer more, which was not good for society.

The end of the meeting saw a panel discussion with Prof S F Rajaratnam, Chairman, Indian Institute of Architects, Tamil Nadu Chapter, leading advisors on Green Buildings from the NGO SUSTAIN, G Dattatri, and MG Devasahayam, and Prof J Subramanian, executive director, STUP group of companies.

Cautioning against random development, Devasahayam , the former chief secretary of Haryana government, suggested making a law to build roof top solar energy paneling and wind power harnessing mandatory just as rainwater harvesting was made mandatory in Tami Nadu.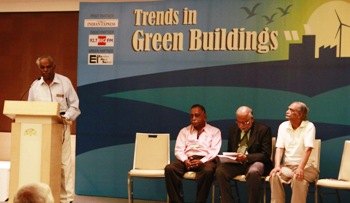 Panel discussion: (from l to r) M G Devasahayam, S F Rajaratnam, J Subramanian, G Dattatri

Thanking the speakers and delegates, Sam Rajappa, Consulting Editor of The Weekend Leader, recalled the contribution of celebrated architect Laurie Baker who had taken to green building concept 50 years ago.

Laurie broke the prevalent belief that low cost building was for the poor. Advising students to visit the houses that Laurie Baker built, he said they could visit the house of cartoonist Abu Abraham in Trivandrum and The Trivandrum Centre for Development Studies that were built without the use of steel or cement.

The Weekend Leader's Editor P C Vinoj Kumar had earlier explained the purpose of holding the workshop. He said awareness on green buildings had to be created in tier two cities and traditional green practices in architecture encouraged.
Also Read

A workshop where students pledged to demystify green building and take it to the common man


Trending Now: