A piece of cloth tied around his mouth is his only protection

Prathiba Raju
&nbsp | &nbsp New Delhi
29-June-2012
Vol 3&nbsp|&nbspIssue 26
He knows it may prove fatal, yet 55-year-old Uday Ram does not hesitate to enter the narrow manhole filled with fermented faeces, urine and other chronic waste flushed down by millions in the capital - and that without any safety gear.
A piece of cloth tied around his mouth is his only protection.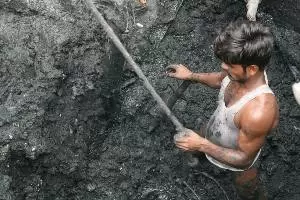 At least 25 manual scavengers die in Delhi every month (File Photos By Senthil Kumaran)
Ram is one among the thousands of sewer workers employed by contractors who venture into a mixture of deadly waste, armed only with a bamboo stick to remove clogs. It is no wonder many die an inhuman death.
Only last week, labourers Moolchand, 45, and Dileep, 42, died in east Delhi after inhaling poisonous fumes while cleaning a sewage treatment tank. Five others who rushed to save them fell unconscious.
Such incidents seldom seem to jolt agencies like the Municipal Corporation of Delhi (MCD), which uses sewer workers supplied by contractors.
"At least 25 manual scavengers die a month in Delhi because they work without proper equipment. Thousands suffer from serious health problems and die performing a dehumanising job," says Harnam Singh, chairman of the Delhi Commission for Safai Karmcharis.
"The civic agencies are not bothered," he alleged.
According to the Delhi Jal Mal Karamchari Sangh, an association of sewer workers, the Delhi Jal Board (DJB) - which dominantly takes care of sewers - has about 4,000 sewage workers on its payroll.
Another 7,000 get employment through contractors.
The contractors supply workers to the MCD and the New Delhi Municipal Council (NDMC) as well as to DJB in some areas.
"Many die in sewers while cleaning drainage blocks. No FIR (First Information Report) is lodged," alleged Devraj Bhadana, general secretary, Delhi Jal Mal Karamchari Sangh.
Bhadana said those facing maximum hazards were the contractual labourers. Those employed by civic agencies get safety kits, including oxygen cylinder and mask besides medical insurance.
Why do then sewage cleaners keep dying?
Those who get safety kits claim they are not user friendly.
Umesh Jadhav, who works for DJB, said they get a thick rope with safety belts, which helps to pull up a worker if he faints.
"The oxygen masks are not in good condition and oxygen cylinders weighing 16 kg are too heavy for us to carry," said the 45-year-old.
DJB officials have another story.
"Workers are allowed to clean only shallow manholes and are provided with gumboots and gloves," said a DJB official.
"We use super suction machines to clean deep sewers. Workers are given masks," he added.
The Delhi government says it is creating a programme module by July to train sewer workers on how to perform their work safely.
According to Harnam Singh, DJB manages a network of 5,600 km of sewers with about 150,000 manholes. Delhi generates around 2,781 million litres of sewage a day.
Physician Ashish Mittal, who was part of a study by the NGO Centre for Education and Communication, said many sewer workers suffer from chronic diseases.
"Most suffer from tuberculosis and respiratory problems and skin allergies as they inhale methane and hydrogen sulphide gases generated in sewage, which are highly toxic," he added.
Health experts say most sewer workers' life expectancy is 10 years less than the national average.
To beat the filth, many take alcohol.
"Ninety percent of workers consume alcohol before they enter the drainage, and gradually get addicted to it," says Jadhav. - IANS

Trending Now: