With money, you can have as many mobile connections as you want in someone's name

Umesh Patil and Abhishek Kumar
18-May-2012
Vol 3&nbsp|&nbspIssue 20
A virtually unstoppable flow of illegal SIM cards in the country is all that a terrorist needs. A undercover report by The Sunday Indian reporters Umesh Patil and Abhishek Kumar exposes just how susceptible we are to this mobile threat

For a terrorist hell bent on wreaking havoc in India, the ordinary Subscriber Identity Module or SIM card on a mobile phone is a highly potent weapon. A quick change of the SIM can help in concealing identities and camouflaging the movement of provocateurs without difficulty, leaving baffled security agencies with nothing but thin air to clutch at.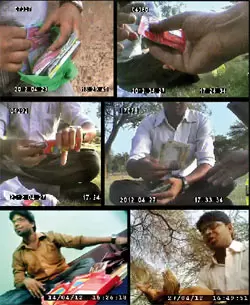 The Sunday Indian sting has revealed that anyone can buy a SIM card of any telecom major like Airtel, Idea or Vodafone without identity proof (Photos Courtesy: The Sunday Indian)
It would be instructive to recall that the biggest breakthrough and indeed the course of investigation itself in the November 2008 attack in Mumbai was determined by the discovery of mobile telephone numbers and their SIM cards by intelligence agencies who managed to trace the attack to Pakistan and their proxies.

So when The Sunday Indian (TSI) decided to probe deeper, what emerged was a comprehensive shocker. An elaborate network of prosperous middlemen willing to supply as many SIM cards as a terrorist may want, without any identification proof considered mandatory for obtaining one; large scale flouting of Department of Telecom (DoT) regulations by telecom companies and a callous disregard for security concerns in a country which has been at the receiving end of Pakistan-sponsored terror for more than two decades now.

In one of the most comprehensive undercover operations ever undertaken, TSI reporters posing as retail buyers of SIM cards with the help of hidden cameras, witnessed a lucrative, proliferating racket flourishing in India's gray market, not governed by normal market dynamics nor scrutiny by security agencies and constituting the single-most potent and prescient threat to the country's security.

Sample this: In south Delhi, TSI reporters establish contact with a middle man who specialises in supplying SIM cards, going by the name of Anurag. Posing as members of a friendship club, the reporters ask Anurag for what they believe is a distinct impossibility.
Can we buy 50 to 60 SIMs in a week's time? Anurag is visibly disappointed. "Just 50 to 60," he queries, not certain if he was wasting his time. "Sure." The price he quotes is Rs. 550 for each SIM and strictly no haggling. After all, Anurag says he has to "pass on the money forward." Who does he have to pay? Well, he has to "take care" of channel managers at telecom companies who supply him the SIM card.

The exchange continues. Can we buy SIM cards only for Delhi-NCR or other regions too? "Anywhere," returns Anurag, promptly. The reporters then order cards from Punjab, Haryana, Delhi, western UP, eastern UP, Jammu, Mumbai, literally anywhere in the Republic of India.

But surely you want ID proof, which is an established security procedure? Anurag is cool and unfazed. "Aakhir channel manager kis baat ke paise le raha hai?" (After all why am I paying the channel manager?) he retorts.
With the reporter's bonafides firmly established, Anurag gets up close and personal. "Telecom executives," he confides, "can fix anything." He goes further: "Genuine buyers attach their ID proof and photos and we use them to issue fake SIM cards."
Wow! In a conspiratorial hush, Anurag lets it be known that in case there is bulk demand for SIMs, they also establish a phony company on paper and get them issued as corporate connections. The plot gets thicker.

Anurag offers more variety than the TSI team ever expected. When asked whether we could also avail of a post-paid SIM, he replied in the affirmative. "In my view, do not use too much of post-paid because they do not last long,'' was his sage advice.
His indication is towards the necessity of paying the monthly bill – thereby exposing your real identity – for continuing to use post-paid SIMs. But the fact is that post-paid connections (with international roaming) are also available just as easily in the illegal SIMs market. So if a terror element procures an unverified SIM, it could be used anywhere – maybe by the al Qaida in Afghanistan or some rogue ISI element sitting in Rawalpindi.

In other words, if the Lashkar-e-Tayebba (LeT) decides to launch a series of deadly explosions all over the country, there are many Anurags floating around these days who could get them as many SIM cards as they like with an endless number of assumed identities making the job of coordinating terror easy and a nightmare for those trying to investigate.
How do telecom companies flout rules so openly despite clear directives not to do so by the government, which has also threatened to impose penal provisions?

The TSI undercover team had placed their orders on April 14 this year. On the delivery date, Anurag asked them to be present at an apartment in Indirapuram in neighbouring Ghaziabad, Uttar Pradesh.

True to his word, when Anurag opened his SIM card Pandora's box of illegal sims and started dishing out the varieties he had at his disposal, it was a mind boggling sight. He had it all: a total of 120 Airtel, Idea and Vodafone SIM cards. Of them 100 odd were from the Delhi-NCR region while the rest from other states.
The deal making continues. The reporters want 60 Delhi-NCR numbers and five from other parts of the country. "It will cost you Rs 38,000,'' the middleman says with a flourish.
We pay up immediately. What is the guarantee that the SIM cards with phoney names and ID-proofs will not pack up? "Even if one among the lot packs up, I will return all the money to you,'' Anurag boasts confidently, adding "This is not my first deal. I have sold thousands like them.''
In the quest for more clinching camera evidence, the undercover reporters do another deal with Anurag, this time at a public park adjacent to the Lotus Temple in south Delhi. They buy an additional 26 SIM cards, a total of 91 in all, for a total cash payment of Rs 52,500.

The undercover reporters want to get closer to see just how deep the rot runs and in their search for such pliable and efficient middlemen, search Delhi's landscape. This probe took them to north east Delhi's Bhajanpura area where they meet Abdul, another fly-by-night operator.

Abdul offered the team more than 100 Reliance SIM cards along with other companies. What about other states? "No problem," he says, "just tell us what you want and it will be delivered."
The undercover team struck a deal and ask for 50 SIM cards as a first tranche. Bingo, out come 50 Reliance cards! Can he manage SIM cards other than Reliance? "Tomorrow," because at the moment he just has Reliance sims, Abdul replies. The undercover team coughs up Rs 1,000 for 10 such cards.

When asked if security could be a problem, Abdul told the reporters that he owned a shop in Tronika City patronised by locals. "I use their ID proofs to issue SIMs to others,'' he admits candidly. In the eventuality of an illegal SIM card being used in a terror attack, there is a good chance that an innocent will have to pay the price because it is officially registered in his or her name.

Now the clincher and a demonstration of just how fragile the system is. Using these freshly procured SIMs, the TSI team have uninterrupted conversations with officials of the Delhi Police, Union Home Ministry, senior Congress and BJP leaders and Indian Army officials over several weeks.
They go a step further. Calls from these fake SIMs were made to Pakistan, Bangladesh, Dubai, Iran and Israel. Amongst the other things it revealed, rather scarily, that anyone could use a fake card to hold extended conversations with people sitting in highly sensitive positions both in and outside the country.

Even though the TSI team bought 101 SIM cards at will, they could have as well increased the number to 1001 or even 10,001. Should investigators be interested in pursuing the truth, the 101 SIMs are currently in the possession of TSI.
By special arrangement with The Sunday Indian


Trending Now: