Anti-dam activist accuses Gogoi govt of denying 'space' for democratic protests
16-May-2012
Vol 3&nbsp|&nbspIssue 19
The Krishak Mukti Sangram Samiti (KMSS), a powerful farmers' body in Assam, Tuesday accused the Congress government in the state of taking away "space" for democratic protests and warned this will only help forces like the Maoists to grow.
KMSS general secretary and anti-dam activist Akhil Gogoi said here that the Maoists would take over the whole of Assam if Chief Minister Tarun Gogoi and his government deprived the common people of the space for democratic movement and protests.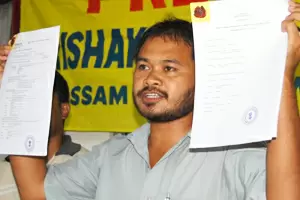 Akhil Gogoi says KMSS is going to form a political party by 2015
He was speaking to the media over the alleged police atrocities on anti-dam activists in Lakhimpur and Dhemaji districts recently.
"The state government has perpetrated inhuman atrocities towards the people of Lakhimpur and Dhemaji districts of Assam, who have been opposing Lower Subansiri Hydroelectric Power (LSHP) project," the activist said, claiming that a total of 19 people, including six women, have been arrested by police and security forces since last Friday.
The KMSS and several other pressure groups had been preventing the National Hydroelectric Power Corporation (NHPC) from carrying construction material to the LSHP project in the district since Dec 26 last year.
"On May 11, a team of police personnel attacked our supporters at Ghagar Nagar in Lakhimpur district who were only demonstrating peacefully, and unleashed inhuman atrocities on our members and supporters. Several people, including women and children, were injured," he alleged.
"The common people have only one option, to protest and stage peaceful demonstration... We suspect the forces like Maoists will take advantage of the situation, and people will join Maoist organisations," he said.
Only the Tarun Gogoi-led government will be responsible for such a situation, he added.
He also announced that the KMSS is going to form a political party by 2015 so that it could search for viable political alternative in Assam.
"We are going to form a political party by 2015 but the KMSS is not going to enter electoral politics," he said.
"We are also going to launch another massive democratic movement against the state government if it fails to ensure unconditional release of 19 of our arrested colleagues and allow us to protest, which is everyone's right," he said. - IANS

Also Read

His call to save Brahmaputra has even captured the imagination of Aamir Khan

Trending Now: