His call to save Brahmaputra has even captured the imagination of Aamir Khan

Pranjal Baruah
&nbsp | &nbsp Guwahati
08-October-2010
Vol 1&nbsp|&nbspIssue 6
That the thinking man's director and actor from Bollywood, Aamir Khan, is likely to lend his voice to save Brahmaputra points to the awareness that has been created by the movement protesting against the construction of dams across the river.

The government's move to construct big dams across Brahmaputra has evoked widespread protests in Assam. But what inspired the local people, particularly the youth to join the protest is the man in the vanguard of the movement: Akhil Gogoi.

An admirer of O' Hendry's works and a follower of Che Guevara, Gogoi is known for his courage in Assam. He singlehandedly fought corruption. Winner of the Shanmugam Manjunath Integrity Award and the first-ever national RTI award, Gogoi unearthed two scams in the implementation of the Indira Awas Yojana (IAY), using the Right to Information (RTI) act as a weapon.

"The IAY project sanctioned Rs 35 lakh for the construction of 140 houses in 12 panchayats but not a single house was constructed. While in another case Rs 25 lakh was paid to a fictitious firm for purchase of muster-roll registers and measurement books," Gogoi recalls.

"I am not a hero. I just use the system to flush out the dirt from the system. RTI became by weapon and I chose it for ensuring transparency," smiles Gogoi, who also exposed a Rs 1.25 crore scam in the Sampoornai Gram Rozgar Yojana (SGRY) in March 2006.

"It was because of him the state was forced to amend the public distribution system. He is a knowledgeable man and he uses the democratic system for its own betterment," says Bijon Mohajon, senior advocate of Gauhati High Court referring to another RTI application by Gogoi that brought to light a chain of corruption from Food Corporation of India godown to the fair price shop. The probe, which revealed that only 5-15 per cent of wheat flour, was reaching intended beneficiaries, also led to arrests of several officials.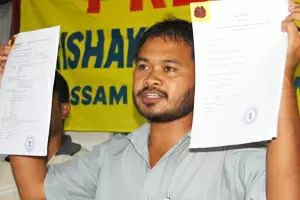 For fighting corruption, he was branded a Naxal. But Gogoi is not cowed down by such threats
Having antagonized many a powerful person, Gogoi gets threats from several quarters. Yet, he and his organization, Krishak Mukti Sangram Samiti (KMSS), have grown from strength to strength, thus turning into a threat for the corrupt and the powerful. So, all of a sudden the security agencies have branded the KMSS as Naxalites/Maoists.

"Gogoi can never be a naxal. He is a movement in himself. The dirty politicians of Assam have branded him a Maoist only to safeguard them from this common man," says Medha Patkar of National Alliance of Peoples Movement, who along with Gogoi led more than 12000 farmers of Assam on July 14 against Big Dams across Brahmaputra.

Gogoi has been fighting for the rights of people, especially farmers, since his college days. An icon of the youth, Gogoi declares: "I shall not stop until and unless the deprived get their rights and the farmers their land to live. At the maximum, they will kill me but I am sure today every Assamese youth knows the truth and will continue the fight even if am not there."

Trending Now: