He built a homestay on the hills which even wooed the Dhoni family and other travel enthusiasts
P C Vinoj Kumar
&nbsp | &nbsp
06-September-2022
Vol 13&nbsp|&nbspIssue 36
A former journalist, who started his career as a reporter at Mid-Day (Bombay) in the early 2000s and then became a freelance contributor to various publications, picking up photography along the way, is now the owner of a popular homestay that he developed at the family farm near Shimla.

Today, Sanjay Austa doesn't have to pitch stories to editors, or chase deadlines or follow up on payments with the publications.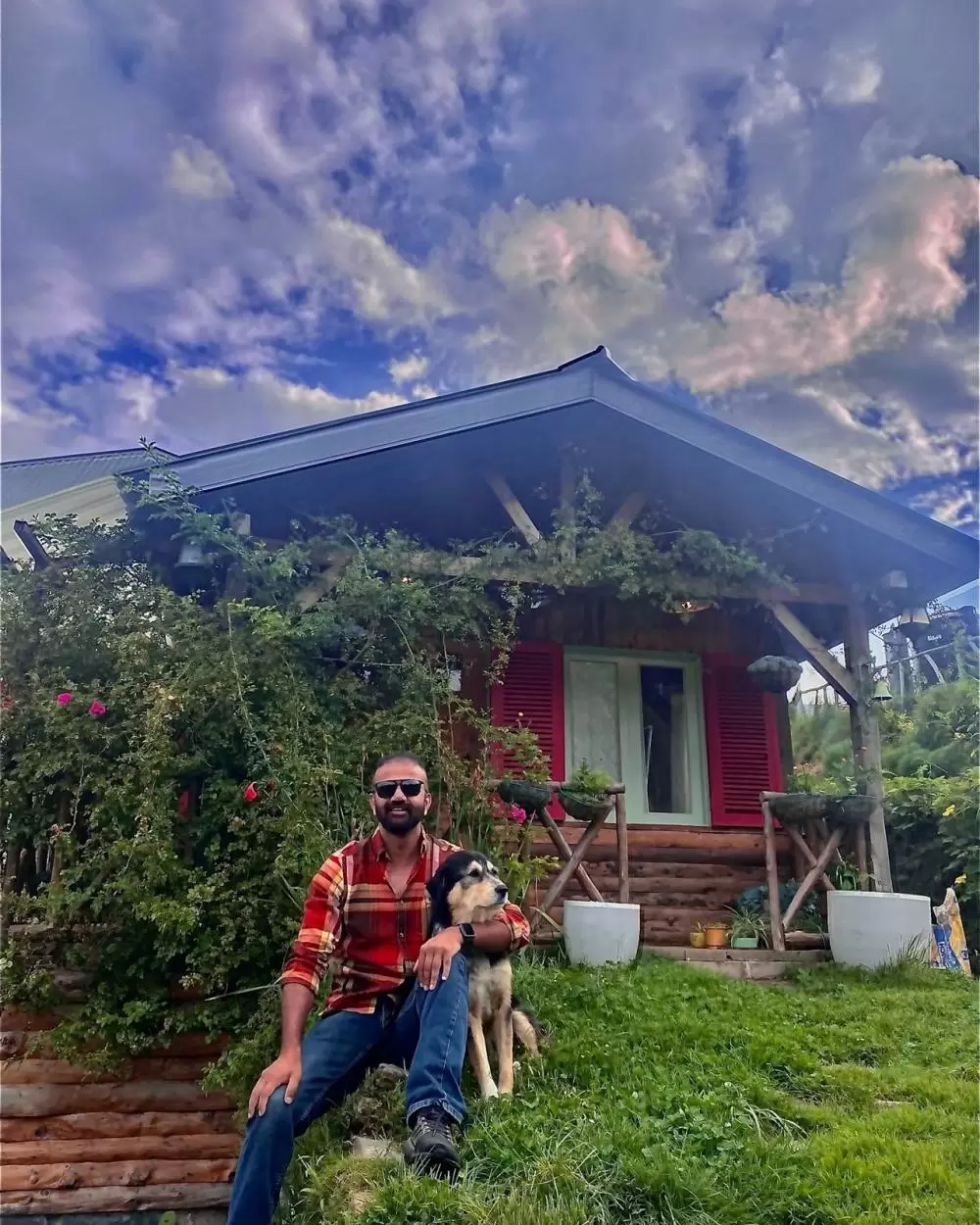 Sanja Austa, the owner of Meena Bagh, a homestay located at Shimla and Ratnari in Himachal Pradesh (Photos: Special Arrangement)
He lives peacefully with his adorable pets - dogs, cats, sheep and chicken - amidst apple orchards, harvesting peaches, apricots and raspberries, and taking care of the guests who come to his homestay from all parts of the world.
Meena Bagh, Shimla, is located less than a kilometre from St Bede's College, while another property by the same name is at Ratnari, about 85 km from Shimla.
"We have maintained the typical Himachal architecture in our properties," says Sanjay, who renovated the family property at Shimla investing about Rs 30 lakh in the project and commenced homestay operations in 2017.
Today, his homestay is a well-known destination among travel lovers, thanks to the many reviews it has got on travel portals and the publicity it received after the visit of cricket legend MS Dhoni with his family and friends to Meena Bagh, Ratnari, in June 2021.
When Sakshi called him to book the place, she mentioned her name, but it didn't strike Sanjay immediately that she was Dhoni's wife.
She then told him, "Sanjay, we are coming. Please keep this confidential. Dhoni is also coming."
As soon as they arrived, Sakshi took to Instagram to post a series of photos and videos that captured the beauty of the property to millions of her followers. Not only did Meena Bagh bask in the limelight, but Sanjay's stocks too shot up in an instant.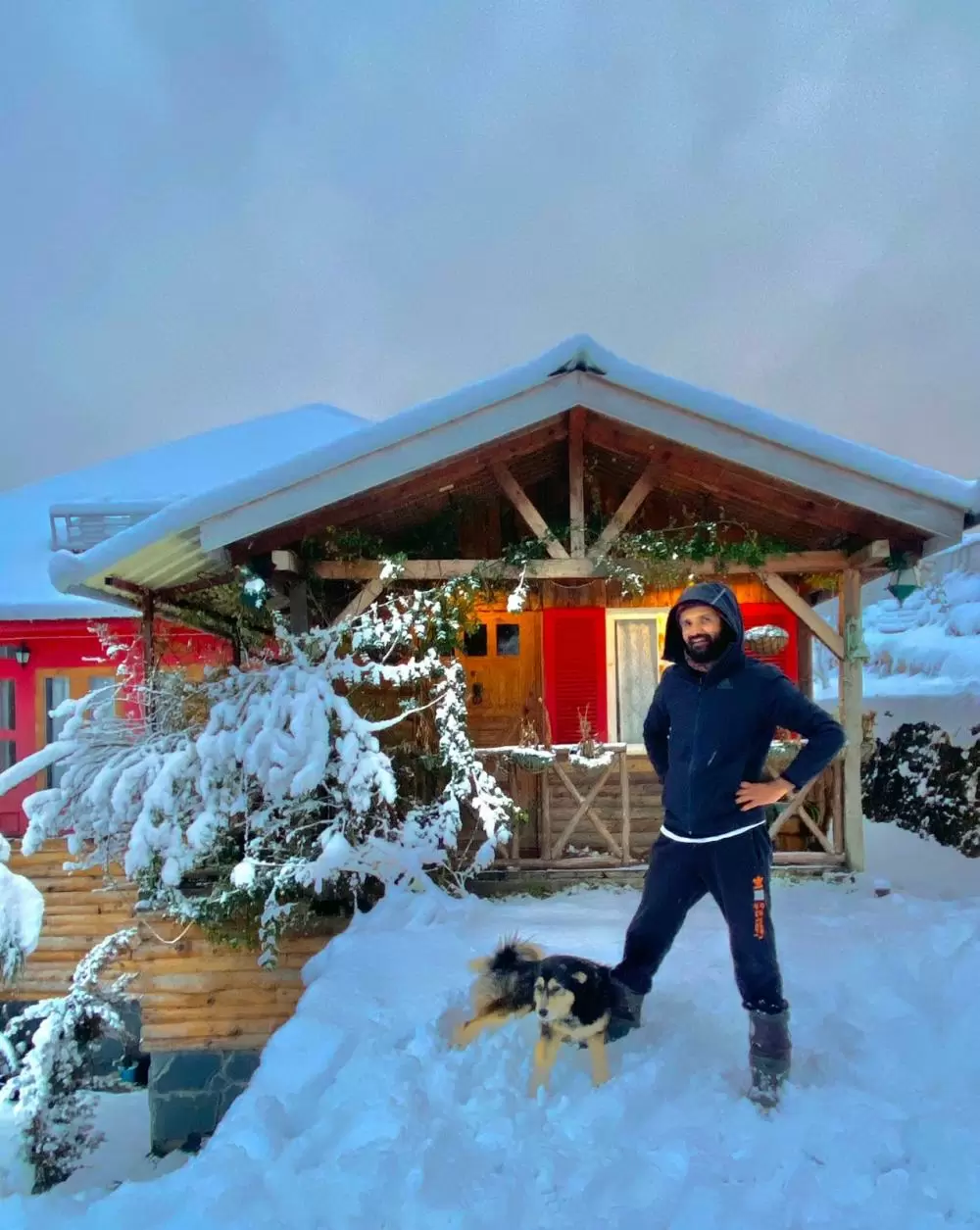 A snow-draped Meena Bagh during the winter
"I began to receive calls from distant relatives after they heard about Dhoni's stay at Meena Bagh," recalls Sanjay. They began to explain how they were related to him and expressed their interest in visiting the place.
Those were clear signs that Sanjay was now a successful person, and all his hard work of the past many years were paying off, not just in terms of money, which anyway was flowing in, but also from the reviews and critical acclaim his property had started receiving.
"We would have made around Rs 5-7 crore, but I have invested all the money in developing our properties," says Sanjay, whose sweat and toil went into building Meena Bagh to the beautiful place it has now become.
But about seven years ago when he started working on the project there was hardly anyone to support him.
"My parents were against it and my neighbours were laughing behind my back. I wanted the building to be eco-friendly and used waste wood to create furniture and other things," says Sanjay. He used waste wood to make racks, stools and old utensils as lampshades, besides making even a showcase with used wooden apple crates.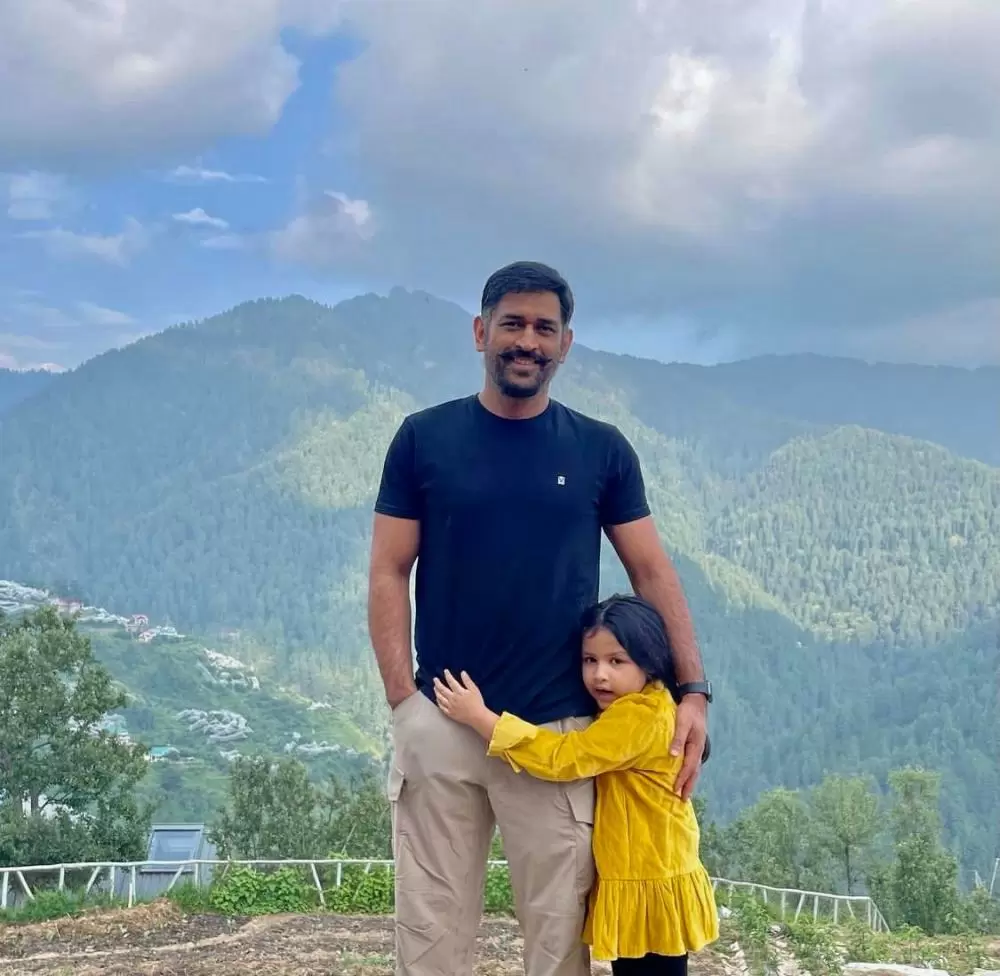 Dhoni with his daughter Ziba at Meena Bagh
He looked from the point of view of sustainability and eco-friendly architecture, but people thought he was crazy. "My father's architect would come over and ask me why I was doing all this," says Sanjay. "Nobody could understand what I was doing. That's what is happening all across Shimla.
"They are pulling down nice old buildings and constructing new buildings which look like the ones you would find in any other city in India. The uniqueness of Shimla architecture has been lost.
"But I focused on retaining the Himachal aesthetics in the building, while also offering all modern amenities in the rooms. Our bathrooms even have tubs. The water from the bathroom is recycled and used in the farm."
Sanjay also built rain water harvesting structures in the property, which includes a 2 lakh litre capacity underwater tank and a couple of ponds that provide water for irrigating the crops grown in the farm.
The wood and mud-plastered walls of the buildings are a reflection of Sanjay's commitment to preserving the traditional architectural practices of the region.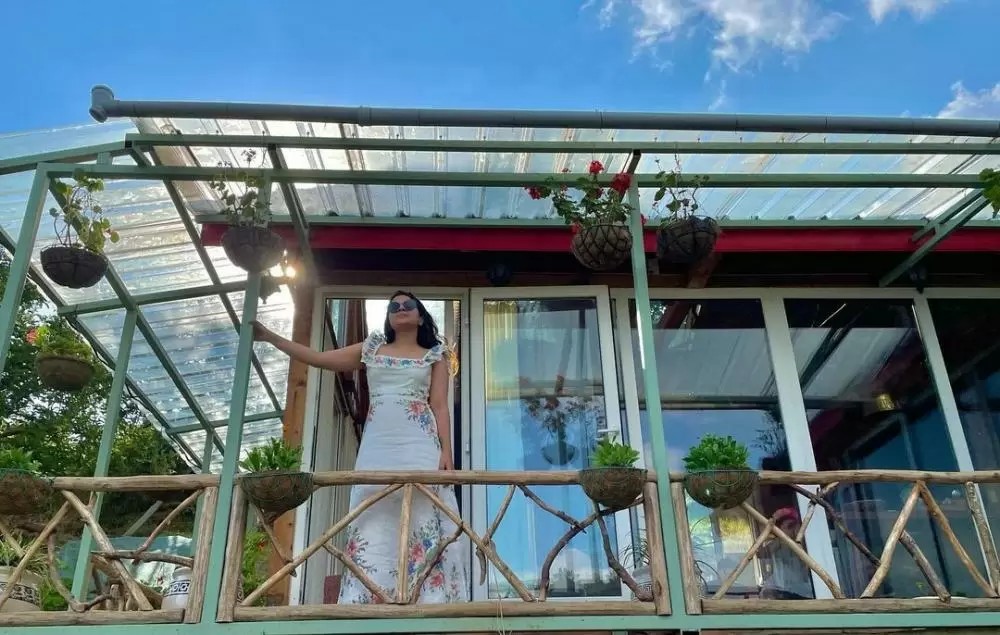 Sakshi Dhoni at Meena Bagh (Photo courtesy: Instagram/ sakshisingh_r)
Those who stay in Meena Bagh take home fond memories. "Everything from the mud plastered insulated walls, the recycled wood used everywhere, the decor, just the earth smell of this place quickens the pulse," a guest wrote on Airbnb.
"Eclectic accents add to the shabby chic of Meena old dowry chest, kansa thaalis, Apple crate shelves, waste wood picture frames...like props used in a play. I wanted to feel everything, lest I forget..."
Guests also enjoy the experience of farm life, plucking apples and fruits from trees and harvesting the vegetables grown in the farm. Food is prepared as per requirements of the guests and the charges are made separately apart from the stay.
Meena Bagh even has a space observatory at Ratnari at an altitude of 8100 ft, where there is a 20 inch Dobsonian telescope, which is another popular attraction for guests.
Sanjay is interested in astronomy and bought the telescope for Rs 7 lakh, and went on to create what he claims is "India's largest privately owned telescope."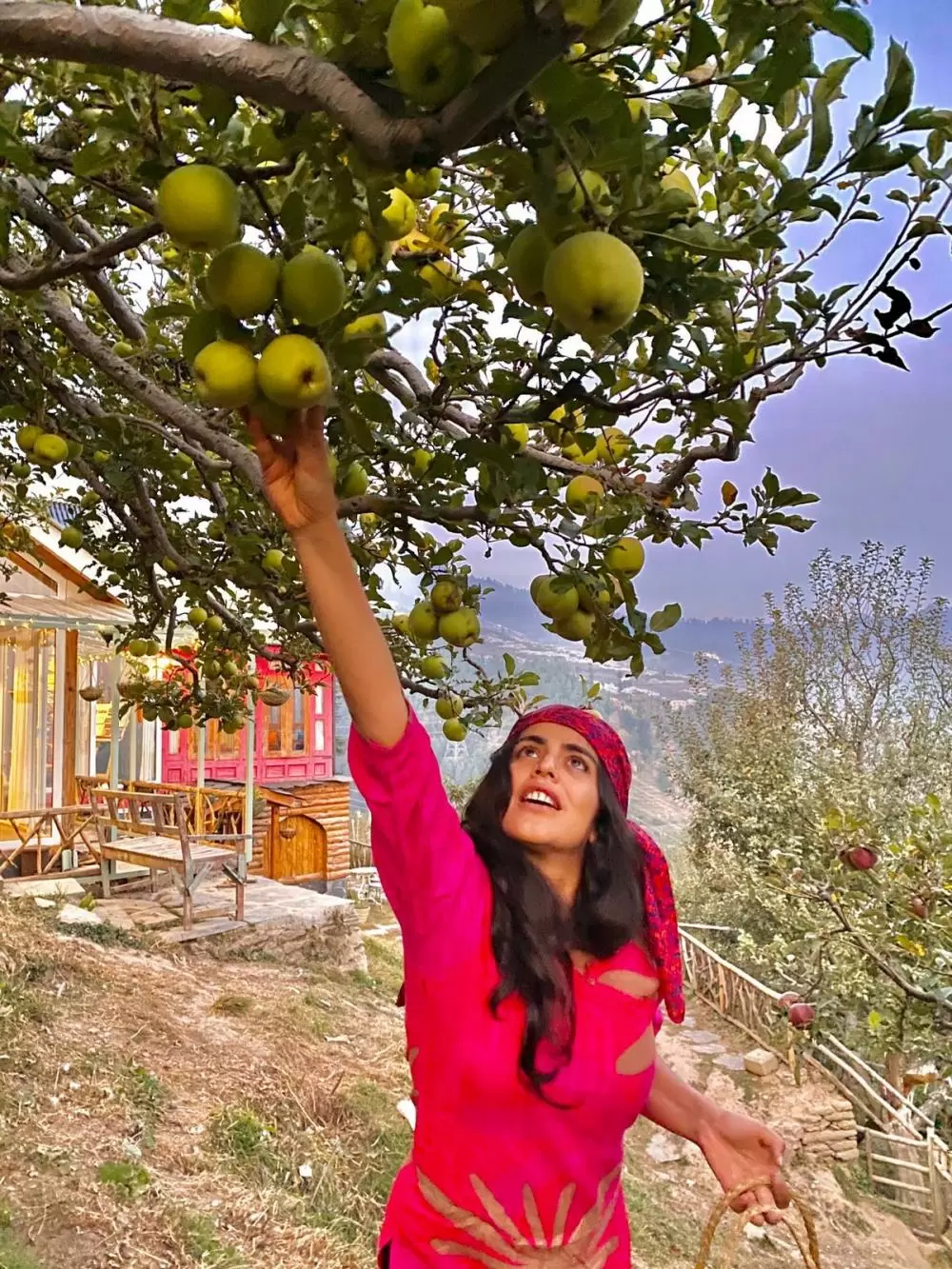 Popular TV host Shehnaz harvesting apples at Meena Bagh
And he is not done yet. Meena Bagh is a work in progress. Sanjay is now building a new house at Ratnari using the old wooden columns, panels, floors and beams, which were once part of a nearly century old girls college in Shimla. He purchased the wood, which is getting a new lease of life, on auction for about Rs 20 lakh.
"There was a lot of work to be done. We had to remove metallic nails from the wood that were so long," says Sanjay. But his love and passion to recreate the fast disappearing Shimla architecture keeps him going.
As a former journalist and writer, he offers hefty discounts to writers, artists and families travelling with their pets that stay at Meena Bagh.
Ask him about his happiness quotient today and he gushes, "I am happy with the choices I have made. These days it's very difficult to do good political journalism. I am happily living with my pets, animals, growing my own food, and breathing fresh mountain air. I exercise regularly, I am healthy and I get to meet people from around the world. What more could I ask?" - ©
TWL

Trending Now: