Where a simple Maruti-800 can get the look of an SUV
Azera Parveen Rahman
&nbsp | &nbsp Shillong
05-August-2017
Vol 8&nbsp|&nbspIssue 22
There is an endless splendour of natural beauty that would strike you on a visit to Meghalaya. Thick pine forests, green hills, countless waterfalls gushing down the slopes, low-hanging clouds and the like. One, however, also cannot miss the passion of the ordinary people -- their love for potted plants, for instance. Or modified cars.

Spotting a Maruti-800 converted into something like an SUV, or a tractor into a jeep, the possibilities of seeing something unique whizzing past you on the winding roads of this hill station are very high.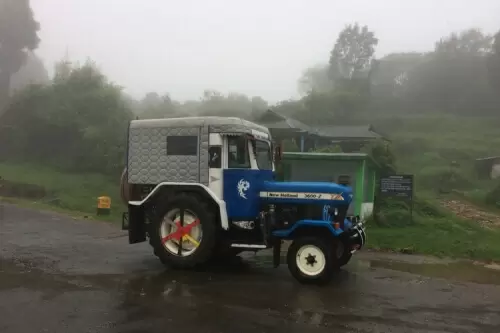 In Meghalaya, it is a common sight to see modified vehicles – both cars and bikes plying on the roads (Photos: IANS)

In case you are wondering, this craze has nothing to do with money. It's all creativity. Most of the vehicles you spot are not very high-end, but turning something ordinary into something that is bound to grab eyeballs without spending too much money is what the challenge is. And Meghalaya definitely wins on this one.

The most visible example would be one of the most common sights in Shillong -- the black Maruti-800s that serve as taxis. Most of them flaunt their alloys and big tyres, at times making the car itself look smaller. The most basic of the four-wheelers can turn heads with colourful graphic art popping out of the body or other forms of modification, and shops selling automobile accessories are found by the dozen.

But it's not just a passion for car owners. Bikers too get their two-wheelers modified to a whole new level. Among the better known names in this field is a youngster, Arhunki Laloo. What began as a passion -- he first modified his own Royal Enfield Desert Storm Classic and then a friend's Thunderbird 500 -- soon made way for offers from strangers to modify their bikes.

Laloo, who comes from a family of doctors, says that he had to wait patiently for his first bike before realising his dream of turning it into something unique. And when he finally did, in 2012, he gave it all his heart. From tyres to the tool box, he tweaked everything. He also put in a bigger petrol tank to store extra fuel for long rides and a tank-bag grill for better protection. It also made the bike look better.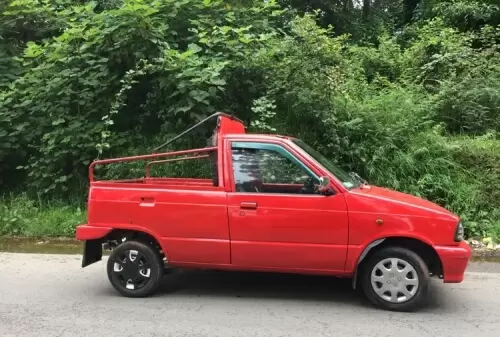 A modified Maruti 800

There are others like Laloo who have their own workshops in which imagination runs wild as bikes get painted with skulls and flames, guitars, and anything else that the owner may fancy.

Not all kinds of modification, however, is pleasing to the senses. Some car and bike owners, for instance, have modified silencers that can jar the daylights out of anyone.
In one instance, the District Transport Officer in Jaintia Hills issued a warning to all such vehicle owners and those with multi-tone horns, coloured bulbs, and additional woofers with blasting music that can cause inconvenience and a distraction to other people.

Meghalaya's love affair with modified vehicles, however, has waded past these roadblocks. A cafe in upper Shillong, ML 05, which opened its doors last year, has best paid tribute to this evergreen affair by conceptualising its interiors on automobiles and the heady addiction that travel bugs suffer from.

From number plates hanging at the entrance, to tyre tracks lining the floors, from a car's steering wheel working as the knob of the door, to car headlights recycled as ceiling lights, the place breathes passion for anything related to automobiles. One of course cannot miss the central installation: A bulky black Bullet suspended in the air with the number plate, ML 05 (the prefix of licence numbers of vehicles from East Khasi Hills).

Vatsala Tibrewala and her brother, Deval Tibrewala, who own and manage the cafe, said that they hit upon the idea after the instant success of Dylan's Cafe -- claimed to be Shillong's first theme cafe dedicated to the music legend, Bob Dylan.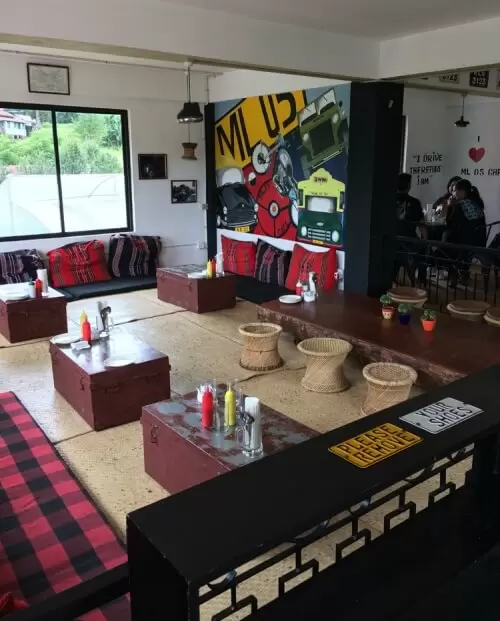 A cafe in upper Shillong has conceptualised its interiors on automobiles

As the sister-brother duo thought of the next venture which similarly captures Shillong's affinity, they zeroed in on the automobile theme. It helped that Deval, a hotelier by profession, is also an avid motorsports enthusiast and a big car lover.

In her words, the cafe celebrates the common love that an average Shillong local -- be it a taxi owner, a student, or a luxury car owner -- has.

In case you are still not convinced, probably the constant sight of taxi owners scrubbing their cars squeaking clean near every stream or waterfall will definitely make you believe the love between man and his machine of this beautiful northeast state. - IANS
Wish to share your story?
Trending Now: