The lesser known faces and places that you need to check out at Kodaikanal
P C Vinoj Kumar
&nbsp | &nbsp Kodaikanal
22-April-2017
Vol 8&nbsp|&nbspIssue 17
Kodaikanal is a popular hill station in Tamil Nadu, located about 110 km from Madurai at an altitude of about 7,000 feet above sea on level on the Palani Hills of Western Ghats.
There are plenty of places of interest for tourists in and around Kodaikanal, though for the locals the city centre is just a 2km radius around Seven Roads Junction, where many of the town's landmarks, including the 130-year-old Kodaikanal Club (formerly English Club) and the 116-year-old Kodaikanal International School are also located.
The beautiful Kodaikanal Lake - which was created by a British civil servant in the 19th century by trapping the waters of three streams flowing through a marshland and making it into a single waterbody - flows down from a hilltop 8 km away as the splendid Silver Cascade waterfalls, another major tourist attraction.
So, if you are planning to visit Kodaikanal, you can visit all the above mentioned popular tourist places and other must-see-places such as Coaker's Walk, Bryant Park, the Pine Forest, Berijam Lake, Dolphin's Nose, and Pillar Rocks.
And when you are done with it, here's a list of 7 things that you might like to do, to round off your trip with happy memories and some learning about Kodaikanal.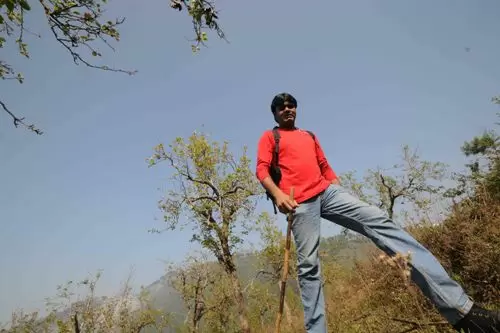 Kodai Mani can you take you on trekking trips around Kodaikanal (Photos: H K Rajashekar)

Kodai Mani
You would love to meet A Manikandan, a 35-year-old, who is now popularly known as Kodai Mani. He works as a computer operator in the forest department, but his passion is taking people on trekking tours around Kodaikanal during weekends. If you want to go trekking, you need to inform him in advance and he would make the arrangements.
"There are around 23 trekking routes around Kodaikanal. We could do short stretches in about four hours, or longer stretches with overnight stay in the forest," says Mani, who has taken around 500 groups on trekking trips in the last 13 years.
You can reach him at +91-9894048493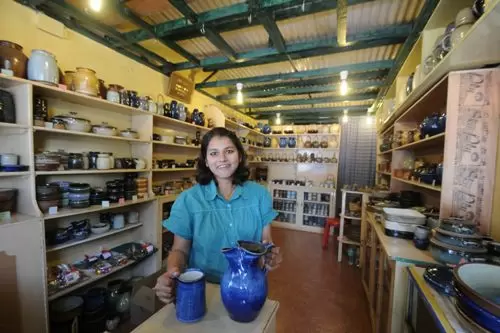 A glimpse of the glazed stoneware pottery items at The Potter's Shed

The Potter's Shed
Step inside The Potter's Shed and you would be stunned by the colourful glazed stoneware pottery items neatly stacked on the shelves. A wide range of crockery items such as teapots, mugs, and home décor such as oil lamps and vases are available for sale at the shop that was born out of a dream by an American teacher, Bob Granner, who used to work at Kodaikanal International School.
Granner took Subramaniam, a local traditional clay potter, and trained him under an expert American potter at Puducherry in making glazed stoneware about twenty years ago. Now, the latter is the master craftsman who designs these products at their workshop located some 7 km from the town.
Their products not only have a chic, contemporary look, but we are also assured that they are "microwavable, dishwasher safe and oven proof."
Phone: 04542-240244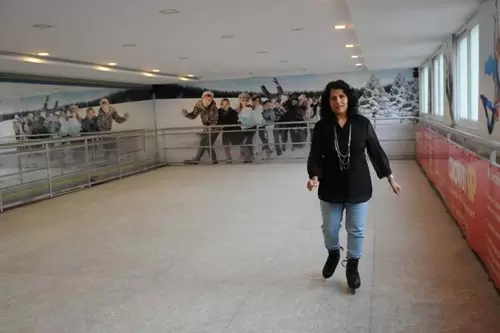 Ice Skating Cafe run by Anju Mittal has an imported skating rink and a cafe attached to it

Ice Skating Cafe
The owner of Ice Skating Cafe, Anju Mittal, is a well-known socialite in Kodaikanal, who has been a serial entrepreneur with experience in the hotel and travel industry. Ice Skating Cafe is located opposite the Kodaikanal International School.
The facility boasts of an imported synthetic ice-skating rink that is spread over an area of 1,200 sq ft, where around 20 to 25 persons can skate at a time.
They charge Rs 175 for 30 minutes and Rs 225 for an hour per person. The rates drop a bit if you take their group offer, which is available for a minimum of four people. There is a friendly instructor who literally handholds the trepid first timers.
The café attached to the rink serves a variety of beverages and snacks. Their special is Arabian Paratha - both egg and chicken.
For booking and other information, you can call +91-9489650024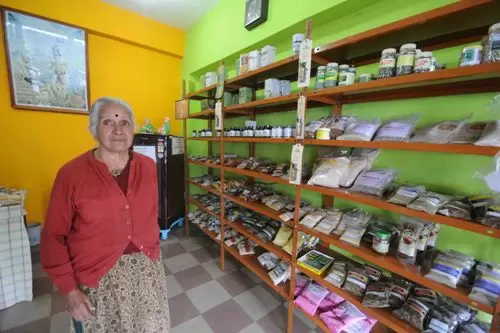 Malathi Ram stocks healthy homemade food in her shop

The Eco-Nut
Founded by Malathi Ram, about 23 years ago, The Eco Nut is a small shop located on the first floor of a commercial complex at PT Road near the Seven Roads Junction. The shop sells healthy homemade food such as multi-grain bread and sourdough bread for diabetics.
"I felt the need for good healthy food in Kodaikanal. The items stocked here are prepared under my personal supervision," says Malathi, who at 81, tries to attend every customer who walks into her shop.
Her son has now opened a branch in Chennai. Malathi, who holds a post-graduate degree in economics, can advise you on healthy foods to eat, if you can get into a friendly conversation with her.
Phone: 04542-243296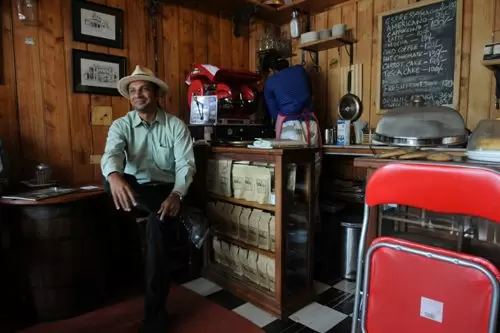 Kishore Cariappa has an organic coffee farm in Kodaikanal

Café Cariappa
At Café Cariappa, its owner Kishore Cariappa adds a distinct flavor to the shop that is famous for coffee and cakes. Sourcing coffee from his organic farm in Kodaikanal, his shop serves some of the best coffee in town.
With him, wearing his customary cowboy hat, seated in a corner of his wood-paneled shop, the ambience might remind you of the Wild West, but Kishore is actually rooted to Kodaikanal and has been encouraging the local farmers to practice agriculture and stop selling their land for commercial development.
If you happen to drop by at Café Cariappa, the perfect combination would be coffee, cakes and a chat with Kishore, if he is around.
Phone: 04542-241083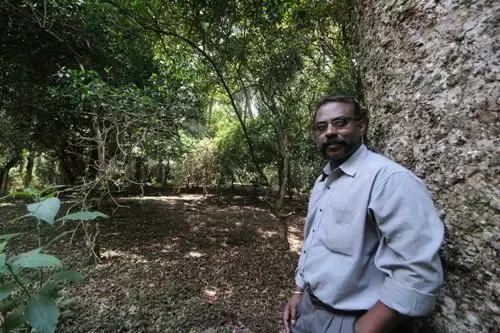 Veera wants to bring back the lost evergreen forests and grasslands in Kodaikanal

V S Veerapathiran
If you are interested in learning about the environmental issues facing Kodaikanal, it would be a good idea to talk to Veerapathiran, or Veera as he is known locally. The 42-year-old founder of Eco Friendly Environment Conservation Trust (EFECT) dreams of restoring the evergreen forests and the grasslands on the Kodai hills that were destroyed to make way for the pine, wattle and eucalyptus plantations.
Veera, who holds a doctorate in biology, gives talks at schools and motivates children to plant trees, and keeps raising the issue of illegal constructions around the Kodaikanal Lake with the authorities.
It is unsung heroes like him who fight the battles to protect the nature and environment for posterity. If you get to speak to him, don't forget to congratulate him on his work.
You can reach him at +91-8883563632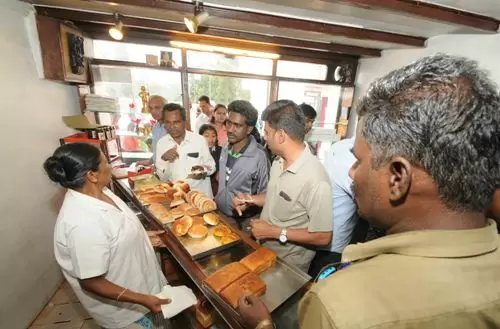 Pastry Corner does not leave any pastry items on its shelves overnight

Pastry Corner
Located a stone's throw away from Seven Roads Junction, Pastry Corner run by Prasanna has maintained a reputation for taste, freshness, and quality for the last more than two decades that they have remained in the business.
"They don't keep any foodstuff overnight. It has to be sold the same day or they give it away to the poor people," said a local acquaintance.
When we visited the small shop around 4 pm, it was crammed with people who were ordering cream bun, cakes, muffins, doughnut, and homemade ice cream that was being served in scoops by cheerful staff.
Pandian, the shop-in-charge who has been with Prasanna for around 13 years, said that hardly any item is left by the time they close around 6.30 pm. "If something is left we give it to the customers present in the shop at that time," he said.
As we stood watching, we saw cakes, muffins and other items flying off the shelves well before the closing time.
Pastry Corner can be reached at 04542-240485

Trending Now: