There are beaches and beaches in Goa, just go and find yours

31-January-2015
Vol 6&nbsp|&nbspIssue 5
It may sound hackneyed, but Goa is a true-blue haven for beach lovers. Whether you are the one who likes to escape the crowd and be a loner, or the one who likes to embrace the buzz of people, Goa has beaches for all kinds of travellers.

There are beaches that are electrifying and colourful, where you can enjoy the spunk of different water sports or simply sit back and watch the live action. On the other hand, there are beaches that are quiet and serene, which make ideal getaways for people seeking romantic or introspective solitude.

So, here's our list of what we think are the Top 10 beaches of Goa: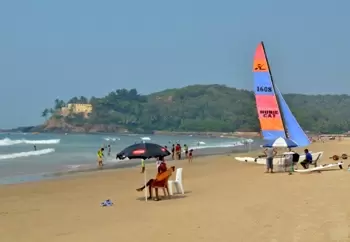 Tourists soaking up the sun at Baga Beach (Photos by Renuka Singh)
Baga Beach

Baga Beach is one of the most scintillating and happening beaches of North Goa. Although some may get irked by its crowded atmosphere, the energy of swirling waves and the speedy motor boats seems to brush off on everybody.
It's a perfect place to soak sun and get tanned. Even if you don't really enjoy water that much, you may want to visit the beach as you can still savour the perky vibe of the beach and the various shacks.
Sinquerim Beach
Sinquerim Beach, flanked by verdant coconut trees on one side, is a blend of bustle and tranquillity. You can either have the splashes of water over you or grab a recliner to laze around and watch the sunset.
Since the beach is nestled close to Fort Aguada Taj Hotel, there is an added charm to it. Also, there are masseurs available if you would like to relax and enjoy a good foot massage.

Anjuna Beach

Anjuna Beach is full of 'hippies' during the Christmas and New Year season. It's a beach where you get to see and experience the party lover's Goa. The beach is dotted with tourists who like to embrace the sun and the sand.

And if you happen to make it there on a Wednesday, pay a visit to the very alluring Anjuna Flea Market nearby that sells everything from clothes and jewellery to antiques and spices.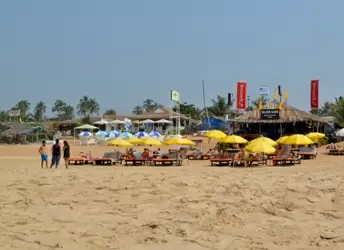 Goa has some of the finest beaches in India
Varca Beach

Varca Beach is one of the most beautiful and the quietest beaches of Goa. So, if you would like to run away from the furore of North Goa beaches, Varca, in South Goa, should offer you the much needed solace. You can loll on its white sand and let the surroundings soothe your senses.

Alternatively, you can keep yourself amused with attractions like Dolphin watching, boating and relishing some delicious seafood available at the restaurants.

Palolem Beach

Palolem Beach, in South Goa, is no more a secret that it used to be. Fortunately or unfortunately, it has got on the tourists' radar, which makes it a little over-hogged.

However, its pristine beauty and serene atmosphere are worth savouring. To experience it intimately, consider staying in a hut or in a resort nearby, which would give you the freedom to get on the beach whenever you feel like.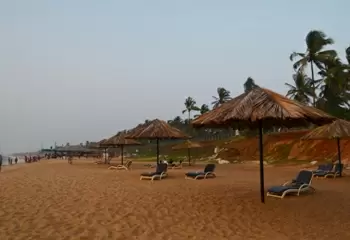 Sinquerim Beach, a must-visit beach in Goa, flanked by verdant coconut trees on one side, is a blend of bustle and tranquillity
Patnem Beach

Patnem is also one of the quietest and lesser-known beaches of South Goa. It's ideal for travellers who are looking for peace. Also, you can enjoy swimming as the undercurrent is usually gentle. After you get tired of your beach activities, settle down to nosh on your favourite meal at one of the lovely camp huts and restaurants along the shore.

Agonda Beach

Being at Agonda Beach is your real chance to have a rendezvous with nature. Agonda is one of the rare beaches of Goa that has not seen much of tourism yet. It wouldn't be wrong to say that it's not a place for party-goers.
The village administration of Agonda does their level best to preserve the natural environment and beauty of the place. Also, Agonda beach is known for its Ridley turtle nesting site, which is an additional attraction for wildlife enthusiasts.

Vagator Beach
You can call Vagator the most infamous beach of North Goa as it's mostly thronged by party-goers and boozers. However, its lush palm trees and the shimmering white sand enthral a regular tourist, too. Besides, you can also take a walk to the nearby fort of Chapora to witness the Old Portuguese legacy.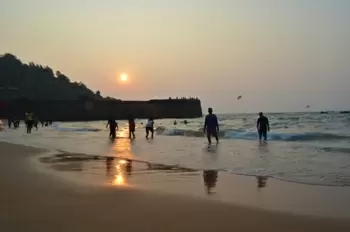 Sunset at a Goa beach
Arambol Beach

Arambol is a secluded beach of North Goa, which has both sand and rocks to add to its natural beauty. It is particularly hogged by foreign tourists for its bohemian atmosphere. Also, there are quite a few interesting attractions for all kinds of tourists to enjoy, such as a fresh water pond that leads to a lush forest.

Majorda Beach

Majorda is one of the picturesque South Goa beaches. Although there are numerous restaurants, hotels and resorts around, Majorda Beach is still not too crowded.

People relax on recliners, stroll along the palm groves and simply savour the 'Goan' vibe. Besides the beach, Majordans are known to be the original bakers of European breads.
Wish to share your story?
Trending Now: