What to see and not to miss when in Delhi, rich in history and architecture

Souzeina S Mushtaq
&nbsp | &nbsp New Delhi
21-June-2014
Vol 5&nbsp|&nbspIssue 25
A historical city on the banks of Yamuna River, Delhi is India's federal capital and a metropolis. Home to around 22 million people, it was rated world's second most populous urban agglomeration. (Source: World Population Data Sheet, 2013.)
Besides its growing population, the city of rallies, as it is popularly known, is also home to some world famous monuments.
The Weekend Leader brings you 15 places to visit in Delhi, which include some of the historic and popular hotspots of the city.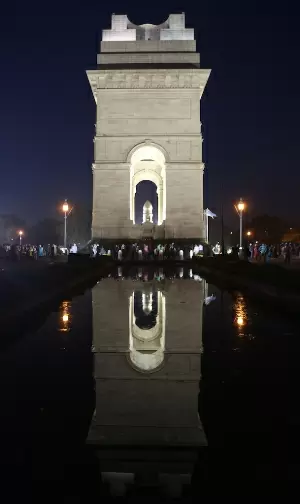 India Gate (Photos: Souzeina S Mushtaq)
1. Rajpath (& India Gate): In the heart of imperial Delhi, this thoroughfare from colonial rule is one of the finest monuments, stretching from the magnificent India Gate to the grand Rashtrapati Bhavan. The two-km stretch links many of New Delhi's major buildings along the way. India Gate is an imposing arch, which commemorates around 90,000 Indian soldiers killed in World War 1 and the Afghan Wars. Below the arch, another memorial (added later) Amar Jawan Jyoti or Tomb of the Unknown Soldier honors the dead of the Indo-Pakistan conflict of 1971. The monuments are a reminder of India's colonial legacy and are among the must see places of Delhi.
2. Connaught Place: This is Delhi's most important commercial space where big brand showrooms rub shoulders with stores established before independence. The Georgian-style architecture of Connaught Place, popularly known as CP, is a visual treat and a veritable treasure trove for shoppers — from clothes, books, electronics to latest gadgets, accessories, food, you get it all here. Built between 1929 and 1933 to a design by British architect Robert Tor Russell, CP is a must visit place in Delhi.
3. Lodi Gardens: The picturesque Lodi Gardens are dotted with a sequence of spectacular tombs built in honor of the Delhi sultans. Being one of the enjoyable picnic spots in Delhi, the gardens are surrounded with quiet paths winding between tropical trees and birds overhead. Created in 1936 by Lady Willingdon, wife of the viceroy, who had two villages demolished to make room for the gardens, it also nests the tomb of Sikander lodi, the penultimate Delhi Sultan at the northern end. The landscaped Lodi Garden is a major tourist attraction in Delhi.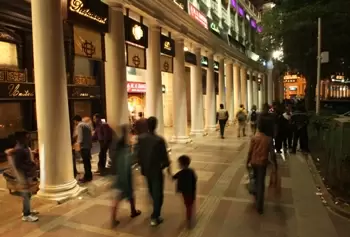 Connaught Place
4. Red Fort: Formerly the residence of the mighty Mughal emperors, the enormous Red Fort is a popular tourist spot in Delhi. In 1638, The Mughal Emperor Shah Jahan created Shahjahanabad, or Old Delhi, as it is known today with the Red Fort (Lal Qila) at its heart. The fort was completed in 1648 and served as home to the emperor and his successors until the Mutiny of 1857. Enormous red sandstone walls surround the complex stretching 2.5 km and reaching a height of 30 m in places. Old Delhi's showpiece attraction provides a fascinating glimpse into an opulent and cultured past of this historic city.
5. Chandni Chowk: At the heart of Old Delhi, this renowned Mughal thoroughfare offers a colorful slice of quintessential Indian street life, lined with religious symbols and myriad shops. The glorious Chowk is also home to the famous Lal Mandir, Gauri Shankar Mandir, Begum Samru's Palace, Central Baptist Church, Sunheri Masjid, Gurudwara Sisganj, Fatehpuri masjid, and Town Hall. Since the pavements of Chandni Chowk are busy and congested, a rickshaw ride along the road is a fun experience in this must visit place in Delhi.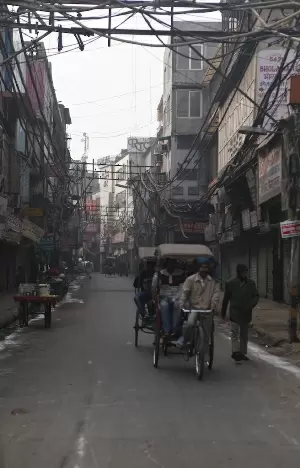 Chandni Chowk
6. Qutb Minar: Soaring over Southern Delhi, the monumental Qutb Minar is one of the city's instantly recognizable landmarks. Built in 1193 by Qutab-ud-din Aibak after the defeat of Delhi's last Hindu kingdom, the 73 m tall minaret reminds of an era, which marked the coming of Islam to the sub-continent and the arrival of Delhi sultans. It is surrounded by several other ancient and medieval structures and ruins, like Alai Darwaza, Quwwat-ul-Islam Mosque, Iron pillar, which are collectively known as the Qutb complex.
7. Hauz Khas Village: Hauz Khas village or HKV got its name because of the water tank in the compound, which was built by Alai-ud-Din Khilji to supply water to the inhabitants of the Siri fort. The place also had a Madrassa built in the 14th century, which grew to become the largest centre of Islamic studies in the world. Over the years, the huddled, narrow alleys that remind one of the Istanbul of Orhan Pamuk's time have become a vibrant, kaleidoscopic backspace to around 60 bustling bars, restaurants, cafés, nightclubs; also retreats, meeting points, collective think joints, quietly-read-a-book or be-with-yourself zones. Not to forget the jazzy nightlife it offers. One of the coolest and interesting places in Delhi, the village is unfolding into a SoHo of Delhi.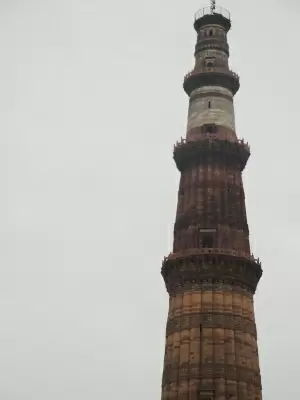 Qutb Minar
8. Jama Masjid: The largest and the most spectacular mosques in India, Jama Masjid rises dramatically out of the labyrinthine streets of Old Delhi. Completed in 1656 with three huge domes, a pair of minarets over 40 m tall and a courtyard large enough to hold 25,000 worshippers, the mosque took six years to build, employing 5000 masons. Visitors are required not to wear shorts, short skirts or sleeveless tops. The mosque authorities also provide long gowns. This Mughal monument is one of Delhi's popular tourist attractions
9. Gandhi Smriti: Formerly known as Birla house, this neo-classical mansion on Tees January Margis is where Gandhi spent the last 144 days of his life. Acquired by the Government in 1971 and opened for the public on August 15, 1973, the museum has a collection of Gandhi's personal belongings, including the watch he was wearing when he was assassinated, which stopped at the moment of his death. Stone footsteps mark the route of his last walk while a small shrine marks the exact spot where he was gunned down. The historic museum is a must visit place in Delhi and is open to general public from Tuesdays to Sundays from 10 am to 5 pm.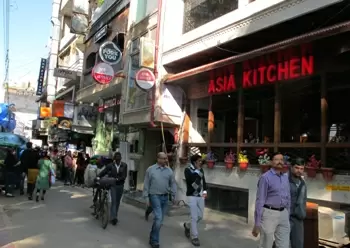 Hauz Khas Village
10. Garden of Five Senses: This is Delhi's most unusual and artistic garden, dotted with sculptures, located at Said-Ul-Azaib village, close to the Mehrauli heritage area in New Delhi. The gardens are divided into differently landscaped areas with sensory themes such as trail of fragrance and color gardens. On one side of the spiral walkway is the Khas Bagh, a formal garden patterned on the lines of the Mughal Garden. Inaugurated in 2003, the 20-acre site being a refreshing treat is a popular tourist spot in Delhi.
11. Jantar Mantar: It was built in 1725 as one of five outdoor astronomical observatories by the maharaja of Jaipur, Jai Singh II. It consists of four strangely shaped stone instruments, which include the Samrat Yantra, a kind of monumental sundial centered on an enormous stone staircase, and the Misra Yantra, shaped like an inverted heart. The instruments were designed to perform various functions like tracking the movements of stars and planets. Open every day from sunrise to sunset, this old observatory without telescopes is another tourist attraction in Delhi.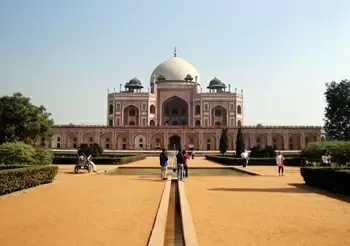 Humayun's Tomb
12. Humayun's Tomb: Being the first of the Mughal garden tombs, Humayun's tomb is one of the most beautiful and biggest of all Delhi's ancient monuments. Built in 1560s, this gigantic mausoleum is the final resting place of emperor Humayun. Also known as the Taj Mahal of Delhi, the tomb was commissioned by Humayun's first wife Bega Begum in 1569-70. The mausoleum, which took over eight years to build, is an amalgam of Persian architecture and Indian tradition. The complex also houses the graves of Bega Begum herself, Hamida Begum, and Dara Shikoh, the great great grandson of Humayun and son of the later Emperor Shah Jahan, as well as numerous other subsequent Mughals. A popular tourist spot of Delhi, it is open on all days.
13. National Rail Museum: This museum celebrates India's love affair with railways. The museum contains assorted antique steam engines and opulent carriages, including those once belonging to the maharajas of Mysore and Baroda, and the Prince of Wales. Located in Chanakyapuri area of New Delhi, the museum was inaugurated in1977 and is a must visit place in Delhi.
14. Rashtrapati Bhavan: Once the Viceroy's residence and now home to the Indian president, Rashtrapati Bhavan is Delhi's grand tourist destination— a uniquely successful fusion of European and Indian elements. The 340-room main building has the President's official residence, halls, guest rooms and offices. The 320-acre President Estate has huge gardens, and residences of presidential bodyguards and staff within its perimeter walls. Visitors are required to call in advance for guided tour on specific days. The visiting days are Fridays, Saturdays and Sundays from 9 am to 4 pm.
15. Dilli Haat: Built along the lines of a traditional Indian village market, Dilli Haat has a dizzying range of stores and stalls selling craft items from all over the country. A showpiece of traditional Indian culture, Dilli Haat also offers delicacies from various states of India. The colorful, ethnic space is open from 10:30 am to 9 pm and entry fee is Rs 20 for adults and Rs 10 for children. It is one of Delhi's favorite tourist spot and an easy qualifier in the places to visit in Delhi list.

Trending Now: