15 places to visit in Pondicherry to rejuvenate your body, mind, and soul

25-January-2014
Vol 5&nbsp|&nbspIssue 4
A former French colony, Pondicherry, the town that is a mere three-hour drive from Chennai is a popular weekend getaway in South India with many tourist attractions and must-see-places.
The Weekend Leader has compiled a list of 15 places to visit in Pondicherry, now known as Puducherry. (Places have been listed in alphabetical order and not in terms of their importance.)
1. Arikamedu
The Arikamedu archeological excavation site, which is around 7 km from Pondicherry, gives you a glimpse of ancient Roman trading in this part of the world.
The place literally means 'eroding mount' and has been a treasure trove of Roman artifacts like lamps, glassware and so on, dating back to 1 BC. Though not much remains of the site, it is worth a visit to discover history, your way.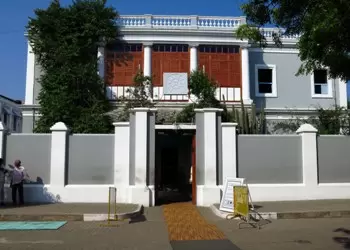 Aurobindo ashram is a popular landmark in Pondicherry (Photos: Joshua)
2. Aurobindo Ashram
The Aurobindo ashram, established by Sri Aurobindo, is a popular landmark in Pondicherry. The Ashram consists of a row of interconnected houses, including the buildings where Sri Aurobindo and The Mother lived and meditated. A white marble shrine, their final resting place is a place of reverence for many who follow their humble teachings.
3. Bharathi Park
Situated close to the famous Promenade Beach is another place of interest, the Bharathi Park. Surrounded by the picturesque governor building, Roman Rolland library, and the government hospital, the government park has abundant space for a leisurely stroll.
It also houses Aayi Mandap, a monument constructed by a French emperor in memory of a lady courtesan, Aayi, who had built a pond to supply water for the citizens of Pondicherry.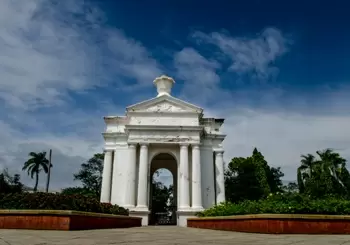 Aayi Mandapam at Bharathi Park
4. Bharathidasan memorial
Two great Tamil poets Bharathiyar and Bharathidasan had close connections with Pondicherry. Bharathidasan, a native poet of Pondicherry involved in socio-political genre, is said to have inspired the Dravidian movement further in Tamil Nadu.
In fact, the city is said to have inspired Bharathiyar's famed works – Kuyil paatu and kannan paatu. Both the Bharathiyar and Bharathidasan memorials (on Perumal Koil Street) are worth a visit for their literary value.
The Bharathiyar memorial is under renovation but the poet's works are currently preserved in a museum nearby.
5. Botanical Garden
Include Botanical Garden in your list of 'places to visit in Pondicherry.' Established in the early 19th century, Botanical Garden attracted a lot of attention after it became known that the acclaimed film 'Life of Pie' was shot here. (Don't expect anything magical though!)
There are a wide variety of trees, birds, and even some monkeys. The aquarium is average, a toy train entertains kids, but the trees are its lifeline. The garden is very close to the Pondicherry bus terminal.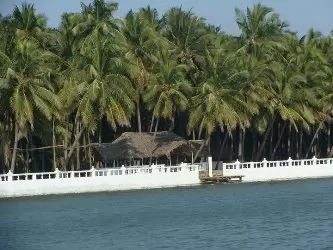 Chunnambar - Gateway to Paradise
6. Chunnambar Boat House (Paradise Beach)
You may not want to miss a visit to Chunnambar Boat House. With the sun out most of the year, boating in calm waters can be a soothing experience. The backwaters at Chunnambar along the Cuddalore Main road will guarantee you a pleasure ride - be it on one of those larger ferries or a jet ski.
But the reason why most people visit this place is to hitch a ride to Paradise Beach, a beautiful coastline which is accessible only through a boat ride.
Add this place to your sightseeing list in Pondicherry. But do drop in before 4 pm as the access to Paradise Beach is closed after that.
7. Kalki
With residents of Auroville - an international township near Pondicherry founded by The Mother - promoting sustainable living, you will find heaps of organic and natural products across the town.

Kalki is a shop in Mission Street, which is a treasure trove for products ranging from candles, potpourri to hand painted silks, scarves, jewellery, and more. Don't forget to splurge on their bags too.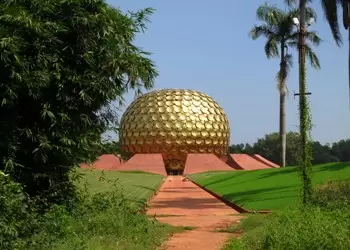 Matrimandir: The dome is covered by golden discs
8. Matrimandir (Auroville)
This beautiful dome is synonymous with Auroville, and represents its very essence with a quiet hall for meditation. The dome is covered on the outside by golden discs that reflect the sun, giving it a surreal radiance.
The Matrimandir Viewing Point, a raised garden area presents a striking view of the building. While you are at Auroville, don't forget to shop around for some awesome earthenware and paper products.
9. Mohanam Culture Centre
If you want a taster session of local Tamil culture, try visiting Mohanam Culture Centre near Auroville. The centre aims to revive local arts including folk dances (Kummi, Karagam and Kolaatam), martial arts (Silambam) and theatre (therukoothu).
Children and youngsters from the neighbouring villages of Auroville are trained in these activities. During Pongal, the harvest festival of Tamils, the centre conducts cultural and traditional events for the villagers with a liberal dose of traditional games like Kabaddi, Ilavatta Kal Thookuthal and Nondi. The women folk get a chance to showcase their artistic side with 'Kolam' (line drawings made in front of the house) competitions. It is one of the 'must see places in Pondicherry.'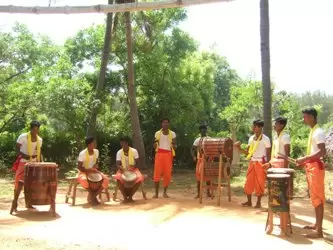 Mohanam promotes traditional Tamil arts
10. Ousteri

Located 10 km from Pondicherry, Ousteri Lake (Osudu) is one of the biggest freshwater lakes in the city and used to be a major supplier of drinking water in the past.
Come December and the place swarms with migratory birds. If you happen to be in Pondicherry around this time, it would be a good idea to visit the spot for a leisurely boat ride and to catch some interesting avian life in action.
11. Promenade Beach
There are a bunch of beaches across this town with the Promenade Beach located right at the heart of the city. You'll see a relatively cleaner beach though the portion allocated to food vendors is an eyesore.
There is a small children's park at one end of the stretch, Mahatma Gandhi statue somewhere in the middle that doubles up as slide rides for the kids, a war memorial, and a beautiful French church dotting the beach line.
For a more peaceful stroll, we suggest that you take the parallel road and soak your sights in the beautiful, very Pondyish grey or orange buildings with large French windows.
You can stop at one of the quieter restaurants for a truly global culinary experience or go local by binging on yummy paani puris near the court complex.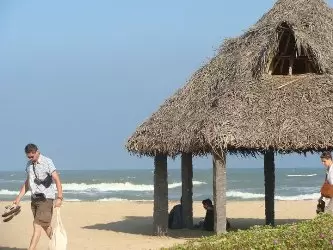 Tourists relaxing at Paradise Beach
12. Quiet Healing Centre
If you are looking at rejuvenating yourself, this is the place to be. From Watsu (water-based therapy), shiatsu, sound healing to the more well-known acupuncture, hot stone massages, you can try them all at this health spa in Auroville.
All their treatments are non-invasive and natural, so you don't have to worry about side effects.
13. Svaram
Svaram – a musical museum and research centre in Auroville is a must-visit place for musicians and anybody with genuine interest in music.
It was while browsing through one of the Auroville shops in Pondicherry we discovered an indigenous looking wind chime created by Svaram.
When we dug deeper, we discovered a whole new dimension of musical magic. Do check out the Svaram new waves series – a unique range of musical instruments based on Pythagorean studies, created to be used in sound healing. From raw tribal instruments to contemporary resonators, you have them all here!
Zuka: The latest hotspot in town
14. Siruvanthadu
Not many know of Siruvanthadu village near Villupuram as a silk destination, but surprisingly, this place located about 28 km from Pondicherry, hosts over 2500 silk weavers.
With over 300 silk sari stores, this village plays second fiddle only to the famed Kanchipuram (known for its silk saris). As the place is yet to be discovered by tourists, customer service is quite exceptional with most vendors willing to customize saris as per your requirements. A visit to this place is sure to keep the womenfolk happy.

15. Zuka café
Zuka chocolate café in Mission Street has become a recent icon in the city what with chocolate lovers thronging it through the day.

Its owner Srinath Balachander takes pride in infusing the original cocoa taste in its international line of chocolates, desserts and cakes.

A one-of-a-kind chocolate café, it is also known for creative experiments on special occasions. Their mocha cake is to die for and chocolate pakoras, another universal favourite.


Trending Now: