A tourist's guide — 15 places to visit in Mumbai

Kavita Kanan Chandra
&nbsp | &nbsp Mumbai
01-November-2013
Vol 4&nbsp|&nbspIssue 44
Mumbai, India's commercial capital, and home of Bollywood, is a tourist's delight with its awesome range of 'must see places'. The Weekend Leader seeks to answer that common question of any new visitor to the city: "What are the places to visit in Mumbai?"

So, here we have compiled a list of 15 interesting places that you must see in the city. (Places have been listed in alphabetical order and not according to their importance.)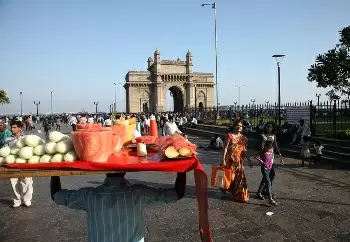 Mumbai's most popular landmark - Gateway of India (Photos by N Jaisingh)
1. Bandra-Worli Sea Link (Rajiv Gandhi Sea Link)

This 8 lane cable –stay bridge across the sea is worth a drive. The 5.6 km bridge links Bandra and Worli and has reduced the travel time between the two places by about an hour.

The Rs 1600 crore project inaugurated in 2009 has become a new landmark in Mumbai apart from the Gateway of India.

Many people just enjoy driving across the bridge gazing at the sea, though one is not allowed to stop anywhere on the bridge. But you could drive down and relax at the Worli Seaface promenade enjoying the breeze from Arabian Sea, sipping hot tea and munching peanuts.

2. Chhatrapati Shivaji Terminus Railway Station (or Victoria Terminus)

The busiest Railway station in India is also an architectural marvel. Built in 1888 in Victorian Gothic style of architecture with some aspects of traditional Indian architecture, it is a UNESCO Heritage site.

Named as Victoria Terminus (VT) initially, it was renamed Chhatrapati Shivaji Terminus (CST). The Station serves as a terminal for long distance trains as well as the local trains of the Mumbai Suburban Railway.

The building has beautiful turrets, pointed arches, wood carvings, balustrades and ornamental brass and iron works. Central Railways also organizes a CST Heritage walk. They charge Rs.200 per person and Rs.100 for students.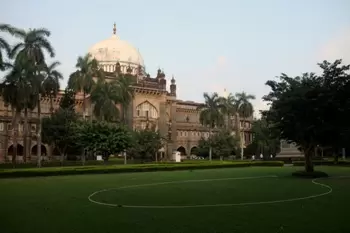 Prince of Wales Museum
3. Chhatrapati Shivaji Maharaj Vastu Sangrahalaya

Formerly known as the Prince of Wales Museum, Chhatrapati Shivaji Maharaj Vastu Sangrahalaya situated in the Fort area has a good collection of sculptures from Elephanta Island and other parts of western India.

The Natural History section would be an attraction for children. The museum has a lovely collection of miniature paintings, Nepalese and Tibetan artifacts, Chinese and Japanese porcelain, and European oil paintings.

4. Churchgate

Churchgate is basically one of the gates in the wall that used to be around Mumbai city. The area has the Churchgate station that is the terminus station on the western line of Mumbai suburban Railway.

The walls were brought down in 1900 and the station was constructed in 1930. The other heritage sites located near Churgate station are Flora Fountain -named after Roman Goddess Flora, the structure was built in 1864 - Bombay High Court and Central Telegraph Office.
Shoppers' delight - Colaba Causeway
5. Colaba Causeway

The causeway is a land link between Colaba and the Old Woman's island. It is the cultural square of Mumbai.

Tourists and locals visit the place to shop from roadside vendors and small shops selling trendy items as well as antique pieces. You can buy readymade garments, electronics, imported products, cosmetics, footwear and accessories.

Café Leopold where terrorists had struck in 2008 is located here. Other famous eating joints in the area are Delhi Darbar (known for Mughlai food), Piccadilly restaurant, Café Churchill, Café Mondegar, Mings Palace, Kailash Parbat and Gokul.

The church of St John the Evangelist and Sassoon Dock are also the interesting places you may want to see. You would enjoy watching the boats lined in the Sassoon docks from a high rise. It is one of the oldest docks in Mumbai and is open to public.

6. Crawford market

The Crawford market is a famous wholesale market in South Mumbai (north of CST). It is the best place to buy fresh food items. As a tourist even if you do not intend to buy anything, it is worth visiting the place.

Opened in 1871 it has the distinction of being the first public building to be lit up with electricity in India in 1882.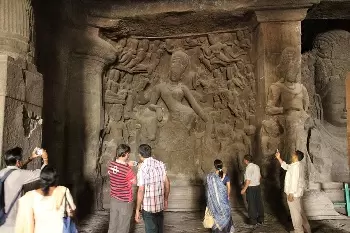 Elephanta caves has ancient Hindu and Buddhist sculptures
7. Elephanta Caves

The Elephanta caves are situated in an island 10 km east of Mumbai in the Mumbai harbor. The island is famous for its rock cut Basalt stone structures that were built around 5-8 AD. Idols of Lord Shiva are found in five large caves where there are other Hindu sculptures as well.

There are two Buddhist caves too at this UNESCO World Heritage site. The main cave has the most photographed Shiva relief of Trimurthi (three sculptures).

While moving around Elephanta you need to be cautious of the many monkeys roaming around. Elephanta is the place to visit if you need solace from Mumbai's hustle and bustle.

8. Gateway of India

There is always a buzz around this iconic landmark of Mumbai overlooking the Arabian Sea. Tourists flock to this place and hawkers do brisk business. It is also a great place to sit near the seafront and watch the world go by.

The 26m high Basalt arch was built in 1911 to welcome King George V and Queen Mary. The construction was completed only in 1924. It is a major tourist attraction in Mumbai and visitors like taking photos standing in front of the structure.

There is a large statue of Chatrapati Shivaji Maharaj opposite the gateway and the grand Taj Mahal Hotel is just a stone's throw away from here. When lit up during the night, the place looks fabulous.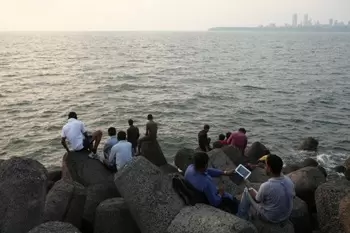 Crowds relaxing at Nariman Point beach
9. Juhu beach

Mumbai is known for its street food like Mumbai Bhel-puri, pani-puri and Pav-bhaji. Juhu beach is one of the best places to savour these delicacies. The beach is crowded nowadays but still is a nice place to sit by the sea.

The locality around the beach is home to affluent citizens of Mumbai. Tourists flock to see the Bungalow of cine actor Amitabh Bachchan that is on the road towards Juhu beach.

Bollywood films are shot in this place and in the morning you can find celebrities jogging here.

10. Linking Road

One can go to Linking Road by taking a train to Bandra station. You could take an auto rickshaw or just walk to reach the shopping lane in Bandra West. It extends from Bandra Talkies to Shanti Ashram.

You will find trendy shoes, clothes and bags in many street side stalls that could be yours with little bargaining.

11. Mani Bhavan

For every Indian Mani Bhavan could be a sort of pilgrimage, as this is the house where Mahatma Gandhi took residence between 1917-1934.

The pretty two-storied building is situated in the leafy lane of Laburnum road in Gamdevi. It is from here that Gandhiji launched the Non-cooperation movement, Swadeshi, Khadi and the Khilafat movements.

There is a museum which has Gandhiji's bed, old charkha (spinning wheel) and other well preserved memorabilia. You will also find a well-stocked library with over 2000 books and a photo exhibition depicting Gandhiji's life.

12. Marine Drive

Marine Drive is one of the popular tourist places in Mumbai and has been featured in numerous Bollywood movies. The cars whizz past continuously on this two-mile stretch of the C shaped Highway that lines the sea coast.

The windswept beautifully laid boulevard along the highway is a very popular tourist attraction. There are vendors selling little toys and knick-knacks. One can have roasted peanuts and coconut water. There are horse drawn carriages for joy rides.

Seen from the Kamala Nehru Park (Malabar Hills) in the night, the glittering street lights look like beads and so Marine drive is called as the 'Queens Necklace'.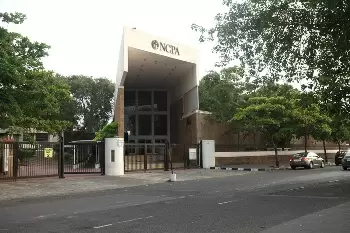 NCPA Building at Nariman Point
13. National Centre for Performing Arts (NCPA)

Situated in Nariman Point in the southernmost tip of Marine Drive, the windswept vast green expanse of NCPA is Mumbai's renowned cultural center.

The 1109 seated Jamshed Bhabha Theatre here is equipped with modern stagecraft and engineering suited to multimedia music and dance programs. NCPA hosts a number of events in a year and has become a hub for promoting India's art and cultural traditions.

14. Prithvi theatre

This is one of the places to visit in Mumbai, if you love theatre. Opened in 1978 in memory of Prithviraj Kapoor, the theatre situated in Juhu strives to promote theatre and wannabe actors.

There are also much awaited annual affairs in their calendar like the Prithvi theatre festival, memorial concert, summertime plays, and workshops for youngsters. They host over 550 shows in a year.

You can see wannabe actors just hanging out in their café relishing Cutting Chai or chilling out with Irish coffee and brownies.

Opposite to Prithvi theatre is the popular 'Mahesh Lunch Home' where you get delicious sea food.

15. Sanjay Gandhi National Park

Add this to your list of places to see in Mumbai if you are looking for a suitable place to take your children out. The Sanjay Gandhi National Park was established in 1969 in Borivali in the northernmost green suburb of Mumbai. Spread over 104 sq km, it is a natural habitat for 36 varieties of mammals, 62 reptile species, 5000 kinds of insects, and 800 diverse plants.

Animals that can be spotted here include Rhesus monkeys, Indian hare, Sambar deers, Macaque, and wild leopards. Atlas Moth, the world's largest moth and 'Karvi', an exotic variety of shrub that blooms once in 8 years, are also found in the Park.

The Kanheri caves, which were once Buddhist monasteries, carved from the rock cliffs inside the park, is a major tourist attraction.

Trending Now: