A modern-day list of places to visit in Chennai

Arushi Dutt
&nbsp | &nbsp Chennai
14-August-2013
Vol 4&nbsp|&nbspIssue 32
Do you know the places to visit in Chennai if you would like to have a complete experience of the bustling metropolis steeped in history? Here is a list that The Weekend Leader has compiled for you. (Places have been listed in alphabetical order and not according to their importance.)
1. Choki Dhani

If you want to enjoy an authentic Rajasthani experience, Choki Dhani is the place to be. Spread over 15 acres of land, this theme park that has been created as a village showcases unique elements of the vibrant Rajasthani culture.

This village comes to life through the colorful attractions from the welcome tilak, the mandir, village bazaar, animal rides, village style photo shoots, mehendi, open lawns, and more.

The live music and dance creates an ambience so traditional, it feels as if you have been transported to the deserts of Rajasthan.

The Rajasthani cultural experience is enhanced even further with the delicacies of the village themed restaurant, Sangri. Guests can experience authentic vegetarian cuisine on traditional leaf platters.

Located in Tandalam, near the Queensland Theme Park on the Chennai – Bangalore highway, Choki Dhani is open from 4 pm-11pm. It is the perfect destination to enjoy an ethnic Rajasthani evening.
Dakshinachitra showcases the diverse cultures of South India (Photographs by Media Ramu)
2. Dakshina Chitra

Dakshina Chitra, which literally means "picture of the south," is a living art museum showcasing the culture of South India. Demonstrated through 17 heritage houses, one can explore the various exhibitions, witness folk performances, interact with village artisans, and indulge in craft activities.

Located on the East Coast Road, this non-profit organization was established in 1996 by the Madras Craft Foundation to showcase the diverse cultures of South India.
Include the place in your list of 'places to visit in Chennai' if you want to take a peek into South Indian culture and heritage.

3. Elliots Beach

Also known as Besant Nagar or "Bessie" as slang term amongst youngsters, this beach is the perfect relaxation spot for the young crowd of Chennai. It forms the end point of the Marina Beach and was named after Edward Elliot, a former Governor of Madras during the British days.

Unlike the city's more crowded Marina beach, Elliots Beach is a relatively calm place. It is perfect for a dip in the cool waters, or a long walk along its shores. It is known to be one of the cleanest beaches of Chennai.

In the evenings the beach comes alive as many college goers gather together to socialize, and grab a bite to eat at the nearby restaurants.

There is also the Karl Schmidt memorial, named after a Dutch sailor who passed away trying to save a drowning swimmer. It is known to be one of the most renowned landmarks at the beach.

4. Escape and Satyam Cinemas

Avid movie watchers can enjoy movies in the two major multiplex cinemas of Chennai: Escape and Satyam Cinemas.

Satyam Cinemas, located in Royapettah, is part of the SPI group which is in the forefront of cinema technology. SPI Group recently introduced the Dolby Atmos sound system in all its theatres - the first to do so in India.

Escape Cinemas, the second branch of Satyam Cinemas, is located in the heart of one of the prime malls of Chennai, Express Avenue. Escape is an eight-screen multiplex holding about 1,600 seats. Designed by California-based Giovanni Castor, Escape is one of the major hot spots for youngsters to relax, sit back, and watch a movie!

5. Fort St George

The first British fortress in India, Fort St. George, presently serves as the administrative headquarters of the legislative assembly of Tamil Nadu. It also houses many historic buildings and monuments such as the St. Mary's Church, the oldest Anglican church in India, and popularly known as the 'Westminster Abbey of the East.'

Memoirs from the British rule in India, such as weapons, coins, medals, and uniforms, are preserved in a museum.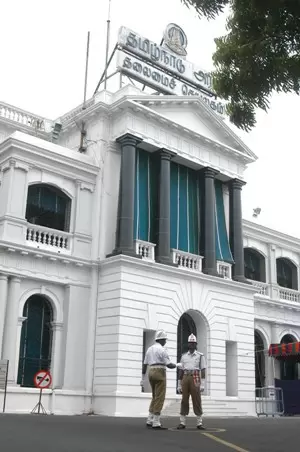 The legislative assembly of Tamil Nadu is located at Fort St. George
6. Kalashetra

This is the original institute of dance and the performing arts, established by Rukmini Devi, a Protégé of Dr. Annie Besant.

Kalashetra, which means "The Temple of the Arts" was established to revitalize Bharat Natyam, a classical South Indian dance form. This is a School for traditional dance and music forms. Some of India's finest dancers, Yamini Krishnamurthi, Leela Samson, and Alarmel Valli, were trained here.

Kalashetra organizes three main festivals, along with lecture sessions, workshops, and performances throughout the year.

7. Mahabalipuram

Any list of 'places to visit in Chennai' will be incomplete without Mahabalipuram. Mahabalipuram used to be a trading port even in the first century AD, during the times of Periplus and Ptolemy. Located about 60 km south of Chennai, it is a UNECSO world heritage site now.

The monuments of Mahabalipuram display the Dravidian architecture, though some elements of Buddhist design are also visible. The Shore Temple, Varaha Cave Temple, and the Pancha Rathas (Five Chariots) are some of the major attractions in Mahabalipuram.

8. Marina Beach

Known to be the world's second longest urban beach, and India's longest natural urban beach, Marina beach is a popular destination for people in Chennai. From kids, college goers, and families, crowds of about 30,000 to 50,000 people gather at the beach every evening.

Unlike the Juhu Beach of Mumbai, Marina Beach is known for its sandy shores that stretch on for miles starting from near Fort St. George on its northern side. Due to its dangerous waves and undercurrent, bathing and swimming is strictly prohibited in the beach.

A prime tourist attraction to escape the summer heat, Marina hosts many activities including about 500 street food stalls, pony rides, joyrides, and merry go-rounds for young kids.

Kite flying and beach cricket are also popular activities. The entire stretch also hosts numerous statues of leaders and a memorial for Swami Vivekananda.
The famous Shore Temple in Mahabalipuram
9. Muttukadu

Abundant with water activities, such as rowing, wind surfing, water skiing, and speedboat riding, Muttukadu is an ideal spot to enjoy the backwaters and the thrill of water sports.

Located on the East Coast Road, it was inaugurated in 1984 and currently holds 15 row boats, 27 speedboats, and 9 pedal boats.

10. Phoenix Mall

With mall culture fast on the rise in Chennai, Phoenix Mall, located in Velachery in South Chennai, has become the largest mall in the city, with a floor space of approximately 2 million square feet.

Housing 300-plus stores, including an array of international brands from Steve Madden, Diesel, Mango, Phoenix Mall is one of the trendiest locations for shopping in Chennai. Along with the slightly more luxurious stores, the mall also houses Pantaloons, Westside, Lifestyle, Global Desi, and Landmark.

Besides a food court, a multi-level car park, there is also a 30-room boutique hotel, an apartment complex, an amphitheatre, and a club. This is a mall where people of all ages like to congregate, whether it may be for shopping, dining, or spending time with friends.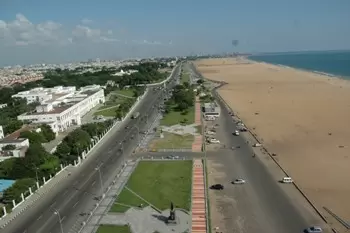 Pride of Chennai - Marina Beach
11. Pulicat

Known primarily for its Dutch influence, Pulicat is a small town that lies about 60 km north of Chennai. It is located just a few km ahead of Elavur, which separates the Pulicat Lake from the Bay of Bengal.

The Portuguese established a trading outpost here in 1502. The Dutch established their presence in Pulicat in the early 17th century.

Although the Dutch fort has now fallen into ruin, there is a lighthouse, which continues to stand tall, and a cemetery dating back to 1622. This cemetery is quite interesting, as it consists of Dutch inscribed tombs and graves carved with skeletons.

It is a mysterious location still quite unknown to visitors. Pulicat also lies within the Pulicat Bird Sanctuary, known for its flamingoes, which create visible sheets of pink across the lake. Visitors come here for its natural beauty and history. It is one of the 'must see places in Chennai.'

12. Royapuram Railway Station

Royapuram Railway Station, inaugurated in 1856, is India's oldest surviving railway station. The station, which was renovated a few years ago, is now facing the threat of demolition. Till 1907, it was the main station for Chennai. While conservationists are opposing its demolition, people of North Chennai want it to be developed as the third terminal for Chennai

13. Theosophical Society

Founded in 1875 in New York to evolve theosophy, the Theosophical Society's international headquarters was shifted to Chennai in 1882. Located on the bank of Adyar River, it is a green campus and has a resourceful library, where a wide collection of books on religion and philosophy are available.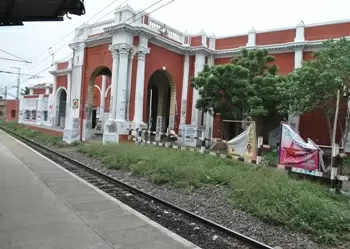 Royapuram Railway Station
14. Vandalur Zoo

Arignar Anna Zoological Park, which was established as the Madras Zoo in 1855 was located at Park Town near Chennai Central Railway Station before being shifted to the present location in 1985.

The zoo is located at Vandalur, about 15 km from Chennai airport. The Vandalur zoo is spread out in an area of over 602 hectares making it the largest zoological garden in India.

After Mudumalai National Park, Vandalur Zoo is the second wildlife sanctuary in Tamil Nadu.

A unique feature of this zoo is that the animals are placed in open enclosures to maintain the natural setting. The park has about 81 enclosures consisting of about 170 species of mammals, birds, and reptiles.

A few of these animals include the barking deer, Bengal tiger, Nilgiri langur, the lion tailed macaque, the flightless emu, and even star tortoises.

15. Zha Café

The coffee culture is spreading throughout the world. It has made a presence here in Chennai as well, through the Zha Café, the world's only Tamil themed coffee shop, located in Adyar and Porur.

This is a unique destination for coffee lovers to get together and chit chat over coffee in differently themed rooms. Including a snakes and ladders themed game room, each room creates a different ambience altogether.

The variety of coffee stretches from 'chukku' (dried ginger) coffee to cappuccino to chai and choco frappe. There are also some unique continental tastes given to traditional Tamil dishes, such as the "cocktail idly" and "vazhaipoo vadai."

Zha café tailors to its customer's diverse needs by providing an enjoyable and friendly environment to sip a hot cup of coffee and chat with friends.

Wish to share your story?
Trending Now: