Once an 'unseeable,' now a respectable citizen; a former scavenger's real life story

24-November-2011
Vol 2&nbsp|&nbspIssue 47
It is more than an incredible story. Of a woman condemned to do manual scavenging not too long ago, now having breakfast in the plush Renaissance Hotel of the Marriot chain, overlooking the Powai lake in Mumbai.

But Usha Chaumar, for a moment, forgets the food before her as her bright eyes cloud over while reliving the horrors she had faced as a scavenger in Alwar, Rajasthan.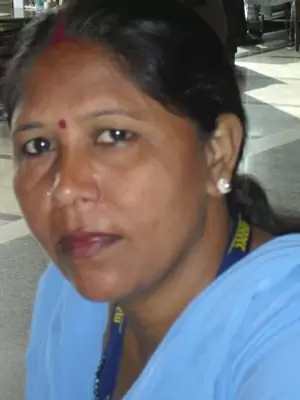 The sure sign of India's progress lies in redeeming more Usha Chaumars from the shackles of caste bondage
"I remember waking up very early every morning when I was just seven years old to go with my mother to manually clean the upper caste toilets. I wanted my own broom and walked along with my mother in Deeg, Bharatpur where I was born.
"We went very early before daylight because our shadows shouldn't fall on these rich people. We were the dreaded untouchable caste of India: The manual scavengers of human excreta.''

Later when Usha married, she moved to Alwar where she was still trapped in this inhuman occupation.

"Then as if by divine intervention, Dr Bindeshwar Pathak, the founder of Sulabh International, visited our colony five years ago and asked if given an alternative, would we give up scavenging. Immediately several of us in the colony agreed and that was the defining moment in our lives."

Dr Pathak established the Nai Disha, a centre of Sulabh International at Alwar for the production of pickles, papads, noodles and other edible items. Their lives took on a new dimension and they were able to support themselves.

"Working at Nai Disha has not only given us economic independence but also human dignity. People call me Madam and are quite happy buying food and embroidered items prepared by me.

"The joy of being liberated and ceasing to be an untouchable is an indescribable feeling. At the Centre I earn Rs2000. I am comfortable and can live with a sense of being human," says Usha and her eyes mirror the intense emotion she feels.

While scavenging, Usha used to be constantly ill with all sorts of health problems. While she worked and was thirsty, there was no one to give her water.

Even if the house owners wanted to give her food, they would throw it to her, as they were fearful of contact. Even her monthly payment was thrown from a distance.
"I felt less than an animal. Even dogs were treated better. If I was ill they would scream abuses at me, so I dared not take a day off.''

Usha also faced problems with the municipal authorities as there was no proper place to dump the excreta and she would stealthily throw it in drains or wherever possible. Often she faced the ire of the authorities and was forced to remove what she had dumped.

"Imagine today, those very same women and men who abused me, call me into their homes and I feel so odd sitting in their chairs and eating their food.

"Through the kindness of Dr Pathak, I have met the Prime Minister and the President. I have been taught to speak English and have been elected as President of Sulabh International, Social Service Organization. I have travelled to the US and even the media is keen to hear my story," she says with pride.

Today Usha says she can walk freely and go to any temple she likes without fear of being thrown out and abused. She has three children who are all being educated.

"No trap of the slavery of scavenging for them!" she says happily while her daughter puts her arms around her mother, making a happy picture.



Trending Now: