The idea of Hearty Mart Supermarket was born in the heart of a young man

Kavita Kanan Chandra
&nbsp | &nbsp Mumbai
12-August-2011
Vol 2&nbsp|&nbspIssue 32
When advertising professional Nadeem Jafri visited Big Bazaar in Mumbai way back in 2002, he had an epiphany. Coming from Ahmedabad, he was struck by the grandeur and shopper friendly ambience of the supermarket and decided at that moment to build something similar and move on from the advertising firm where he had been employed for eight years.

After doing a study of the retail market scenario in Ahmedabad, he launched a supermarket in Juhapura in 2004 - a locality that no big retail chain risked venturing into.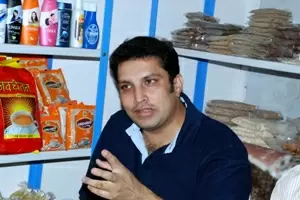 Smart move: Nadeem Jafri decided to turn entrepreneur chucking his job in an advertising firm, and he has had no reason to rue his decision
The Hearty Mart Supermarket has since made foray into rural territories as franchises. With a red exterior and a tagline of 'sabse khaas, ghar ke paas' (most important, nearer to home), it hopes to connect with customers as the friendly neighbourhood store.

A Physics graduate from St Xavier's college, Ahmedabad, and an MBA from Indore, Nadeem had vast work experience in different jobs and found he could develop good rapport with clients and earn their goodwill.
Though his father was a partner in a chain of restaurants along the Mumbai-Ahmedabad highway, Nadeem ventured on his own to become a first generation retail entrepreneur in 2004. "At that time the only retail supermarket chain was that of Adani's in Gujarat (which they later sold to Reliance)," says Nadeem.

With an average sale of Rs 7000 per day at his first outlet, he was able to break even in one year.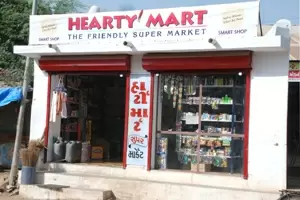 Hearty Mart is a 'supermarket' for the ordinary folks
Soon, he started giving entrepreneurial opportunities to village youth, training them and helping them to set up franchises in their villages. "Our franchise model works on inclusive growth strategy. We charge the royalty fee on annual sales. I periodically visit these supermarkets and help them in every way to increase sales," says Nadeem.
Nadeem is encouraging villagers to turn entrepreneurs. When Mohsin from Idar village, who had studied only till tenth standard, approached Nadeem for help, he trained him at Hearty Mart (HM) for two years and later encouraged him to open a HM supermarket franchise in his village.
Another boy, Abbas Ali, with no direction in life found his mentor in Nadeem, who trained him for two years till he turned entrepreneur with a HM franchise at Zahirabad.
As there are no organised retail stores in villages, Nadeem has created a chain of 3 HM supermarkets at Ilol, Idar and Dholka and 5 HM Saral Shoppe at Zahirabad, Ilol (Pahadiya), Pipodar, Jethipura and Kanai. Talks are on for the tenth HM supermarket in Nadiad with budding entrepreneurs.

"The retail business needs lot of mentoring and patience. I want to go slow and steady," says Nadeem, a recipient of the Star Entrepreneurship award at 3rd Indira India International Innovation Summit (2010).

Nadeem has started a subsidiary, Hearty Mart Enterprise, to provide bulk supply of foodgrains, groceries and spices to around 250-300 restaurants across Gujarat. "We are creating our own labels in spices (Chef ki pasand), sauces (lutf), tea (Day Break) and other food items," says Nadeem.

As Hearty Mart is becoming a trusted brand, he plans to slowly expand to as many villages as possible.


Trending Now: