A woman boxer is all set to bring home a gold from London Olympics
Ajay Rana
&nbsp | &nbsp New Delhi
29-July-2011
Vol 2&nbsp|&nbspIssue 30
Her soft-spoken nature belies the fire in her belly and the sting in her fist. Female boxer Mangte Chungneijang (MC) Mary Kom, winner of five consecutive world titles, is one of India's greatest sporting icons. She pulls no punches when she is in the ring.
Mary Kom came up the hard way, surmounting numerous obstacles. When she took to the sport, it was unimaginable for an Indian woman to don boxing gloves. She dared, and today she is a role model not just for Indians but for any woman in the world who aspires to be a pugilist.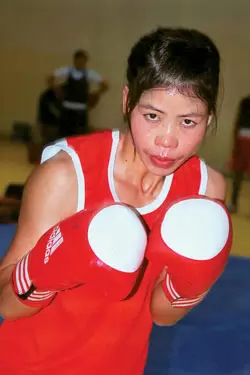 Punch tantra: Mary Kom, a five time women's world boxing champion has set her eyes on an Olympic gold medal now (Photo courtesy: Smash)
Mary Kom says: "I have a hunger for winning. When I am in the ring, I want to win." In life, too, she has found herself up against many odds: gender bias, lack of resources, a humble background. Instead of grumbling, she has marched on regardless.
Her haul is incredibly rich: five gold medals from six World Boxing Championships, four Asian titles and eleven wins at the national level. She is the only boxer who has won medals at all the six World Women's Boxing Championships.
The most striking aspect of Mary Kom's personality is her innocent and unassuming disposition. She still giggles like a girl when she talks. Her sport is tough and it takes a lot of effort to beat opponents, but this undisputed queen of boxing remains self-effacing.
Mary Kom was born in Manipur to Mangte Tonpa Kom and Mangte Akham Kom. As a girl, she worked in the fields, cut wood, made charcoal and went fishing to help her parents. She also looked after her two sisters and one brother. The rise of charismatic Manipuri pugilist Dingko Singh inspired her to take up boxing. But it was anything but a smooth ride.
"It was a struggle. I had to work very hard. I had to manage my family while focussing on my game. It isn't easy being a woman sportsperson in India," she says. "Boxing wasn't a popular sport for women. Even the federation didn't support me. I had to make do with far lesser facilities than the boys."
Mary Kom never gave up. She attended camps around the country; she organised her travel expenses and bought her training kit. Boxing officials did little to help her. Ask her how she feels today, she bursts into laughter and says, "Magnificent. I am very, very happy. Not everybody achieves this much in life."
Her thirst for success is insatiable and Mary Kom now has her sights set on an Olympic gold. She says: "Till the 4th World Championship there was no women's boxing in the Olympics. But now they have included it and I am confident I'm in with a chance to win the gold."
She is currently preparing for the President's Cup scheduled for the second week of August in Turkey. Then she will participate in the Asian Championship by the end of the year. But at present she is focusing more on the 7th World Championship to be held in May 2012. This will be the qualifying tournament for the Olympic Games as well. In the upcoming World Championship, she will be fighting in the 51-kg category.
Her husband, K Onler Kom, is a pillar of strength. She first met him in 2000 but the thought of marrying him never crossed her mind. "For about a year, I treated him like an elder brother," she recalls. "I had no inkling of what was in his mind. One day he popped the question and I was stunned. It took me two weeks to respond. I am glad I said yes."
The relationship was cemented when her would-be husband bailed Mary Kom out of a tight spot. She was on the way to take part in her first Asian Boxing Championship. All her belongings were stolen. She lost her passport. Her parents advised her to return home. But Onler Kom arranged a new passport to her and Mary Kom was able to make the trip.
Published by special arrangement with Smash

Trending Now: