Operation Hygiene is on overdrive in rural India through a govt scheme
Arun Anand
&nbsp | &nbsp Bhopal
10-June-2011
Vol 2&nbsp|&nbspIssue 23
People defecating in the open and garbage strewn around are vignettes of rural India. But it is not so in more than 2,000 villages in Madhya Pradesh, which have been declared as 'Nirmal Grams' or clean villages under a centrally sponsored scheme, started in 2003.
A village is given the title after all its houses have their own toilets. Under the scheme, the panchayats are awarded cash, depending on their population.
Apart from the visible change in hygiene standards, the focus on cleanliness also brings in tow attendant social benefits. Women, for example, feel much safer as they do not have to go in the open and unsecured areas to relieve themselves.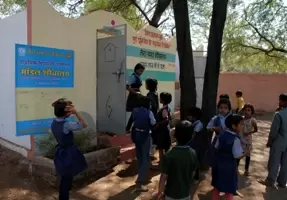 Children outside a child friendly toilet in Hinotia village in Guna district (Photos: IANS)
In the Budhni development block of Sehore district, one immediately realises that one has entered a Nirmal Gram.
The roads are clean with no sign of garbage on the roads. There are permanent drains and villagers are careful to keep their surroundings clean.
The village's former head Ramsevak Patel took the initiative to turn Budhni into a Nirmal Gram in 2007 after District Collector Raghvendra Singh expressed concern during his visit about people defecating in the open.
Patel took the cue and launched an awareness campaign encouraging people to construct toilets in their homes. Now, all the 635 homes in the village have their private toilets.

The local government school and Anganwadi centre too have proper sanitation facilities. Ram Narayan, 65, symbolises the change in attitude.
"I completely understand that sanitation and hygiene ensure that one remains healthy and we are proud to be part of this campaign," Patel said: "That is why not only have we stopped defecating in the open, but all families now ensure that they keep all eatables and water covered," he said. - IANS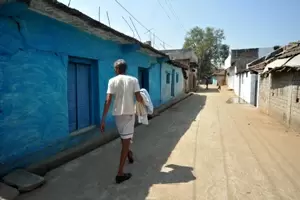 A clean lane in a Nirmal Gram village in Madhya Pradesh
In Guna district, children from 25 villages have become torchbearers of change in an initiative supported by Unicef. They are part of a group called 'Jagmag Sena' (The glittering army).
Hinotia village in this district is a Nirmal Gram. As one enters the local senior secondary school here, the impact of children's efforts is quite visible. The school is very clean, there is no garbage lying anywhere and all students are extremely careful about their personal hygiene.
Gregor von Medeazza, child environment specialist with the Unicef office for Madhya Pradesh, said: "Hinotia school is a brilliant example of school-led sanitation. In such programmes, students not only take active part in the design and operation of school toilets, deciding on the layout of sanitary facilities, but also become agents of change, transferring the good hygiene practices for ending open defecation and washing hands with soap from their school to the community."
Jagmag Sena uses means like games and discussions to engage people.
Varsha Prajapati, who heads the Jagmag Sena, said: "We have very interesting games through which we spread simple but important message of cleanliness.
"We emphasise the importance of washing hands and keeping oneself clean," she added.

Trending Now: