Dhoni a fascinating subject for leadership skills

R Mohan
&nbsp | &nbsp Chennai
03-June-2011
Vol 2&nbsp|&nbspIssue 22
Quite apart from the comic line that Dhoni is the Chennai Super Singh, a serious challenge is being thrown at the cricket captain with the Midas touch now. Can he do something about the national hockey and football teams? Can he lead them back on track to victory? Given his track record with Team India, Dhoni might surprise one and all if he does take up the challenge.

A number of analysts have grappled with finding what makes Dhoni tick. Apart from the clichéd 'calm and composed captain' there have not been too many illuminating insights into the Jharkhand cricketer's leadership. In trying to unravel the persona of his successful boss, Suresh Raina came up with a description that was revealing.

"He is the most honest captain I have played under," Raina said. It is a quality that has always been in short supply because of the underlying politics of Indian cricket.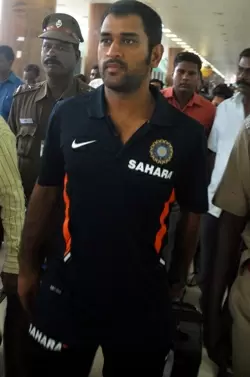 Streets ahead: India's most successful captain M S Dhoni is a leader who leads from the front always
Even at a time when there were only about 27 cricket associations and broadly three successful zones – West, North and South, perhaps in that order – the zonal politics used to be overwhelming.

Today, thrown into the mix are 10 IPL franchises that wish to see their domestic players in the national limited-overs squads. It is easy to see why the crush of politics has become that much bigger. The Indian skipper must be truly Teflon-coated to not allow any of the regional influences creep into his judgment.

Also, Dhoni is the first to admit his mistake if he has backed a cricketer who does not deliver. We saw that most recently in the World Cup when the much acclaimed Piyush Chawla bombed in the big event. Boxed into a corner, Dhoni had to persist with Sreesanth and when that move also did not click in the final, Dhoni was the first to put his hand up.

Maybe, this is the disarming honesty Raina was talking about in his assessment of his skipper. There is something about Dhoni that has everyone chattering about the virtues of man management, etc.

He might even be the subject of business school studies if only because it sounds so unusual that a railway ticket examiner from the back of beyond should rise to be the best captain in Indian cricket history.

Dhoni will certainly be a fascinating subject so far as leadership skills go as few captains have been known to be better at defining each player's role in the team. Once he has done that, he is not the one to keep stressing the obvious or interfering too much. His calmness is best exemplified in the run of play during which he assumes the air of a monk.

Captain Cool has a way about him that defies generalisation. He is not the kind of captain to badger bowlers with instructions every delivery. Indian captains have been known to be criticised for both – talking too much to bowlers and not talking at all.

Dhoni's hat-trick for Chennai Super Kings – IPL 3 title, Champions League and now IPL 4 – suggests he is in a different league altogether as he not only leads the best Test side in ICC rankings today but is also captain of the World Cup (50 overs) winning team while constantly adding to the trophy collection of one of the best club sides in world cricket from his adopted city Chennai.

Need we ask him for more, but then we know the plight of our hockey and football teams and hence the temptation to call for his Midas touch there too.


R Mohan is Resident Editor of Deccan Chronicle, Chennai. This article was originally published in Deccan Chronicle.


Trending Now: