Cutting out middlemen, Araku tribes are able to get a better deal, thanks to Sanjeevini

Abhiskek Vaddadi
&nbsp | &nbsp Bangalore
25-February-2011
Vol 2&nbsp|&nbspIssue 8
For generations, Araku Tribes, living in small clusters in the hilly terrain of Sovva, an interior panchayat on the borders of Orissa in the Araku mandal of Vishakapatnam district in Andhra Pradesh, were an exploited lot. The tribal people, who follow traditional forest management systems of their own, grew the most delicious vegetables but never received remunerative prices for their produce.

The farmers could not travel and reach their produce to big markets beyond the local shandy, where they were shortchanged. Moreover, farmers were reluctant to return home with unsold goods, as their produce - vegetables, pineapple, mango, tamarind and jackfruit - was seasonal and perished quickly. So, in those bad old days, as K Kamaraju of Sovva says, "We used to carry the vegetables on our backs and if they were not sold, we used to dump them on the way and come back empty handed."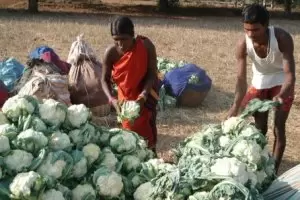 Enlightened: Gone are the days when Araku tribe men shied away from going to towns to sell their farm produce. Today, they have become seasoned traders
The tribes then had only two options - to dispose of their produce through barter in the local Devuduvalasa fairs on Tuesdays or sell it off for a song to the middlemen at Araku market. Taking full advantage of the farmers' ignorance of trade practices and inability to travel afar, customers offered them low prices.
But it all changed, when Sanjeevini, an NGO, studied the situation and thought of various ways to gainfully link the exploited farmers to markets. Sanjeevini felt that integrating farmers into the market system would certainly help them overcome their inhibitions to interact with the outside world and enable them to improve economically.

Meanwhile, the government of Andhra Pradesh established Rythu Bazar (farmer markets) in the cities to encourage farmers to sell their produce directly to the consumers in urban areas.

Sanjeevini utilized this opportunity to organize the tribal people and encouraged them to sell their produce in Rythu Bazars. But to bring down the farmers from the valley to sell their produce in the markets was in itself a very tough job. The farmers agreed to go and sell their produce at Rythu Bazars only after a series of formal and informal meetings and awareness programs.

Initially only three tribal farmers came forward to sell their produce and all of it sold out like hot cakes. It motivated rest of the farmers and they also followed suit. Today, at least three truckloads of vegetables are transported from Araku in a week to nearby towns and cities while the number goes up to 6 trucks in the fertile season.

Sanjeevini is addressing the needs of the tribal farmers successfully. It helps the villagers in many ways, including: mobilizing them to sell their produce in the city, getting the identity cards issued for the farmers, organizing the transport facility, organizing supply of seeds and fertilizers for farmers, encouraging the villagers to take up thrift measures, organizing the tribal farmers' cooperative, and providing training to the tribal people on weighing, marketing, packaging, preservation of the farm produce.

Abhishek Vaddadi is a Grassroutes Fellow 2010. Grassroutes is a fellowship program that enables youth to travel across rural India, discover and work with change makers, do their bit to change the world and inspire more youth into social action. To apply for the 2011 edition of Grassroutes, go to http://bit.ly/gr11.


Trending Now: