With friends like these, The Weekend Leader has nothing to worry about as it forges ahead

Jyothi Nookula
&nbsp | &nbsp Chennai
28-January-2011
Vol 2&nbsp|&nbspIssue 4
The Weekend Leader (TWL) has achieved another milestone. The inauguration of TWL's Friends of Positive Journalism (FPJ), Chennai Chapter, on January 26, witnessed a gathering of likeminded people, who exchanged ideas and fixed goals to mark the beginning of a movement to encourage "social consciousness among the people and to promote the socially conscious people."

Speaking at the function, TWL's Consulting Editor, veteran journalist and political commentator, Sam Rajappa, hailed TWL's independent journalism, while pointing out how newspapers in India had become too advertisement driven. Praising TWL for taking a different path, he wished FPJ all success.

TWL's Founder Editor, P C Vinoj Kumar, said he wanted FPJ Chapters to encourage change agents and introduce them to a wider audience in schools, colleges, clubs and associations. "Such initiatives will inspire younger people to aspire for worthy ideals in life," he said.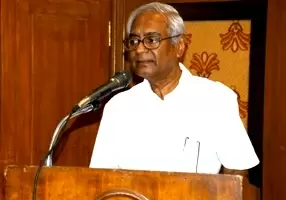 Truly independent: Veteran journalist and political commentator, Sam Rajappa, hailed TWL's independent journalism and wished it all success
He said FPJ Chapters will "support, promote, and sustain the work and mission of TWL," adding that all FPJ's programmes would get adequate coverage in TWL.

TWL also launched the first of its series of Wel Talks (WEL here stands for The Weekend Leader) to fulfil its vision of recognising and promoting the "socially conscious people."

Inventor of low cost sanitary napkin machine and social entrepreneur, A Muruganantham spoke about the challenges he faced while working on the 'white revolution'. Claiming that his machine could provide jobs to a million women in the country, he said, "Johnson and Johnson is not my competitor but Mamta Banerjee is," suggesting that he will emerge as the largest employer in the country overtaking the Railways if the government was willing to implement his proposal.

Businessman and philanthropist Sugal Chand Jain spoke about the annual awards instituted by his Bhagwan Mahaveer Foundation for those working for community causes. "We give awards in four categories, each carrying a cash prize of Rs.10 lakhs," he said.

Environmentalist C. Srinivasan amazed the audience with his presentation on his work of greening the rocky hills of Vellore. The pre and post-project photographs he displayed were stupendous and showed how the earth could be a better place to live in if we put in some effort.

Ramanarasu Jammi, an Ayurvedha proponent, spoke about the scientific nature of Ayurvedha and said the traditional branch of medicine is more relevant today than ever. He said opting for Allopathy was like hiring a bodyguard to protect you from goons, while undergoing Ayurvedha treatment was like going to the gym and building yourself up to tackle the enemy.

Dr. L Ravichandran from Palacode explained the measures he was taking to fulfil his dream of Green Palacode 2020. He said he has been pleading to the government for establishing small dams in the region to improve irrigation facilities for farmers. "I am also demanding the setting up of processing and export units for fruits and vegetables," he said.

Police trainer and Krav Maga expert S. Sreeram, said violence cannot solve problems, though it is advisable to learn self-defence techniques. "It is important to learn how not to get into a fight," he reiterated.

LB Suresh Kumar of Tamil Nadu Cycling Club mentioned about the various initiatives he was working on to bringing cycling back to Chennai.

P Ganesan spoke about the humanitarian service he has been rendering through his ambulance service in Mettur. During emergencies, he rushed poor patients to hospitals and gave them money for treatment. "People promptly return the money after they become well," he said. Ganesan also makes arrangements to bury unclaimed bodies at his own expense.

Anchoring the 'un-conference' session, Benedict Gnaniah said the one word that was a recurring theme in all the speeches was 'Love' and he appealed to the audience to take home the message.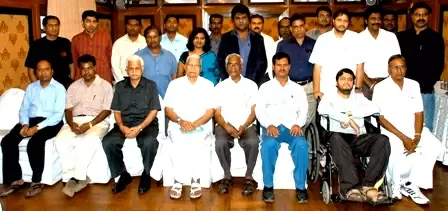 TWL's Friends of Positive Journalism, Chennai Chapter



Editor's Note: More photographs of the event will be posted Saturday. Video clippings will follow next week. Those interested in becoming Friends of Positive Journalism may write to [email protected] with your contact number. We will get back to you.


Trending Now: