Rescuing children from the clutches of illiteracy and ignorance

Roohi Saluja Sehgal
&nbsp | &nbsp New Delhi
07-January-2011
Vol 2&nbsp|&nbspIssue 1
She took schools to the slums against all odds. The local politicians and government authorities tried to put up hurdles by urging the slum dwellers to boycott her and also deny her the space. She was thrown away from pavements, banned from entering public parks. But she overcame the hurdles and rescued over 800 children in the slums of Govindpuri and its vicinity from illiteracy and gave them dignity.

But then, that was just the beginning for Anouradha Bakshi, a diplomat's daughter who felt that she had a debt to repay to society. Her dream came true in the year 2000 with the launch of 'Project Why', a non-profit organisation offering educational and life-reforming support to the slum children and their families.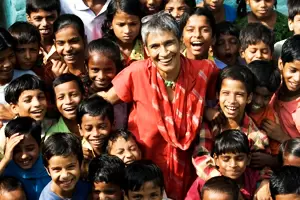 Big plans: Anouradha Bakshi is working on a sustainable model to fund her social work among Delhi's slum children and plans to build an eco-friendly guest house in the city
After making a modest beginning with a handful of children, a few volunteers, and a nomadic existence in public parks, footpaths, and reclaimed garbage dumps, the Delhi-based organisation has come a long way.

Today it is located in a modest, but concrete building in the narrow lanes of Govindpuri, with sporadic centres in various clusters of Delhi. It offers early to primary and secondary level education, computer training, specially-aided classes for mentally and physically disabled, and vocational training for women.

For every 'why' directed at Anouradha, Project Why is the solution. So when a municipal school's principal dismissed her efforts saying, "These children live in gutters! They can never pass," Anouradha came up with a new education model that not only minimized school dropouts, but also helped them climb up the merit list.

Her inspiration to start the project also sprung from her achievement in doing a seemingly impossible task. She managed to help a 30-year-old mentally-challenged man, Manu, living amongst maggots in a garbage dump, get a home. Manu was Project Why's first success story! Following this were several heart surgeries, rescue operations for young children facing physical abuse from alcoholic parents, and miracles like turning one-year-old Utpal, who suffered third degree burns, back to life!

The project undercuts the popular belief that slums are unproductive, and hence should continue to fray at the seams. The only issue that remains unresolved is raising enough funds. "Today I only have one-month's back-up in my bank, but that does not falter me from moving on," says the 58-year-old woman.

The only financial help that she manages to get is from the readers to her blogs, most of them being young volunteers from abroad. "But Delhi continues to be cynically inactive!" she says.

In fact it is this lack of sufficient funds that has propelled Anouradha to her next dream project—an eco-friendly guest house, 'Planet Why', situated in a green belt close to the Delhi airport. "Planet Why will be a social business venture employing local people, and generating income to support itself and Project Why's social mission in the long run. Since investors expect quick returns that a social business cannot readily achieve, we have to look for unconventional financial sources," says Anouradha, who was voted Citizen One 2005 by the India Today group.


Trending Now: