Sudhanshu Mani: The Visionary Behind India's Vande Bharat Express and Transforming Indian Railways
05-July-2023
Vol 14&nbsp|&nbspIssue 27
Throughout his extended tenure at Indian Railways, Sudhanshu Mani was a part of many crucial projects.

Nonetheless, it was his role as the General Manager at the Integral Coach Factory (ICF) in Chennai that brought him the most acclaim.

He played a pivotal role in the celebrated Vande Bharat Express project, and was involved in the project from the very inception to its successful completion.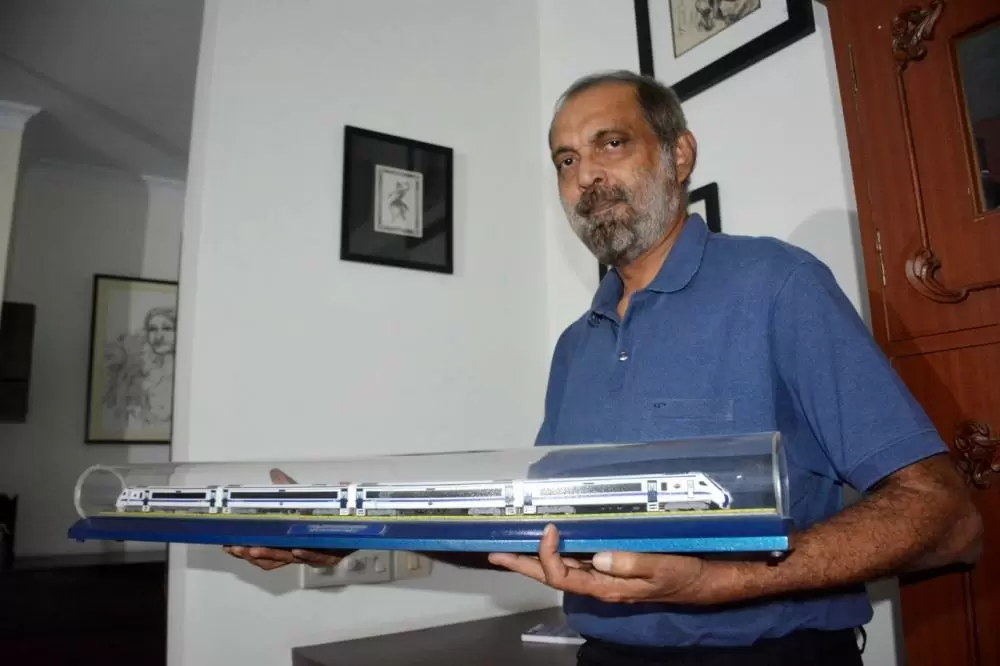 Sudhanshu Mani raced against time to deliver Vande Bharat before his retirement in December 2018 (Photos: Special Arrangement)
The train, which was initially dubbed as Train18, and later rebranded as Vande Bharat Express, marked a significant milestone in India's railway history as the country's first locally built semi-high-speed train.
Sudhanshu served as the General Manager of ICF, Chennai from August 2016 until December 2018.
"I joined ICF Chennai by choice as the post was vacant and I was fortunate enough to have a very good, creative team. Together, we nurtured and developed a shared dream," says Sudhanshu, looking back at his experience of building Vande Bharat.
"Over a period of time, the colour of trains changed from red to blue, but they retained the same box-like structure. But we wanted to build a modern and fast train with pleasing looks."
His railway career culminated with the rollout of Train 18, the first indigenous train set capable of reaching 180/160 km/h, crafted and manufactured through the collective efforts of the Integral Coach Factory.
"This train has captured the imagination of the nation. It was the first time a rolling stock project of such scale was conceptualised and built entirely in India," he notes
Sudhanshu narrates a memorable incident that happened within the first 15 days of his joining the ICF in Chennai. He was with his team in the factory, inspecting the sliding door of an EMU, seeking ways to improve it. As he was leaving after a day's work, an intriguing encounter took place.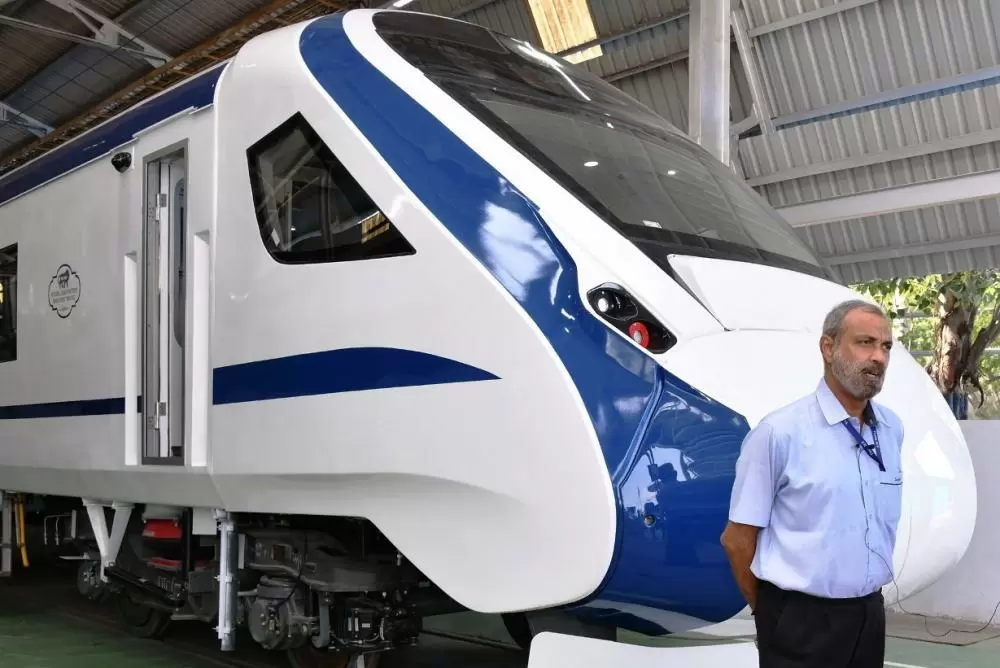 Vande Bharat is India's first locally built semi-high-speed train
An elderly gentleman, seemingly on the brink of retirement from ICF, Chennai, approached him. With a piece of paper featuring a sketch, the man addressed him in a mix of Tamil and English.
"He told me, 'Your job is to make a sleek, very high-speed train. What you were doing inside is not your job. You have the capacity, power, means and vision to build a train for India. Try to do it.' Then he simply vanished," Sudhanshu recalls.
In the following months, Sudhanshu attempted to reconnect with the mysterious man. However, lacking a clear description, and having misplaced the gentleman's paper, his efforts were to no avail. Those who had been with him at that moment could not recognise the man either.
"I mentioned this incident in my book 'My Train 18 Story,' but I regret that I never managed to reconnect with him again," shares Sudhanshu.
The tale of how the Vande Bharat Express, India's first self-made semi-high-speed train, was conceived, approved, and unveiled to the public is nothing short of inspiring.
When the idea was first born, there was uncertainty: 'Can we do it?' "I told the team, 'Yes, we can, with dreams in our eyes and hard work in our hearts.' I believed in the power of the team above all."
Getting the green light from the ministry was the next hurdle. Despite initial scepticism, Sudhanshu assured his team that he would secure the required permissions.
Approaching the chairman of the railway board, he stated, "Give me sanction for two trains and I will do it at one-third the cost." Sudhanshu was granted a budget of Rs 200 crore for the project.
The team's third concern was potential failure and the fear of being blamed. As a leader, Sudhanshu reassured them, saying, "If we succeed, the credit is all yours. If we fail, I'm the one retiring soon, so what's the worst that can happen to me?"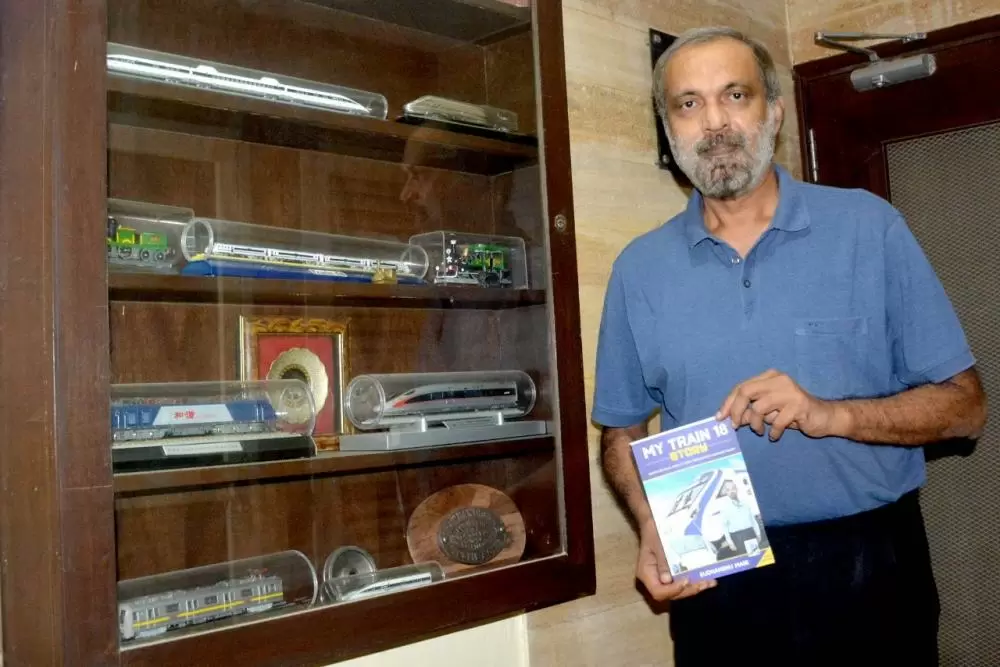 Sudhanshu has published a book on his journey building Train 18
The team's next doubt was about the tight timeline. They needed 35-40 weeks to complete a project like Vande Bharat, and it was already April 2017 with Sudhanshu's retirement slated for December 2018.
The team wasn't sure if they could complete the project in time. They were also concerned about the possibility of a new boss after December who might want to change things in the project.
Addressing these concerns, Sudhanshu encouraged them, saying, "We Indians are hard workers. I'm confident that my team can work around the clock and complete this before December 2018." That's how the train got its name, Train18.
As the saying goes, 'fortune favours the brave', and fortune indeed smiled on team Train18. By October 27, 2018, the first train was ready to be shown to the thousands of family members of ICF, Chennai employees.
After rigorous testing in early December, the train achieved the record-breaking speed of over 180 km/hr, a significant accomplishment for Indian Railways.
In the early days of his job, Sudhanshu Mani noticed a feudal work culture in the Indian Railways. Reacting to this, he discarded the traditional officer's briefcase for a simpler bag, reflecting, "For me, it was more about breaking away from the feudal culture."
Keen on effecting significant changes, he introduced mechanised cleaning and airport-like trolleys for the porters in railway stations.
In addition, Sudhanshu's passion for art led him to initiate the (Support & Apprentice for Art & Railway) SAFAR art movement, which transformed Bangalore railway station with vibrant artwork.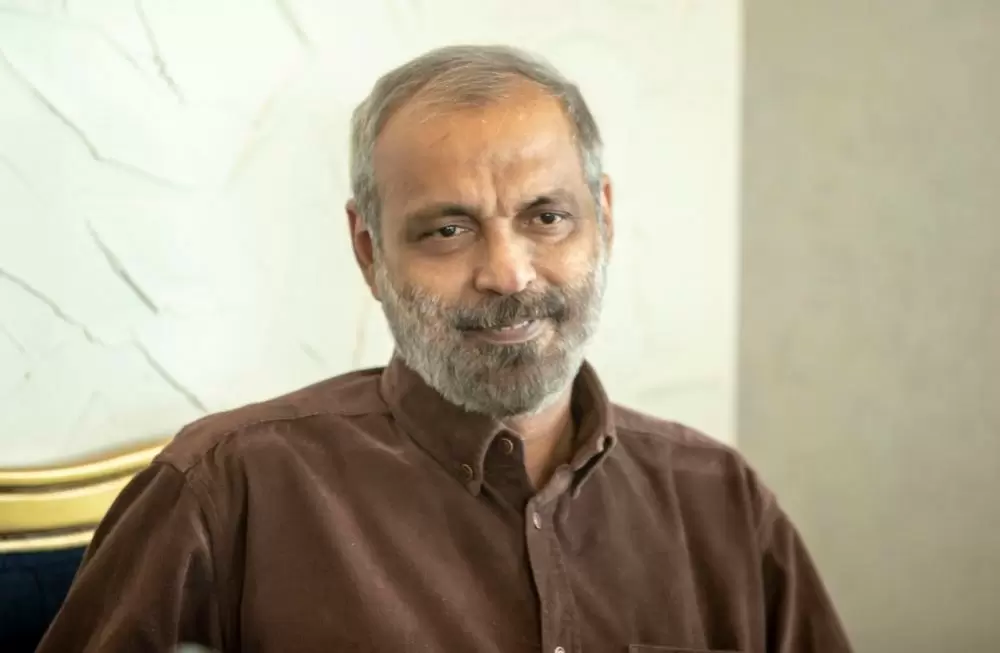 Sudhanshu's father too is a railwayman and he retired as the Assistant GM of the North-Eastern Railway
This endeavour, he believes, added a vital human touch to the workspace, remarking, "Art in any form can teach us about life, human interaction, and achieving a good work-life balance."
Sudhanshu, now 65, was born in the city of Gorakhpur, situated in eastern Uttar Pradesh. His father too worked in the Indian Railways, and retired as the Assistant General Manager of the North-Eastern Railway.
His mother, who could have pursued a career as a Hindi lecturer, chose to dedicate her time to home and the upbringing of her children.
Sudhanshu's early years were spent moving around India, because of his father's transferable job. "Every 2-3 years, I found myself in a new school due to the job transfers," he recollects.
"We used to live in railway colonies where cultural clubs, sports clubs, and other community activities were a part of everyday life. I, along with my two siblings, grew up amidst other railway kids."
Sudhanshu completed his school education from Colvin Taluqdars' College, Lucknow in 1975. He initially joined the Metallurgical Engineering program at IIT Kanpur but was not entirely happy with this choice.
Therefore, he decided to take the Special Class Railway Apprentice (SCRA) exam, a prestigious program that prepares mechanical engineers to become Class I railway officers. After qualifying this exam, Sudhanshu joined the program in 1976.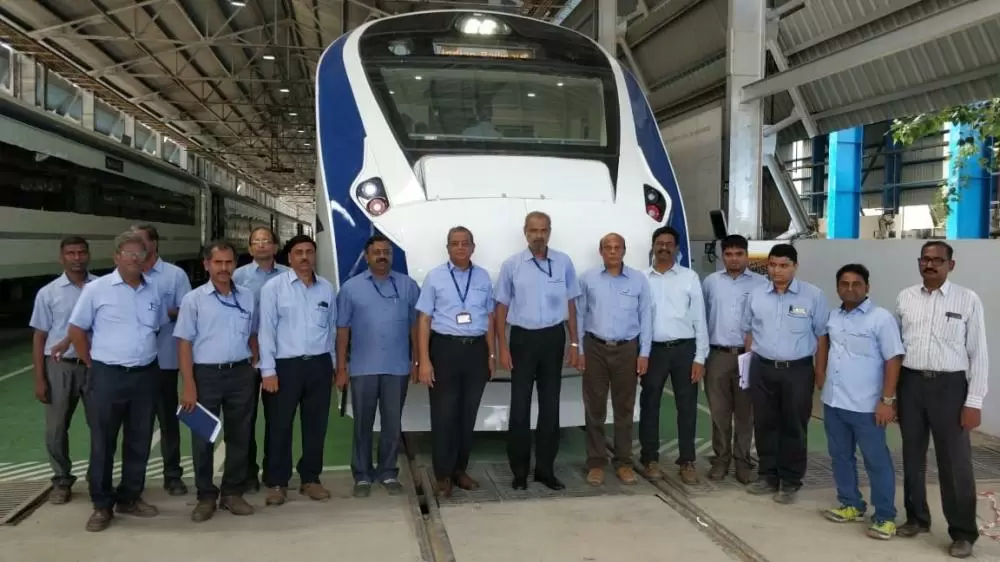 Sudhanshu with some members of the Vande Bharat team
Sudhanshu completed the four-year degree from 1976 to 1981, which came with a stipend. After two years of probation, he received his first posting in early 1983 as the Assistant Works Manager in Andal, Asansol, West Bengal.
His wife, Anupama S. Mani, was a journalist with the Indian Express, UNI & New Indian Express before she turned to teaching. Eventually, she left her job to devote her full time to their only son, Sarang, during the 1980s. Anupama is also a blogger and the author of a book named 'Unlocking Lockdown'.
The couple's son, Sarang, completed his undergraduate studies in the United States and is currently working as an analyst with JP Morgan in New York, US.
Sudhanshu, who is an inspiration for the younger generation, draws his own inspiration from remarkable individuals like the former 'People's President' APJ Abdul Kalam, the 'Metro Man' E. Sreedharan, and many of his seniors at the Indian Railways.
These great personalities taught him invaluable lessons and shaped him into the leader he is today.
He admires the former President for his purpose-driven life, simplicity, and deep patriotism.
"If we can embrace even a fraction of what Abdul Kalam embodied, we can consider our life's journey a success. He was truly extraordinary. It's fortunate that our country recognised his potential and made him the President," he says.
Equally, he appreciates Sreedharan's exceptional execution of the Konkan Railway and Metro projects, carried out with utmost honesty and integrity. "The way Sreedharan completed these projects was top-notch. I had the opportunity to meet him after our train project," Sudhanshu recalls fondly.
In addition to his extensive technical work during his tenure with Indian Railways, Sudhanshu is fulfilling his post-retirement aspirations across diverse fields.
From writing and arts to delivering inspiring lectures, Sudhanshu's work spans a variety of areas. He has already penned six books, including "Art and Railways - A Bangalore Saga", "Reinventing the Wheel - Another Bangalore Saga", "Greening of a Factory - Verdant Makeover of a Factory and its Habitat", "A Skein of Trains - Recounting a Chennai Story", "Trains Unchained - The Continuing Saga of Art and Railways", and "My Train 18 Story". The work is in progress for two more books. - ©
TWL

Trending Now: