Entrepreneur Duo's Re 1 Gamble Pays Off, Builds a Rs 26 Crore Beauty Brand
08-June-2023
Vol 14&nbsp|&nbspIssue 23
Barely two years into their journey of setting up a cosmetic brand in Ludhiana, Dheeraj Bansal and Rahul Sachdeva's fledgling business faced a severe threat as the Covid pandemic swept across the globe, jeopardising all their strenuous efforts invested over the previous months.

Dheeraj and Rahul are founders of the Ludhiana-based beauty brand, Recode Studios, which offers products like body lotion, face scrubs, and face foundation.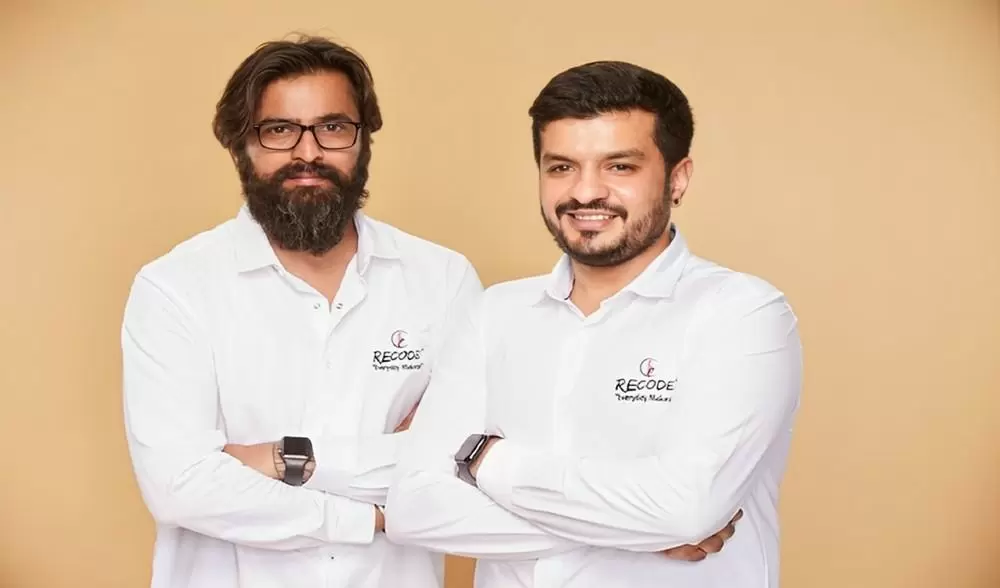 Dheeraj Bansal (left) and Rahul Sachdeva launched Recode Studios in 2018 from Ludhiana with just seven employees (Photos: Special Arrangement)

Faced with no possibilities of marketing their products in a lockdown that permitted only essential items, the dynamic duo almost succumbed to despair and thought of closing their venture.
"Our products were just sitting there, unsold. With a shelf life of 24 to 36 months, we didn't know what to do. Given the severity of the situation, we considered permanently closing the business," Dheeraj recounts, reminiscing the period of uncertainty as the lockdown announcements kept extending from March, with no sight of revocation.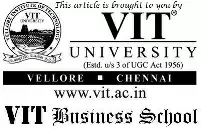 However, an innovative idea suddenly ignited in their minds. They decided to sell their products at just Re. 1 in June 2020, aiming to clear the inventory before the expiration dates approached.
To spread the word about this Re. 1 sales strategy, they harnessed the power of social media and bloggers.
As Dheeraj recalls, this strategy proved unexpectedly advantageous for them. The sale was initiated just as the nationwide lockdown was lifted.
"The Re. 1 price tag attracted a large section of people across India. We managed to sell about 20,000 products on that single day of sale in June 2020, despite incurring a loss of Rs. 70-80 lakh," says Dheeraj.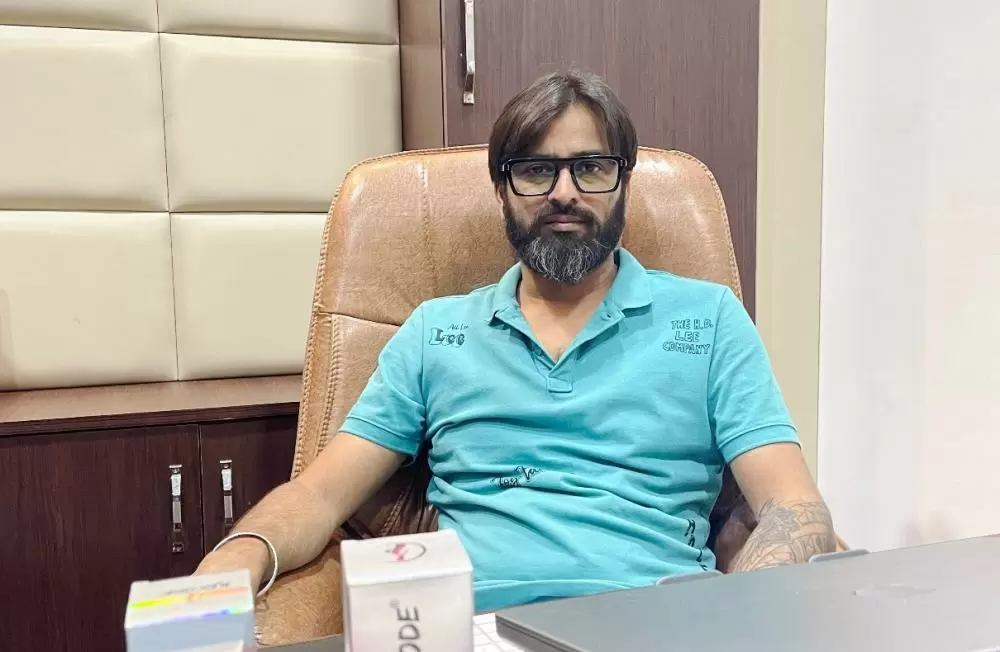 Dheeraj dropped out of college to join his brother's business and worked there for 20 years
"The expansive customer base that tried and appreciated our products during the sale brought us lakhs of new patrons. Consequently, our sales shot up. From October 2020, we began offering our products online via our own website."
They have since expanded their reach, with their products now listed on multiple platforms like Amazon, Flipkart, Tira, Stylish1ndia, The Sparkel India, and Nykaa.
Through the Re.1 sales the two entrepreneurs understood a crucial aspect: the larger the audience who tests Recode's offerings, the greater the chance of converting them into loyal customers.
"That's why, starting October 2021, we initiated customer training sessions. Our guests are invited to 5-star hotels, where we not only offer them our products for free but also guide them on how to use these cosmetics most effectively. We also treat them to 5-star meals," shares Dheeraj.
Through these events, they create a network of brand ambassadors who actively promote their products via word-of-mouth marketing.
This has become a recurring activity in their business strategy. Each training session sees an investment of around Rs. 3000 per participant, with the cost equally divided between food and Recode makeup kits.
Their training sessions aren't limited to just Tier-1 cities; they also extend to cities like Siliguri, Bhopal, Indore, Aligarh, among others. Thanks to their innovative marketing strategies, the company's revenue shot up.
"40% of our sales come from online platforms, and 60% from offline platforms," states Dheeraj. In a span of three years, the company has seen its turnover of Rs 2 crore in 2019-20 surge thirteen times, hitting Rs 26 crore last year.
Actress Swara Bhasker is now Recode's Brand Ambassador
The majority of their products such as kajal, concealer, and foundation, that is, 60%, are imported from countries such as Thailand, China, Germany, and Taiwan, which they then rebrand.
The rest, 40%, including items like lipstick, facewash, and eyeliner, are made in the Indian locations of Parwanoo, Pantnagar, and Rudrapur. Their products under the Recode label are sold at around 500 cosmetics stores all over India, and they also operate five exclusive franchise outlets.

Most of their sales, approximately 60%, come from Mumbai, Parbhani, and Gurgaon. They have also set their sights on the rural population of India, which they feel is largely untapped by big brands.

Born in the quaint village of Daudhar, Punjab, 44-year-old Dheeraj was raised in a home where education was highly valued. His father is a retired income tax officer, and his mother, a retired school headmistress.

When the family moved to Ludhiana in 1991, Dheeraj continued his education until he discovered his true calling. "It was during my second year of B.Com that I realised, I didn't want a corporate life. I wanted to do business," Dheeraj says.

So he dropped out to join his elder brother Neeraj's bicycle parts manufacturing business. Dheeraj spent around 20 years working with his brother, taking charge of the manufacturing department.

Life took a turn when Dheeraj met Rahul Sachdeva. "Rahul was working in the cosmetic industry. He suggested we start a cosmetic brand. And just like that, we registered our company (Recode Studios Private Limited) in December 2018 and launched our business with four products," Dheeraj recounts.

They started with an investment of Rs. 1 crore, dipping into their savings and through bank loans, and with seven employees in a small office in Ludhiana

Their initial line of products included nail paints priced at Rs. 179, an eyeliner for Rs. 295, and Acute kajal, also for Rs. 295.

Rahul, who was based in Panchkula, Haryana, and already associated with the cosmetics industry, leveraged his substantial network of distributors to initiate sales for Recode.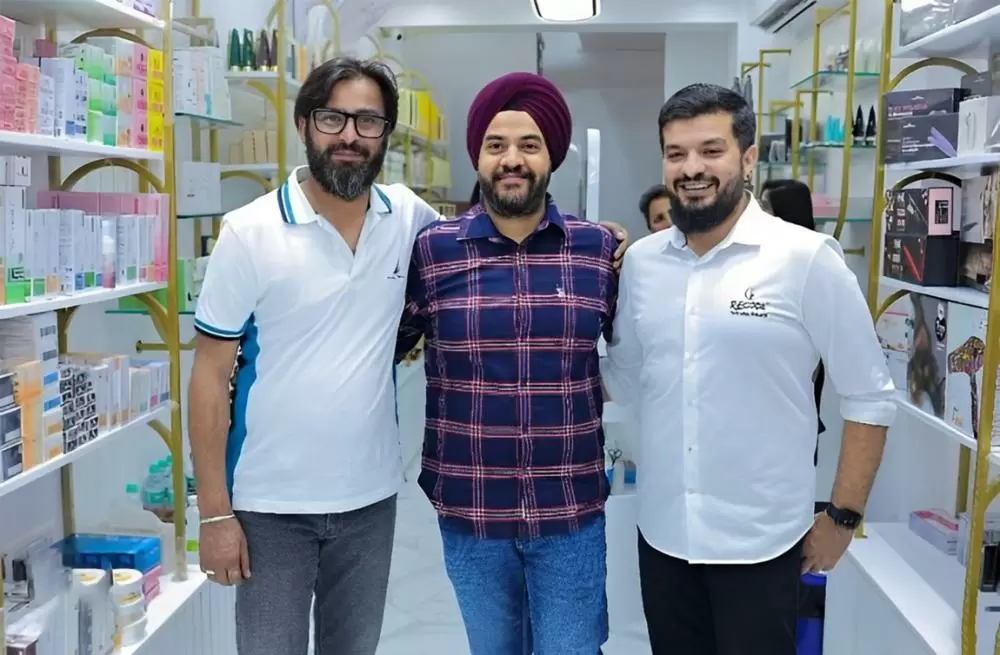 Dheeraj and Rahul at the launch of a Recode outlet
Launched in late December 2018, the company closed its revenue for the fiscal year 2018-2019 at Rs. 25 lakh. Recode's turnover touched Rs. 2 crore during 2019-20.
When the pandemic threatened to wipe out their business, they responded with the Re 1 sale and turned around their fortunes. They have been growing since then.
What started as a small team of seven people has now swelled to 100 employees. Their main office is in Ludhiana, spanning an area of 1800 sq ft, with a smaller hub in Kolkata. Delhi will soon house a new 500 sq ft office. They also have a massive 55000 sq ft warehouse in Ludhiana.
"We started as a self-funded brand, but we recently secured a funding of Rs. 4 crore from Sanjay Katkar, the Joint Managing Director and CTO of Quick Heal Technologies," shares Dheeraj. Moreover, they have recently brought on board actress Swara Bhaskar as the face of the brand.
Dheeraj lives in a large seven-bedroom house in Ludhiana. "I find joy in immersing myself in the business, learning about the industry, and putting these insights into practice," he admits. He has a fondness for brainstorming sessions and studying the strategies of other companies.
Dheeraj has been married to Shelly Bansal since 2002, with Shelly playing a key role in the business operations. The couple has two children, Garima, currently an engineering student, and Garvit, who has recently started his studies in Business Administration.- ©
TWL
Wish to share your story?
Trending Now: