The Story of a Rs 220 Crore Logistics Giant Who Started With a Rs 2,500 Part-Time Job
02-June-2023
Vol 14&nbsp|&nbspIssue 22
Subish Surendran's life story is like a fairy tale. He was born into a very humble family that lived in a chawl in Thane, Mumbai. His family's life started changing slowly when his father bought a truck and started a transport business.

After Subish finished his studies, he moved to Dubai at the age of 21 to join a logistics company.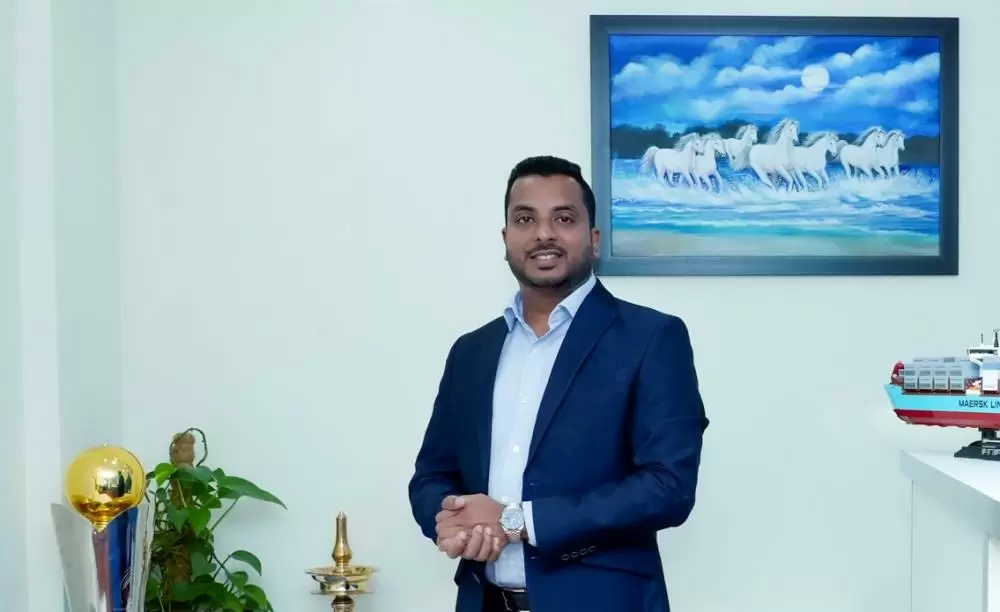 Subish Surendran launched Time Global Shipping in Dubai in 2016 with just three staff investing his personal savings and selling his SUV (Photos: Special Arrangement)
In Dubai, after working for about ten years in the logistics field, he started his own company, Time Global Shipping LLC, at the age of 31. Today, his company has grown into a big business, with a turnover of Rs 220 crore.
Time Global Shipping offers various logistical solutions, including ocean freight, air freight, and road transportation. They are also involved in trading of both new and used shipping containers of all types.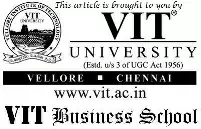 They have a network of over 5,000+ agents across 175 countries and handle clients from the FMCG, Retail, Electronics, Healthcare, Automotive, and Food & Beverage sectors. The company owns around 1500 shipping containers.
Time Global Shipping started with just three employees in Dubai, but today operates with a global workforce of 150 employees. It has six offices in India – Mumbai, Chennai, Kochi, Vizag, Mundra and Tuticorin and one each in Spain, and Indonesia.
Like many first generation entrepreneurs, Subish decided to share his story for the first time with
The Weekend Leader.
Subish fondly remembers his early life, when his father used to work as a mechanic in a truck garage named Patel Roadways. His father then bought a truck and started his own transport business when Subish was in Class three.
The family's situation improved somewhat, leading to a shift from a chawl to a flat. "I believe we moved a bit towards middle class," he shares.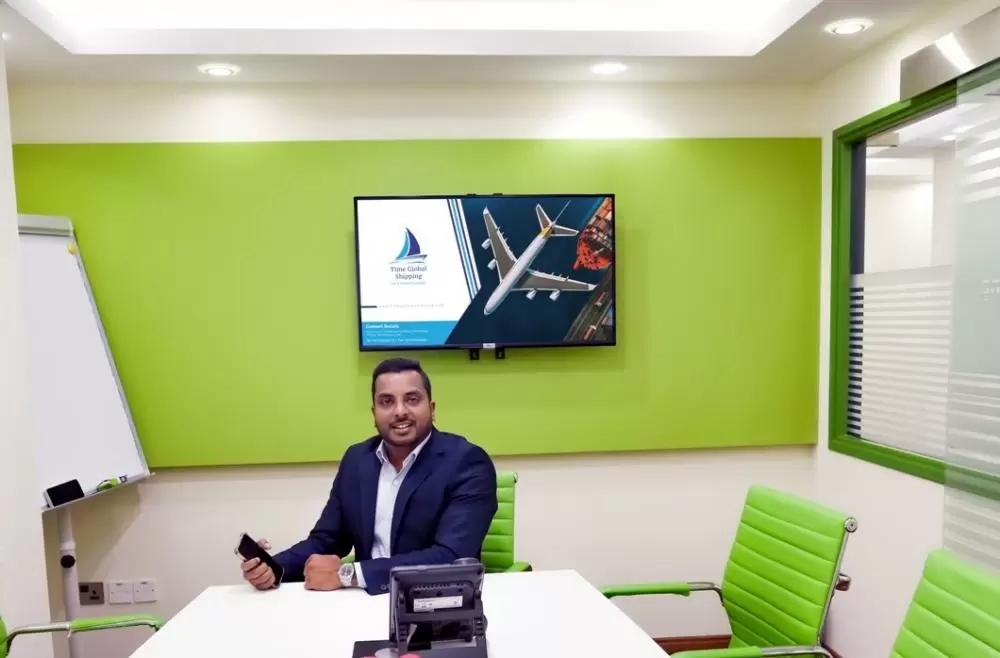 Subish joined a logistics company for part-time work while he was in college and earned Rs 2,500 per month
Throughout Subish's childhood, his father worked hard to provide the best possible education to his children.
"He worked so hard to raise us well, but we never felt his struggles. He ensured that we went to good schools," says Subish.
Subish started his schooling in St. John The Baptist High School in Thane and studied there till Class 10. Then, he joined NES Ratnam College in Bhandup, where he completed Class 12 and continued studying in the same college for a B.Com degree and finished it in 2008.
During the second year of his B.Com, Subish's father helped him to get a part-time job at a logistics company called Water Ways Logistics in Masjid Bandar area, Mumbai.
"During my college days, I would go to classes in the morning and then take a local train to work. I earned Rs 2500 a month doing paperwork for a logistics firm. This was my introduction to the logistics field," Subish recalls.
Subish's hard work did not go unnoticed. His uncle Shekhar Narayanan, who had a close bond with the family, proposed that Subish should try his luck in Dubai. So, just two days after graduating on 17th November 2008, Subish set off for Dubai with his uncle.
With his uncle's help, Subish secured a job at Vanguard Logistics Co., a US-based firm operating in Dubai. He handled import paperwork, earning a monthly salary of Rs. 56,000.
"Thanks to him, I got this job just a day after landing in Dubai. In the beginning, I shared a flat with 10 others, as living in Dubai is costly," he recalls. "By month-end, I had hardly any money left, sometimes surviving on Kuboos bread (a popular bread brand in Dubai) and curd.
"Many flatmates had similar experiences. Sometimes I went to bed empty stomach too. But I never asked anyone for money."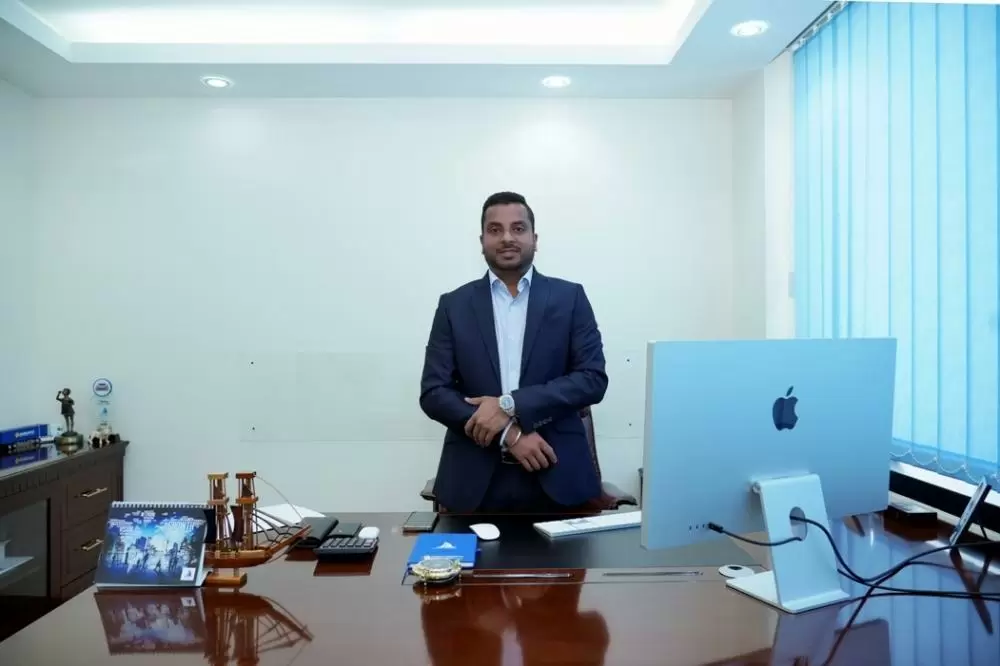 Subish was a top performing employee at Caravel Logistics where he worked from 2009 to 2016
Unfortunately, Subish was laid off within six months due to the economic recession in Dubai. He was now left with two choices: either to return home or look for a new job. Subish landed a job at Caravel Logistics LLC.
"Managers Sunil Meerasa and Sudheer K took me in. They hired me as a customer care executive at a salary of Rs. 65,000, (around 3000 dirhams) per month," he shares.
From 2009 to 2016, he worked at Caravel, gradually climbing up the ranks. He started as a sales executive, then senior sales executive, moved on to deputy sales manager and finally landed as a sales manager.
"I was consistently a top performer, always achieving beyond set targets. My salary leaped from 3000 to 26,000 dirhams," says Subish, who honed his skills in shipping and logistics during his stint at Caravel.
In 2016, he took the plunge into entrepreneurship. He resigned from Caravel, sold his SUV Nissan – Infiniti QZ 70, and with that money plus his personal savings of Rs 33 lakh, he launched 'Time Global Shipping'.
Time Global Shipping began its journey with just three staff including Subish, from a 400 sq ft office on Sheikh Zayed Road in Dubai. Subish was in-charge of all the sales activities.
As the team grew to 50 members within two years, they had to relocate to a more spacious 3500 sq ft office in the Oud Metha suburb of Dubai in 2018.
"I was and still am the person managing the marketing. Gulf Trading LLC was my first client, a contact from my Caravel days. A significant portion of my business came from my old clients who supported me a lot," he says.
At the peak of the pandemic, Subish's company played a crucial role in transporting Covid vaccines from Switzerland to West Africa. According to Subish, the pandemic turned out to be a boon for his business. They made a lot of revenue from delivering medical supplies and vaccines.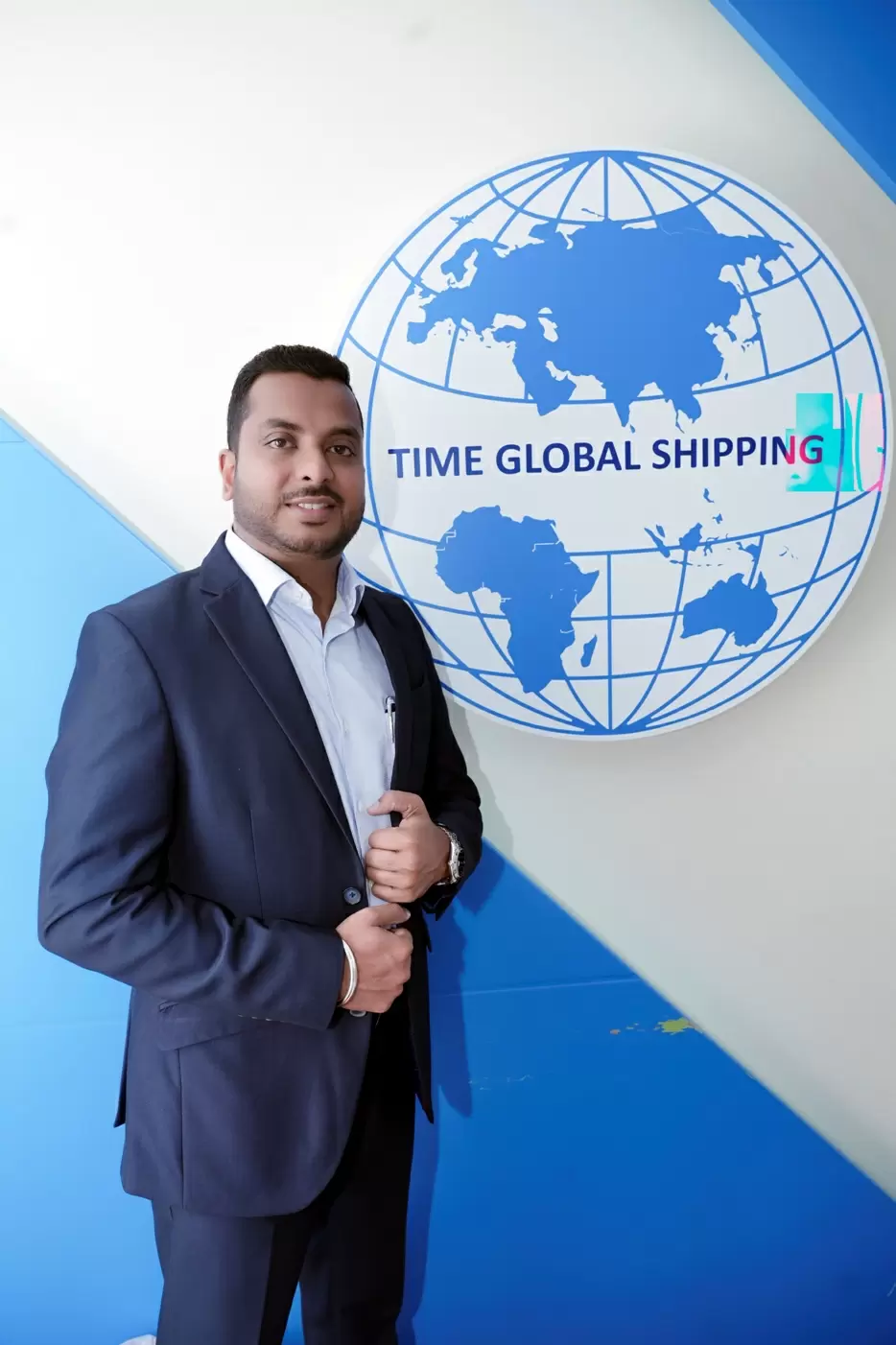 Subish has aggressive plans to expand his business in South East Asia and Europe
With other transport modes at a standstill, shipping companies enjoyed a monopoly, leading to a massive hike in charges and unprecedented business growth.
Subish counts himself fortunate for starting his business solely with his savings, without borrowing or taking any loans. His company has been consistently reinvesting its earnings.
He has plans to open new offices in the South East Asia region and Europe, while the UK office is already in the pipeline. He wishes to expand his business more in India.
On a personal note, Subish has a habit of sending a fixed amount to his father every month, a practice he has followed for many years. He also gifted his father a Mercedes Benz GLA200 on his 60th birthday in 2020.
Subish's younger sister, Sujitha Surendran, works in Morgan Stanley's finance department in Bengaluru. He also has a daughter, Riddhi Subish, who is six years old and in school.
His parents are based in Mumbai and he visits them frequently. He considers his daughter Riddhi as his lucky charm as he started his company the same year she was born, in 2016.
Next year, Subish is planning to move to his dream home - a 3000 sq ft villa under construction in The Valley area of Dubai.
He enjoys travelling, reading business books, and watching related content on YouTube. For those dreaming to be entrepreneurs, he suggests, "Overcome your fears first, then devote your time to your business and have patience to see your hard work pay off." - ©
TWL
Wish to share your story?
Trending Now: