How a Housewife Making Homemade Soaps for her Child Built a Rs 29 crore Turnover Personal Care Brand
25-March-2023
Vol 14&nbsp|&nbspIssue 12
In a remarkable tale of resilience and determination, Coimbatore-based Kruthika Kumaran transformed a personal challenge into a thriving business empire, starting with a small initial investment of Rs 8,000-10,000.

Faced with her daughter's skin problems, Kruthika embarked on a relentless pursuit to find a solution, ultimately creating her own line of natural, organic, and sustainable personal care products under the brand name Vilvah.


Kruthika Kumaran started Vilvah from her home kitchen in 2017 (Photos: Special Arrangement)
Since its inception, Vilvah has now scaled up significantly to achieve a turnover of Rs. 29 crore.
From its humble beginnings in Kruthika's home kitchen, Vilvah Store now offers a diverse range of 70 distinct skincare and hair care products, catering to a wide variety of consumer needs.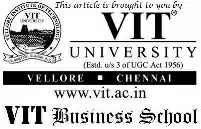 With a strong presence on their website, various e-commerce platforms, and two physical stores in Chennai and Coimbatore, the brand continues to expand its reach and impact.
Kruthika was born in a small town called Gobichettipalayam in Tamil Nadu. Her father is an advocate, and her mother was a housewife.
"Our town is a small agricultural town where everyone knows everyone. We have goats and cattle at our home. That's the kind of town I grew up in," says the 37-year-old Kruthika.
Kruthika completed her schooling at Shree Vidyalaya Matriculation Higher Secondary School in her town before moving to Coimbatore for further education. There, she pursued a B.Tech in Information Technology at Kumaraguru College of Technology, graduating in 2007.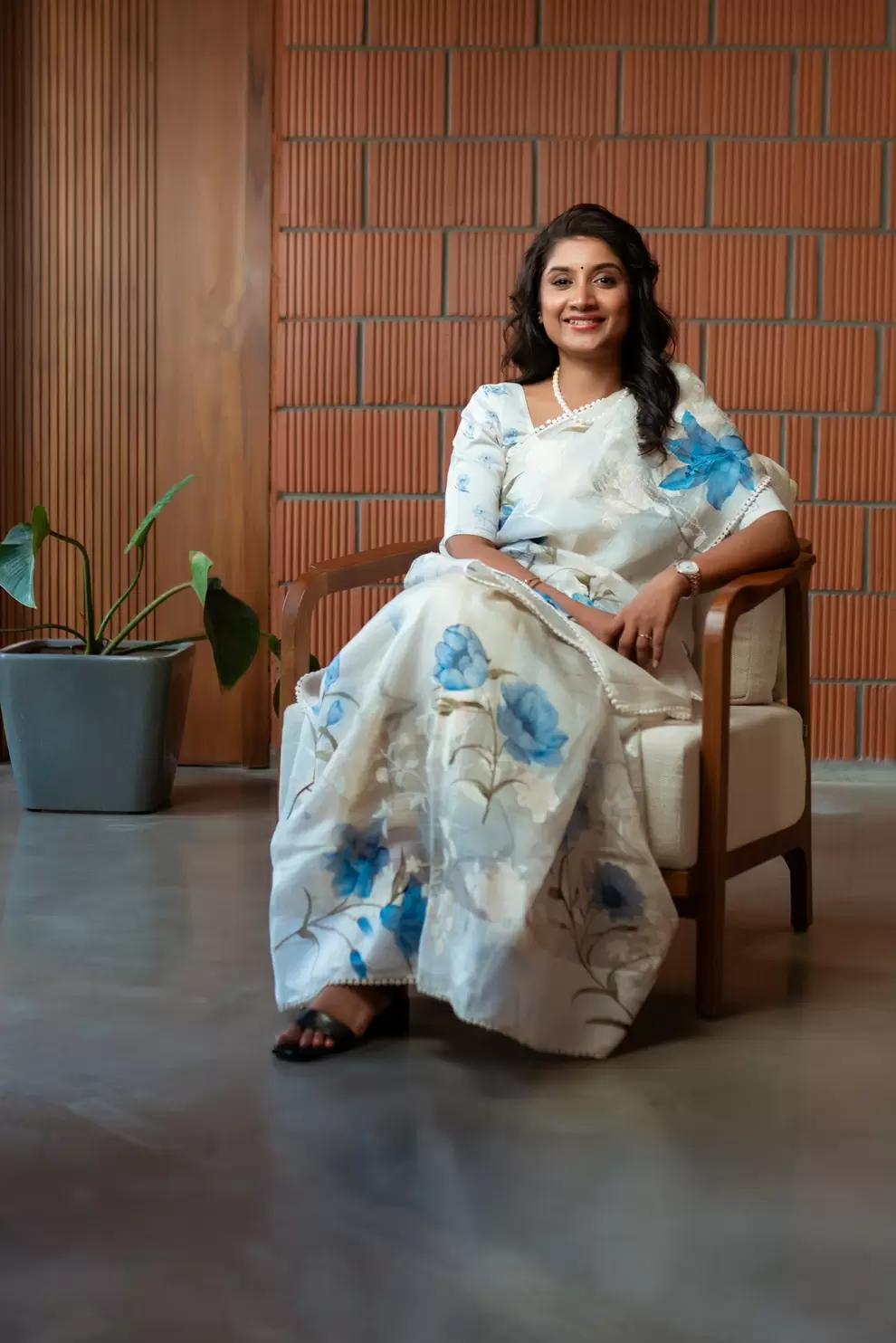 Kruthika's daughter developed skin complications when she was just two years old
After completing her engineering, she married Tamil Kumaran at the age of 21 and became a housewife. Tamil was involved in his family's textile business, which focused on manufacturing yarn.
The couple now has a 12-year-old daughter, who developed skin complications due to eczema when she was just two years old.
When her daughter developed skin problems, Kruthika tried various organic soaps and shampoos in the market, but none suited her daughter's skin. This led her to make her own homemade soaps using natural ingredients.
"I learned to make soaps by watching videos on YouTube and also pursued a two-month-long diploma course in cosmetology to enhance my knowledge," Kruthika explains.
She began making soaps in 2017, sourcing goat milk, olive oil, and castor oil for her products. "As the word spread about my homemade soaps, I started making goat milk soap, charcoal soap, and rose soap with goat milk being the star ingredient in all of them," says Kruthika.
"The ingredients were organically sourced from our farm in my hometown, where we grow rice, sugarcane, turmeric, curry leaves, and coconuts and raise many goats."
Encouraged by the response to her products, Kruthika embarked on an entrepreneurial journey, starting her business Vilvah from her home kitchen in March 2017. The brand's name, Vilvah, represents a leaf from the Bel tree used in worshiping Lord Shiva.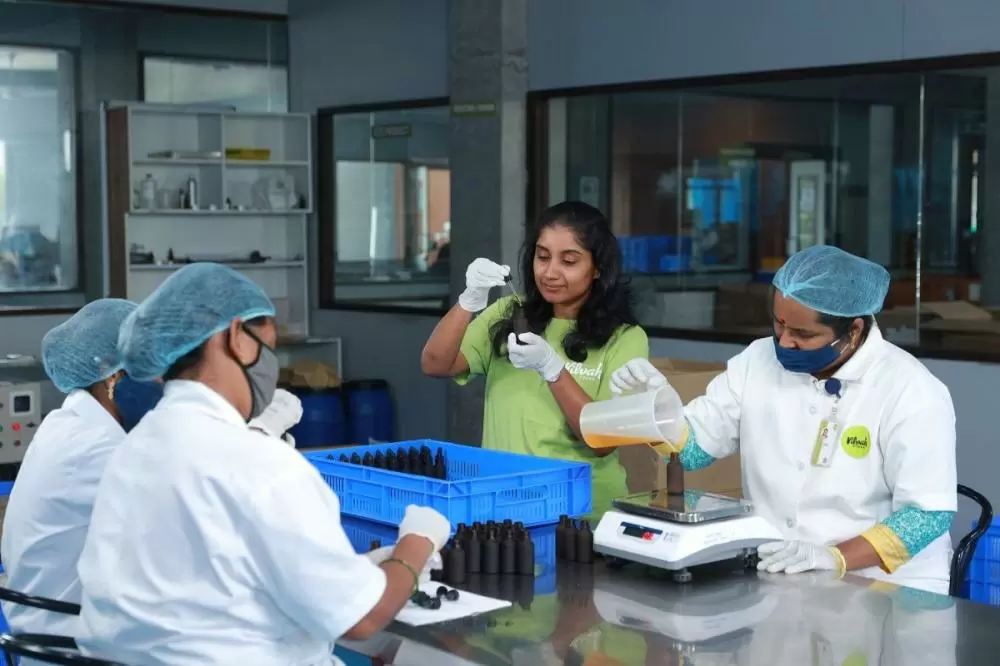 Kruthika at work with her employees at their manufacturing unit in Coimbatore
In the first few months, Kruthika invested Rs. 8,000-10,000 in the business, making products such as classic goat milk soap, unscented goat milk soap, tomato soap, cucumber soap, and carrot soap.
"I shared information about our products on Facebook and Instagram, and orders started coming in through social media and WhatsApp. Initially, most orders came from Coimbatore and other parts of Tamil Nadu," explains Kruthika. Later on, she expanded her reach by listing her products on e-commerce platforms such as Amazon, Flipkart, and Nykaa.
She began with a small team of two people, one responsible for housekeeping and the other for packaging.
About five months later, she established a 1,000 sq ft manufacturing unit behind her house in Coimbatore. She invested around Rs 10 lakh in machinery for producing soaps and shampoos.
Started initially as a proprietorship, Vilvah was registered as a private limited company in 2020. The brand achieved Rs. 1 crore in turnover during its first year and has grown ever since, reaching Rs 29 crore in the current year.
"My husband who was into his family textile business joined me when I began receiving more enquiries and needed support," says Kruthika, whose husband Tamil is an MBA graduate.
Vilvah currently offers 70 distinct skincare and hair care products, employing about 100 people. The brand has further expanded its presence by opening a store in both Chennai and Coimbatore.
Kruthika provided insights into the sales distribution across these channels, stating, "We receive 50% of our sales from our brand's website, 20% from our two physical stores, and the remaining 30% comes from e-commerce platforms."
Vilvah offers a diverse selection of personal care products, categorized into four main groups: face, hair, body, and their unique milk range.
Kruthika is particularly passionate about their milk range of products. "We want to be known for our milk range of products," she says. "Our Milk Cream and Brightening Serum retail for Rs. 690 each, while our Goat Milk Shampoo is priced at Rs. 499."
Kruthika with husband Tamil Kumaran, who is also involved in the business now
By emphasizing the milk range, Kruthika aims to differentiate Vilvah from other brands in the market and establish a unique identity for the company.
As the brand continues to flourish, Kruthika hopes to expand Vilvah's presence, both online and offline. She envisions opening more physical stores across the country and venturing into international markets.
"We have received inquiries from countries like the United States, the United Kingdom, and Singapore, and we are in the process of exploring those opportunities," says Kruthika.
In addition to that, Kruthika is also looking forward to expanding their product range. "We want to delve into more categories like baby care, men's grooming, and makeup," she reveals.
Despite her success, Kruthika remains humble and grounded, acknowledging the importance of giving back to her community.
"We are committed to supporting local farmers and artisans by sourcing our ingredients from them," she shares. "We also believe in making a positive impact on the environment by minimizing our carbon footprint and using eco-friendly packaging."
Kruthika acknowledges the challenges of being a woman entrepreneur while also managing family responsibilities.
However, she has found ways to balance both aspects of her life. "Fortunately, we set up our unit near my home, right behind it," she says. "This allows me to easily manage my responsibilities as a mother and take care of my daughter while also overseeing the brand.
"I have a supportive husband who has played a crucial role in the growth of our business. Additionally, my in-laws have been very supportive, which makes things easier for me," Kruthika explains.
Kruthika is a trained Bharatanatyam dancer
Kruthika has always been naturally inquisitive since she was a child and has explored various interests like music and dance. She reveals, "I have trained in Bharatanatyam, vocal music, and violin."
In their business, her husband Tamil primarily focuses on finance and business management, while Kruthika oversees the production side.
Kruthika's journey is a powerful reminder that with passion, determination, and a strong support system, it is possible to overcome challenges and create a thriving business. - ©TWL
Wish to share your story?
Trending Now: