Father rose from poverty, son reaches new heights with a Rs 1500 crore turnover footwear brand
Sofia Danish Khan
&nbsp | &nbsp
10-February-2022
Vol 13&nbsp|&nbspIssue 6
What the father started from scratch, rising from a life of poverty and building a successful footwear brand, the son has taken to a new level with his own brand of footwear, Walkaroo, which is now a Rs 1500 crore turnover business.

V Noushad launched Walkaroo in 2012 from Coimbatore, Tamil Nadu, after being part of his father's VKC Footwear brand for more than a decade. VKC was founded by his father VKC Mammed Koya, who had toiled for several years as a chaiwallah and a contract employee before launching VKC in the 1980s.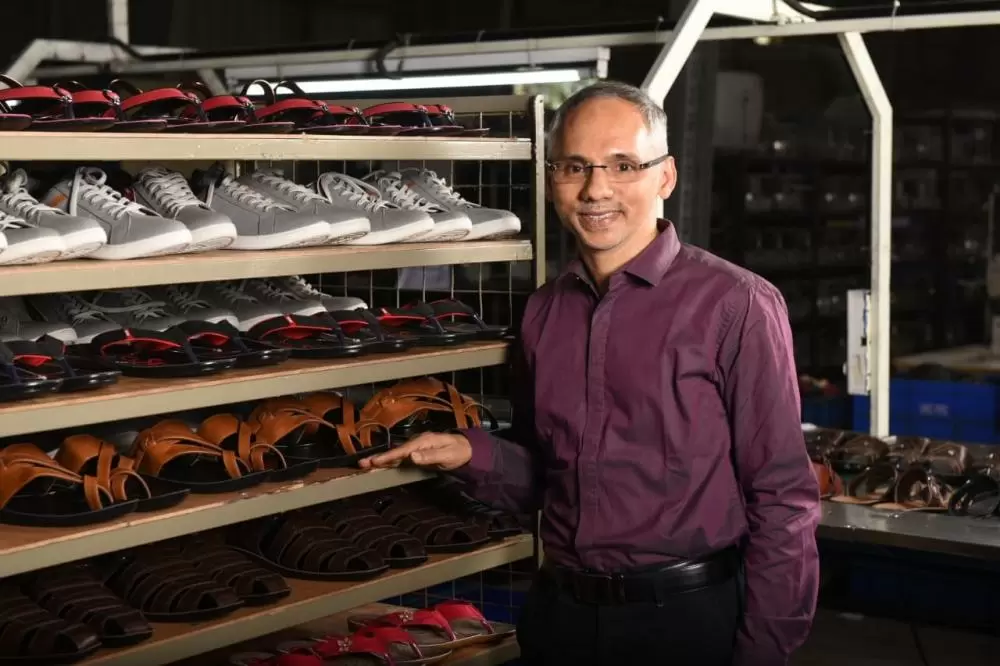 V Noushad launched Walkaroo in 2012 after being part of VKC Footwear for more than a decade (Photos: Special Arrangement)

The Kerala-based VKC started with manufacturing of hawai chappals (rubber flip-flops), and then moved on to producing PVC and PU footwear.
Noushad was born and brought up in Nallalam, Kozhikode, to VKC and Fathima Bi - who is a homemaker - along with three other siblings, an elder brother and two younger sisters.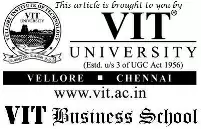 "Our father is a school dropout. He couldn't study after Class 7, so he wanted us to study and appreciate the value of education. My elder brother Razak was the first one to pass SSC (Class 10) exam in our entire family," says Noushad, 51, who is an M. Tech graduate in Polymer Science.
"While I was in Class 7, my father asked me what I wanted to do in life. I had not really given it too much of a thought, so I told him that I wanted to study and get a job.
"I still remember his reply. He said, 'All jobs are good, if you are a cleaner do your job with all your heart, if you are a mason do the job with all your skills, if you are a teacher then do your job really well because you will be shaping the lives of the future generation. Whatever you do, do justice to your job.
"But running an industry is a bigger service, since you will be able to employ many people, you can give much more to people in charity and change the lives of many more.'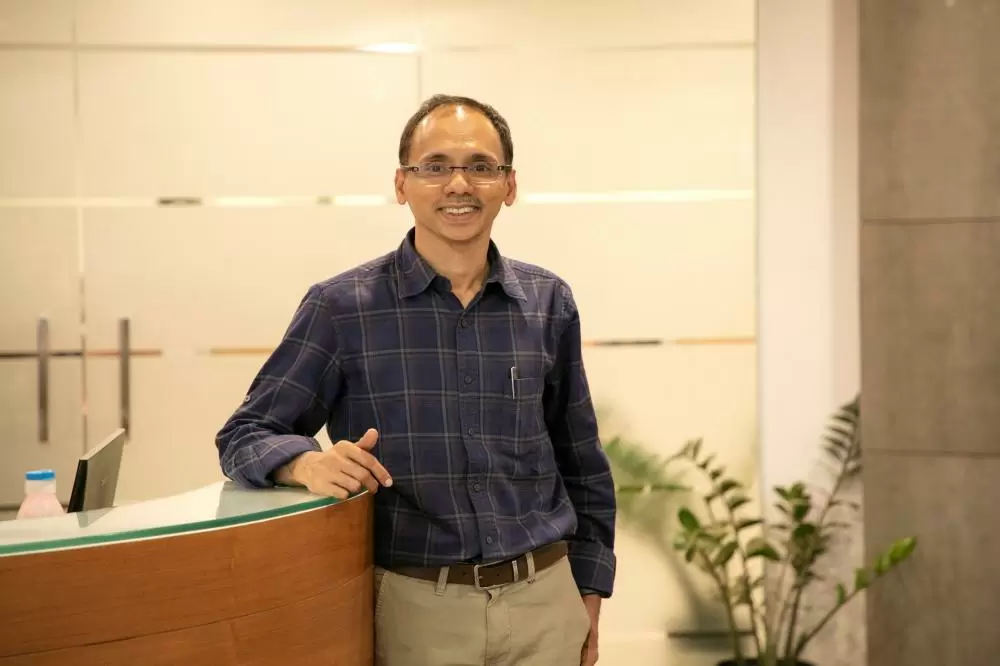 Noushad is an M. Tech graduate in Polymer Science

"This pep talk shifted my life gears and I decided that I wanted to do business, just like my father."
When he was in Class 10, his father had a business of supplying raw material for matchsticks, which ran into financial trouble. Noushad remembers that his father had to shut down the business. He even sold his car and bought a scooter.
Later, in 1984, his father started manufacturing rubber slippers under the brand name of VKC.
"Two years later, he gave me a handbook on rubber technology and asked me to explain it. I studied it thoroughly and learnt quite a few things, and got interested in science," says Noushad, who would play a major role in introducing PVC and PU footwear in VKC, thanks to his academic background.
He studied at GMUP School, Nallalam, and did his B. Tech in chemical engineering from Government Engineering College, Thrissur.
He then did his M. Tech in Polymer Science from Cochin University of Science and Technology (1991-93).
"When I completed my B. Tech, I wanted to join my father's business, but quickly realized that I won't be able to bring much value to the table," shares Noushad.
"One of those days, my father asked if it was possible to make lightweight hawai chappal, as the ones we were making were pretty heavy. His question inspired me to pursue my M. Tech in Polymer Science.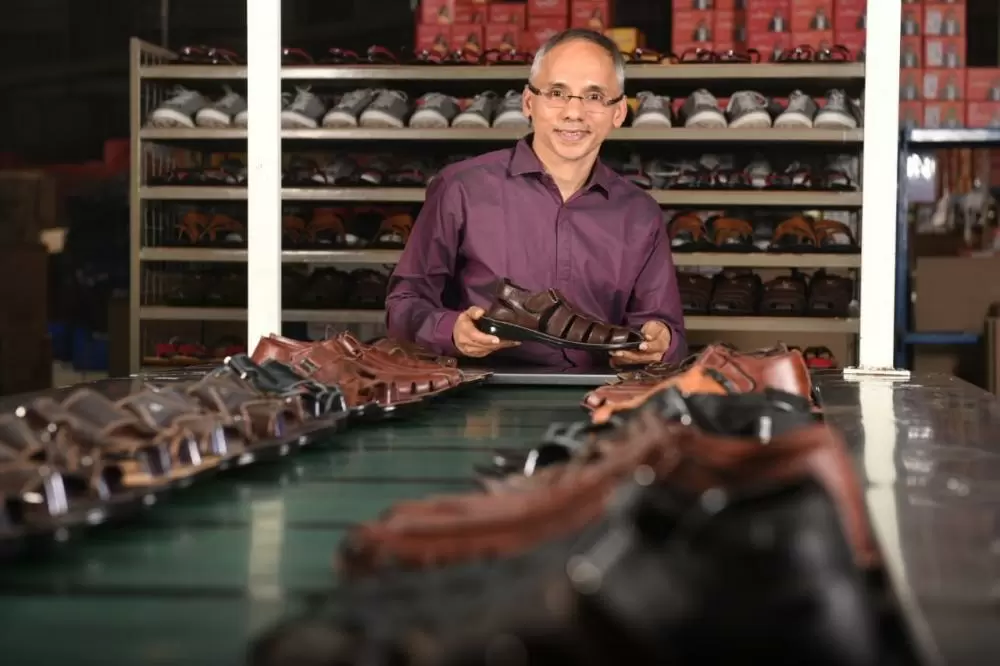 Noushad joined the family business in 1998 and helped launch their PVC footwear
"My M. Tech dissertation was on lightweight hawai chappal. I was guided by the best mentors and visited rubber plants across the country.
"And during my research I realized that there was not much scope for lightweight hawai chappal, as PVC slippers were already becoming popular."
So, in 1995, he registered for a Ph.D. on the subject at IIT Madras. His plan was to complete the project in three years, but he could not finish within the stipulated time he had set for himself.
Though he could not complete his doctorate, he had gained sufficient knowledge to work on PVC footwear.
In 1998, he returned to Kozhikode and joined VKC and helped launch their PVC footwear using imported Taiwanese machinery.
"We got the first mover advantage in the PVC footwear market in South India," says Noushad, who began to use his technical knowledge to build VKC, along with his brother Razak.
In 2003, the brothers introduced EVA (Ethylene Vinyl Acetate) footwear, which replaced rubber soles with a softer, lighter, and flexible material. In 2004, they expanded into Tamil Nadu and set up a manufacturing unit in Coimbatore.
They didn't have a good distribution network in Tamil Nadu. So, they approached retailers directly and supplied their products to them.
"We went and connected directly with the retailers, who were reluctant initially. I bought a map of Tamil Nadu and visited retailers in each district directly. Since our products were good they accepted them," recalls Noushad on their foray into Tamil Nadu.
In 2006, the brothers launched PU (Polyurethane) footwear. Two years later, they met a management consultant who advised on expanding their brand. The annual turnover of VKC was around Rs 100 crore at this point of time.
"We started warehouses in North India - in Kanpur and New Delhi -and in East India – in Kolkata and Odisha," says Noushad.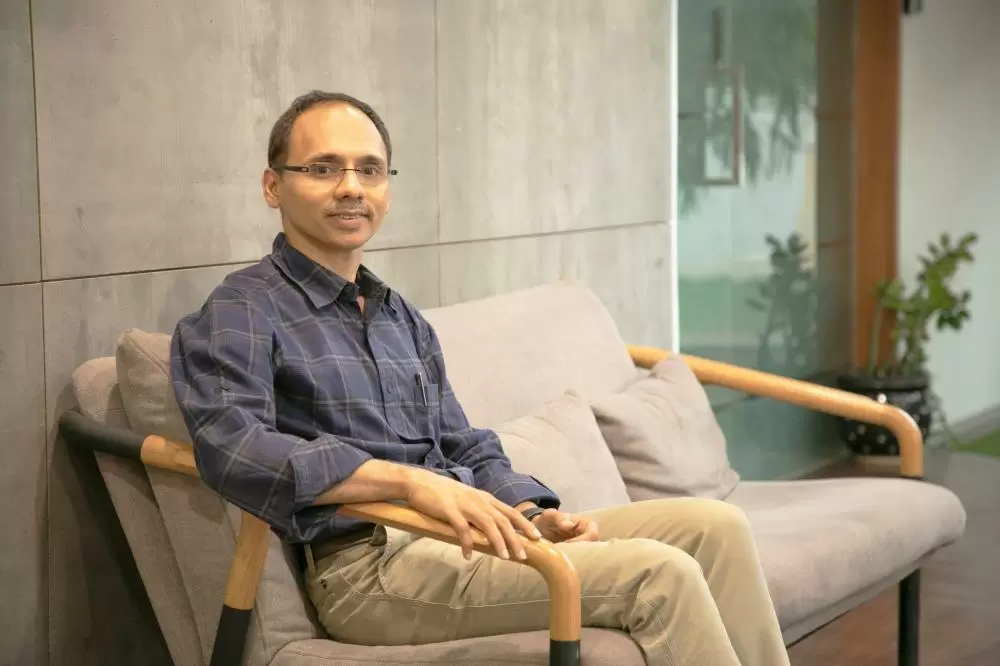 Noushad wanted to make fashionable footwear at affordable prices under Walkaroo brand
They started manufacturing units in Mysuru, Karnataka, in 2010, at Vapi, Gujarat, in 2011 and at Nellore, Andhra Pradesh, in 2012. With the increase in sales, their turnover touched Rs 900 crore in FY 2013-14.
In 2012, Noushad started Walkaroo International Pvt. Ltd. with an investment of Rs 12 crore, which his father lent to him, with 500 workers.
"We started Walkaroo with an intention to democratize fashion and ensure that fashionable footwear was available at affordable prices and that they reached the villages of India," says Noushad.
Walkaroo's first manufacturing was set up at Nellore in 2012. Today, they have 12 manufacturing units in six states, one in Bangladesh, and 15 warehouses across India.
There are around 6000 employees under direct employment and another 4000 plus stitching vendors who help to make the shoes what they are.
Walkaroo achieved a turnover of Rs 1500 crore in 2020-21. "In 2021-22 we are expecting to close at Rs 1800 crore," says Noushad. Around 5% of their business comes from exports to Middle Eastern countries.
The brand has a pan-India presence through a countrywide network of more than 500 dealers and over 1 lakh retail outlets.
Noushad says they promote sustainable initiatives, like, renewable energy, water recycling and afforestation in most of their manufacturing locations.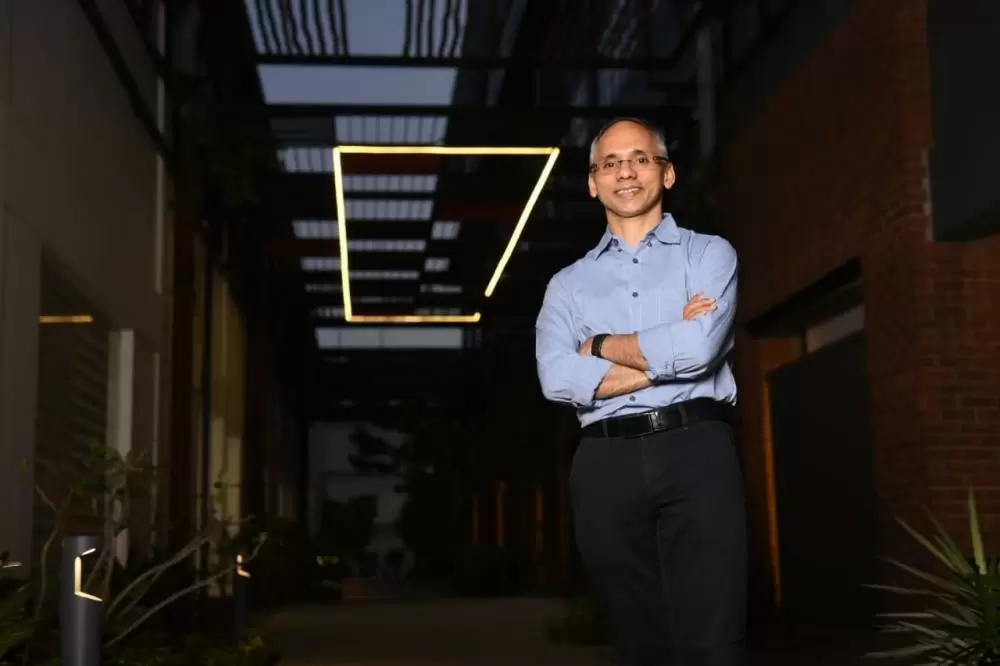 Noushad says his role model is his father and that he gave him a free hand to run the VKC business
He is married to Soja Noushad, a computer engineering graduate, who manages the house. The couple has a son, Samit, 21, and daughter, Nashida, 18, who are both studying engineering.
"They don't plan to join my business after their graduation," says Noushad. "I feel they should take up a job, gain experience and then join the business. I would also appreciate if they start their own business."
Noushad loves to travel with his family. He says recently they went on a three-day trip to Munnar for a change.
For Noushad, his father is his role-model. "My father helped me to reach where I have reached. He threw me in the water and wanted me to struggle and learn to swim on my own," he says.
"I was a technology driven youngster with zero interest in finances when I joined the business, but he gave a free hand to delve deeper and learn to manage the finances on my own."

Trending Now: