Partnering with farmers, he built a Rs 4 crore turnover farm-to-table venture

Usha Prasad
&nbsp | &nbsp
11-December-2020
Vol 11&nbsp|&nbspIssue 50
In a way Selvakumar Varadharajan returned to his roots when he decided to start his own business of working with farmers in and around Coimbatore and supplying quality milk and fresh farm produce to people living in the city.

A son of a farmer, who was raised in Tammampatti Village in Rasipuram, Salem district, Selvakumar founded Laymen Agro Ventures Pvt. Ltd. in 2016 investing Rs. 30 lakh from his savings, and borrowings from family and friends.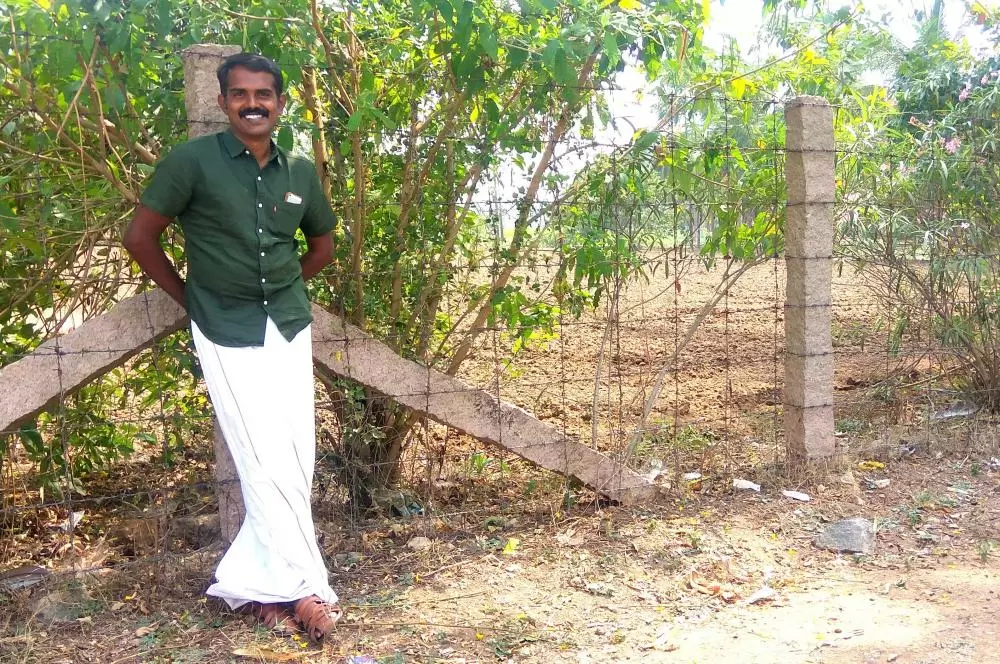 Selvakumar Varadharajan, founder, Vilfresh (Photos: Special Arrangement)

What started in a small way with a business of Rs. 8 lakh in the first year saw 45- 50 per cent growth in the consecutive years, and is set to attain a turnover of Rs 4.1 to 4.3 crore turnover in FY 2020-21.
"The idea of setting up Laymen Agro was fathered by my wife, and I am mothering it," says Selvakumar, 38, whose wife Sharmila smelt an opportunity when they could not find unadulterated, quality milk in Bengaluru for their then two-year-old daughter Shringa.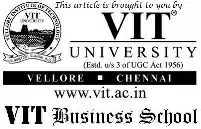 The couple decided to launch their venture in Coimbatore because of the city's proximity to villages that would supply the milk and farm produce.
Today, Laymen Agro, which brings village fresh agro-products to urban citizens through an aggregator model, procures an average of 1,800 litres of milk per day from around 100 farmers and delivers it under the brand name VilFresh (Village Fresh) to customers in Coimbatore city.
Selvakumar's enterprise helps farmers see a decent income by eliminating the middlemen and has created jobs for rural youth - who earn up to Rs 37,000 per month - through reverse-migration.
VilFresh has more than 2,000 subscribed users and their products reach 100 plus apartments in Coimbatore. They also supply to star hotels like Marriott, and ITC Welcome.
Born into an agricultural family, Selvakumar did his schooling in Tamil medium and went on to complete his Bachelors' Degree in Corporate Secretaryship in Coimbatore, Masters in Finance & Control from Bharathiar University, and M.Phil in Management from Periyar University.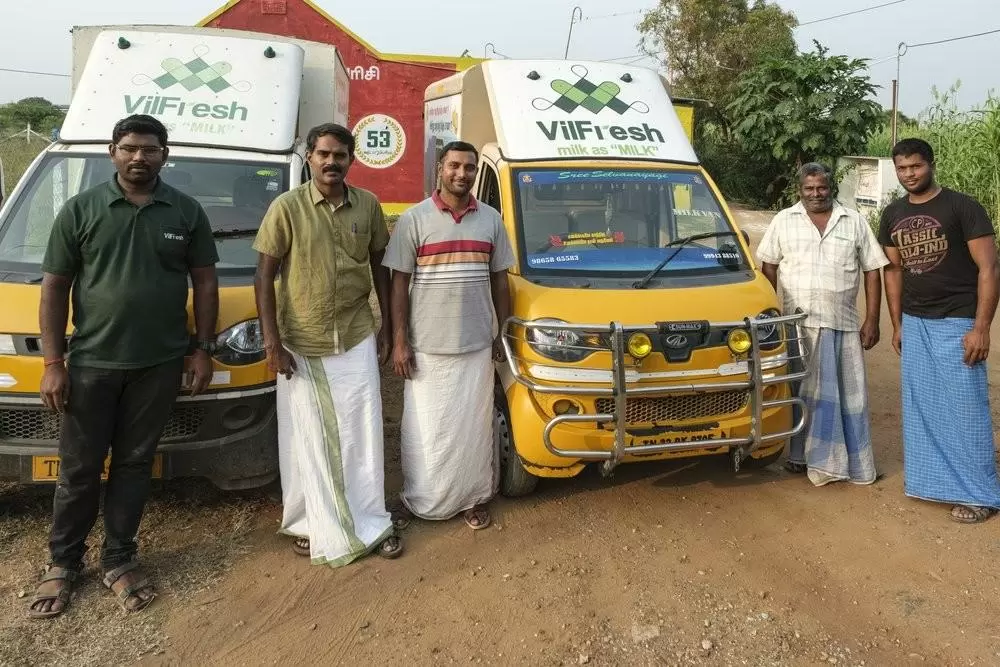 Selvakumar with his team of supply chain staff

After completing his Post Graduation, Selvakumar moved to Bengaluru in 2013 in search of a job. He joined Accenture BPO as Data Validation Associate, but quit in less than four months as he was not comfortable with the job.
He then started taking home tuitions and also taught at a coaching centre for close to a year. Later, he worked as a Faculty in Finance, and Placement Co-ordinator at ICFAI, National College, for five years.
Meanwhile, Selvakumar co-founded a B-School 'BSBS Business Academy' in 2009, which he sold to his partners in December 2013 when he decided to leave Bengaluru.
During this time, Selvakumar got married to Sharmila, an MBA graduate. She worked with Genpact and TCS as a Business Analyst. Sharmila quit TCS when Shringa was born in 2012.
"My wife was not happy with the quality of agro and dairy products we got in Bengaluru," says Selvakumar. "Even when our parents visited us, they were not satisfied with what we were consuming. Since we are from an agriculture background, we could see the difference in quality of the products we got in the city from what we got in the village."
The spark of becoming an entrepreneur was evident in Selvakumar even when he was a young. While studying in a government school in Tammampatti, Selvakumar used to spend a lot of time with his grandfather who owned farmlands, and regularly accompanied him to the mandis to sell the produce.
"I saw that my grandfather was paid Rs 60 for a basket of 15-kilo tomatoes, which, in the nearby town, was being sold at Rs. 10 to 12 per kg. I realised that the grower gets only one-third of what the consumer pays to a retailer," he says.
Selvakumar, who was in Class six then, argued with the mandi guy that he was paying the grower less while the middlemen were making more money.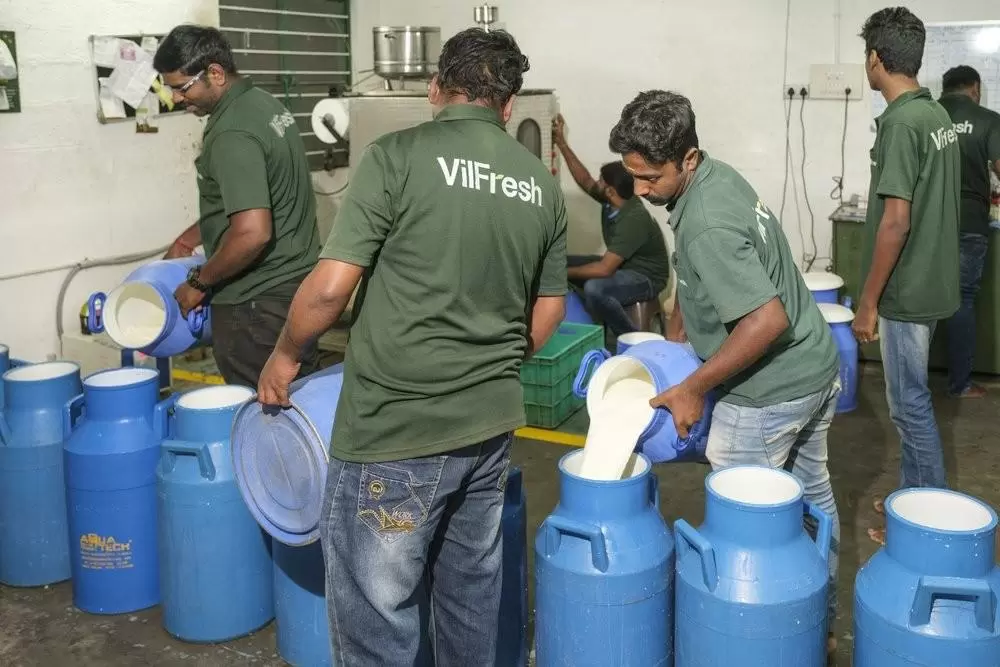 From the farm the milk arrives at the Vilfresh hub in Coimbatore from where it is distributed to homes
He later convinced his grandfather that he would take the tomatoes with him on his bicycle and sell them on the way to school before the classes start. He would start at 7 am with the tomatoes and finish selling 30 to 40 kilos by 8.30 am.
"l sold at Rs. 10 to 12 per kilo and made around Rs. 400 a day. My grandfather never got more than Rs. 150 for the same quantity from the mandi guy," he says.
Happy with his grandson's salesmanship, Selvakumar's grandfather would give him Rs. 30 to 40 as his share. "At the end of the month, I would have collected more than Rs. 1000," says Selvakuamr proudly.
When he launched his business, he wanted to be fair to the farmers. "I always felt that farmers buy their inputs at a retail price and sell their output at a wholesale price, which is an unfair ecosystem," he points out. "We just wanted to reverse it. Now, we provide the inputs needed by them at a wholesale price and buy their output at 40 percent higher price than the market rate.
"When we cut down the cost of farming through an efficient supply chain for agro-input, we can increase the return on their output through an alternate distribution channel."
He is partnering with around 100 farmers from villages located in a radius of 15 km from Coimbatore such as Kovilpalayam, Kurumbapalayam, Pachapalayam, Devampalayam, and Ponnaingoundanpudur.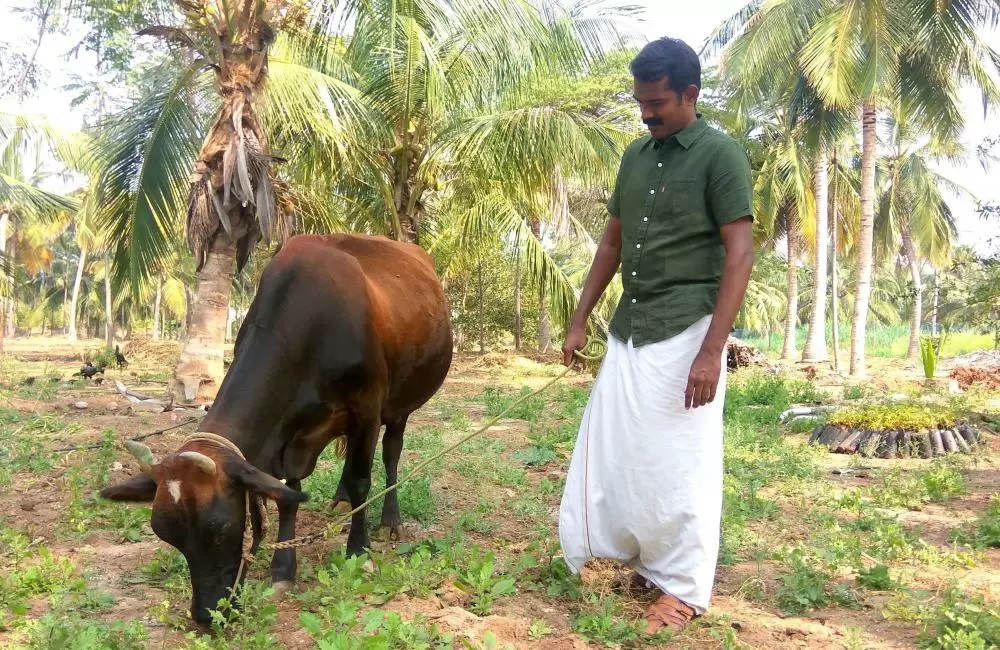 Selvakumar grew up in a village and he understood the hardships of farmers
VilFresh milk is sold at Rs. 50 per litre. "Our milk comes at a premium of 10 per cent than the other suppliers because of our quality," he says.
The milk extracted at 4 am reaches the doorstep of the customers before 7 am. Laymen Agro procures both A1 and A2 type of cow milk.
"The first mile is the farm gate, zero mile is our hub - a 2000 sq ft rented facility in Coimbatore - where we do the quality check, branding, packing, and the last mile is the customer's door-step," Selvakumar explains the business process.
They also sell idli/dosa batter, and home-made curry powders, procured from four micropreneurs and 10 homepreneurs (who are all women) spread in and around Coimbatore.
"The idli/dosa batter is made the previous night and reaches the customer the next morning with the time of packing printed on it, which we can proudly say is the first of its kind," he adds.
Laymen Agro has also onboarded women who make pickles, curry powder, chocolates, fried snacks, and even bake cakes at home.
While their Farm to Home produce include milk, fruits, greens, vegetables, honey, and eggs; products such as oil, idli/dosa batter, bread, paneer, butter, ghee, bread, etc. come under the Factory to Home category while the Home to Home covers pickle, curry powders, and snacks.
Customers of VilFresh products are connected on WhatsApp to communicate with the supplier.
Laymen Agro has also launched a VilFresh mobile App, available for download on the play store.
The company uses four Mahindra Jeeto (leased) pickup vehicles and 40 two wheelers - of which 14 are owned by VilFresh and the rest are leased. Five e-bikes are on trial run as well for the last mile.
The drivers of the Jeeto vehicles earn around Rs 37,000. The last mile delivery is taken care of by city college students, who make 50 to 60 trips a day and get paid anywhere between Rs. 4,000 to 7,000 a month.
Selvakumar has also set up VilFresh Career Forum, which helps these students get placements after they complete their graduation.
The company, which raised Rs. 1.5 crore in angel funding in 2019, claims to be the first hyper-local model in the country to achieve cash break-even in August 2020, that too during the pandemic.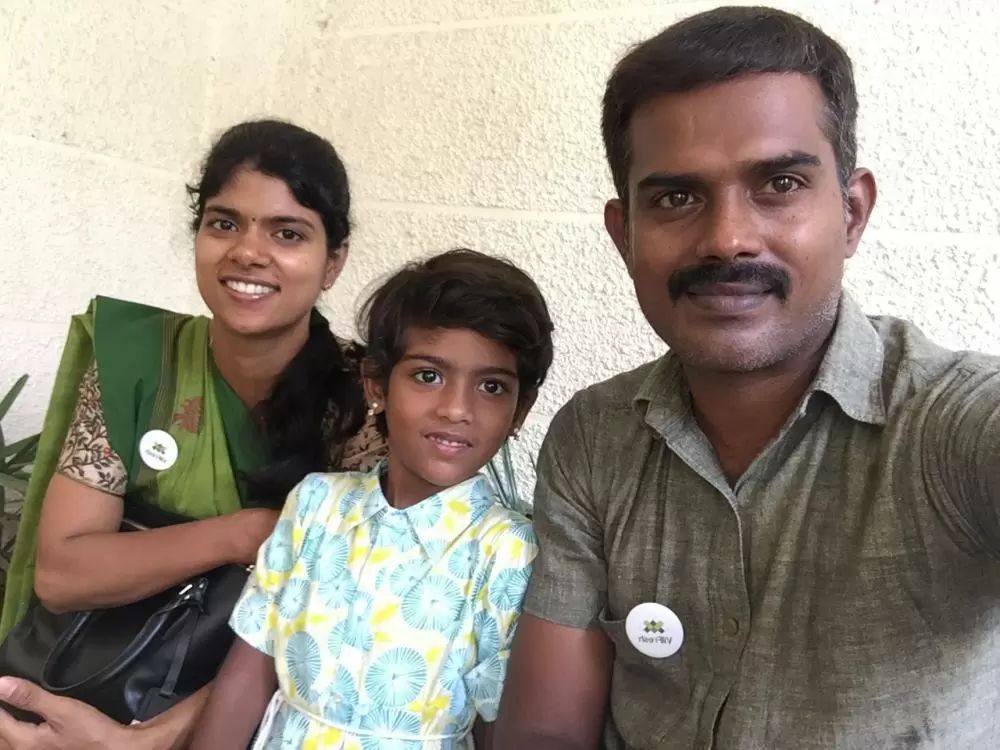 Selvakumar with wife Sharmila and daughter Shringa
While Selvakumar and Sharmila as main founders of the company own 60% of the share, 25% is with the other co-founders including friends and family, and 15% with the investors.
Selvakumar, who is currently operating in Coimbatore, plans to take the same model to Tirupur, Trichy and Madurai next year.
Though there is competition, Selvakumar says the market has the space to accommodate other players. "There are five lakh houses in Coimbatore, and even if 10 more people come into the fray, with each covering around 5,000 homes, there is still a market to penetrate. And, when it comes to milk, Indians are loyal to their brands," he says, adding, "People may say that this is not a scalable model, but this is a sustainable model."
Wish to share your story?
Trending Now: