For this MBA graduate mom's cooking skills helped build a Rs 4 crore turnover eatery chain leaving a cushy job
Anagha Sawant
&nbsp | &nbsp Mumbai
07-March-2020
Vol 11&nbsp|&nbspIssue 10
In one stroke Munaf Kapadia, a former Google employee, did four things. First, he exposed his mother's culinary skills to the world. Second, he popularised his community's Bohri cuisine in Mumbai, third, he gave foodies a go-to dining spot, and the fourth and best part - he made a lot of money out of all this.
The Bohri Kitchen, a food chain Kapadia founded, crossed Rs 4 crore revenue by the first half of FY-2019-20.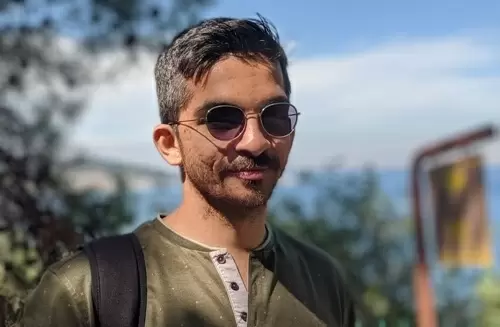 Munaf Kapadia quit a high-paying job at Google to focus on his food chain, The Bohri Kitchen (Photos: Special Arrangement)

It all started with 31-year-old Kapadia's aspiration to help people taste authentic Dawoodi Bohra cuisine. So, the MBA graduate created a home-dining concept five years ago and invited people to his Cuffe Parade house for dinner, prepared by his mother, Nafisa Kapadia.
Ever since 61-year-old Nafisa left her job with a corporate firm to take care of the family, she has been serving her loved ones at home a variety of delicious Bohri dishes that her youngest son thought should be relished by people not familiar with his community's cuisine.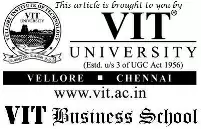 "We never acknowledged my mother's cooking skills. So, when I saw strangers appreciating her food preparations, we were surprised. (The response from people) keeps us motivated to run The Bohri Kitchen," says Munaf Kapadia about their initial experience in home-dining and why he is still in the business.
Kapadia left his job as Account Strategist in the Google sales team in 2015 to fully concentrate on The Bohri Kitchen business.
"It was difficult to leave a highly paid job in Google and start my own business. My sales and marketing skills helped me to plan out the business. In the beginning, my family wanted me to pursue home-dining as a side business," he says.
But Kapadia stuck to his guns and took it up full-time as he realised the potential in it – though it has not been a cake walk for him. "I still remember the first four responses to the email that I had sent to friends and others in the mailing list: 'Munaf, please stop spamming me'. Few were supportive and welcoming, but no one really wanted to book a seat."
Three hours later, an unknown person, a friend's friend texted Kapadia, saying that she would like to visit the restaurant with her friends. "I corrected her that it is not a restaurant, and that I would be executing this idea for the first time. After listening to the story, she was more excited to try the home-dining experience," he recalls.
Guests at the Kapadias residence getting taste of the Bohra cuisine

During dinner, they discussed about the various dishes, different ingredients that were used for making the food, their families and traditions, as the guests were served a three-course Bohri meal, priced at Rs 700 per thali then.

"While leaving, the guest hugged me and appreciated the food. I was happy and surprised to see the reaction on my mother's face," he says, smiling.
After a year of organising such home-dining events, Kapadia turned to food delivery (thali in box) in January 2016 when he purchased a 200-sq ft shop in Worli. "
I invested Rs 20 lakh to start an outlet for food on demand - where people can order online or takeaway - besides the home-dining experience," Kapadia says.
Now, the enterprise that kicked off with two people has over 40 employees across five outlets in Mumbai that function under the brand name The Bohri Kitchen, popularly known as TBK.
The chefs have been trained personally by Nafisa to maintain the authenticity of the dishes and to ensure that they taste the same as she prepares them in her home kitchen.
Kapadia mentions some challenges in inviting strangers home. One is to sell the concept and two, knowing about their antecedents because they would be dining inside the house.
"When people send a request for home dining, without confirming their seat booking, we do a background check by asking them basic details and checking their social media profiles," says Kapadia.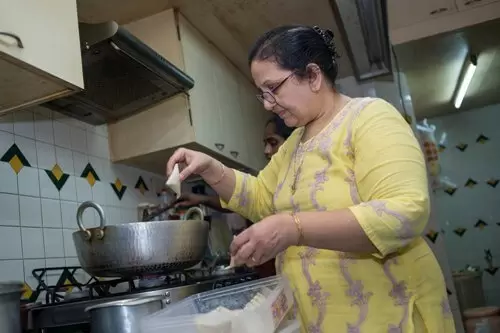 Nafisa Kapadia preparing food for her guests at home

"Earlier we took at least a week to do a background check. Now we have a team that clears the request in 48 hours."
Kapadia developed the business with the help of various social media platforms. Dishes like the smoked mutton kheema samosas and the 'two days marinated raan' became popular among customers who wanted to try Bohri food
As the response grew, they started organising one or two home-dining events per week. Now, they are booked two weeks in advance.
"For me, TBK has been a social media start-up rather than a food business," says Kapadia, who decided to open outlets encouraged by the positive feedback from foodies across the city, and the demand for takeaways.
Currently, home-dining is a platform to talk about community food rather than making business, which is run from the five outlets through home delivery and bulk orders.
They have two separate menus - one for orders served via delivery platforms such as Zomato, Swiggy, and Uber Eat and the other menu for bulk orders.
Kapadia says celebrities such as Farah Khan, Ashutosh Gowariker, Sanjay Leela Bhansali, Hrithik Roshan and Rani Mukerji had visited for home-dining.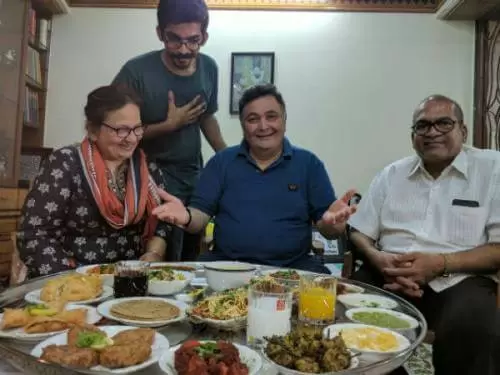 Bollywood actor Rishi Kapoor loves Bohri cuisine

Sharing an interesting episode, he recalls that during the 2016 monsoon season, on a heavy rainfall day when Mumbai city was flooded he delivered the food to Rishi Kapoor by reaching two hours in advance.
He had received Kapoor's call in the middle of a conference at a college asking him to deliver a home-dining bulk order at his home.
However, it has not been always honky dory for him. Many times he had thought of shutting down the business.
"At the end of 2016, I was on the verge of shutting down because I had a tax liability which I was unaware of being a first-time entrepreneur. I cleared the dues with my savings. A few days later I got a call from Forbes India to be on the cover. I did not want to appear on the cover of Forbes in 2017 with a closed down business," he says of the moment that changed his destiny.
During the struggle of keeping the business going without money in 2018, he tried to raise funds with the help of investors.
"I reached out to ex-Googler Mihir Mehta, an investment banker. He helped me plan the entire business and eventually offered me funds too. With the help of other investors, we were able to raise funds for the business. Overall, we were able to raise around Rs. 1.3 crore," he says.
Recently, India's Patent and Trademark office registered the name The Bohri Kitchen as a trademark of Munaf Kapadia.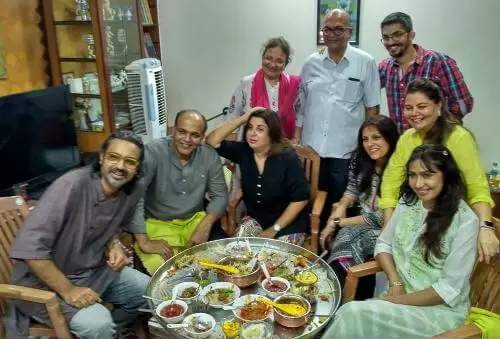 Munaf and Nafisa with Farah Khan (sitting, third from left), Bollywood director and choreographer and other guests at home

"The Trademarks & Patents Office Registrar refused our application multiple times contending that Bohri is a community and hence cannot be trademarked. After a few hearings, the lawyer representing our side was convinced that it was impossible to get a ruling in our favour," he says
A heartbroken Kapadia represented himself in person in the final hearing. "I introduced myself as the Chief Eating Officer of The Bohri Kitchen. I argued that Bohri is actually not a community and that it's a slang for Dawoodi Bohra. Slang is not public property by default. I supplemented this with over 100 newspaper articles cuttings and we won the case."
By now Kapadia must have got used to his winning ways.
This Article is Part of the 'Amazing Entrepreneurs' Series
Wish to share your story?
Trending Now: