How a 12th-pass youngster started business with Rs 5 lakh and achieved turnover of Rs 2 crore in 3 years
Gurvinder Singh
&nbsp | &nbsp Kolkata
22-February-2020
Vol 11&nbsp|&nbspIssue 8
Shouldering his family's financial burden at a young age, Shamim Akhtar, despite having to give up studies after school, has built a Rs two crore turnover company that makes Global Positioning System (GPS) devices.
Akhtar could not pursue his higher studies despite scoring good marks in his class 12 exams, but he continued to stay positive seizing every opportunity that came his way.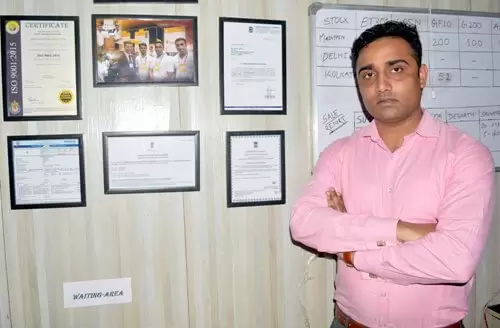 Shamim Akhtar, founder, Traking Pro, discontinued studies after class due to financial constraints

He first got into the electronic accessories business and then started Traking Pro, a GPS making unit that today employs 28 people and has an office in China.
Traking Pro's products range from GPS devices for vehicles to devices kept in the clothes or objects carried by forgetful elders, who run the risk of losing their way when they step out of their home.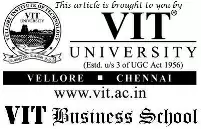 Akhtar started Traking Pro, investing Rs five lakh in 2017, from a small office of around 500 sq ft on the ground floor of his house by importing the hardware for the devices from China.
"We develop our own software for the devices," says Akhtar. Initially, he barely sold a hundred pieces in a month. But slowly the product gained acceptance in the market and today he sells around 5,000 units of GPS every month in 11 states across the country.
"We sell GPS devices for all types of vehicles. Our products are also fitted in the buses run by the Calcutta State Transport Corporation," says Akhtar, who attributes the popularity of his products to their pocket-friendly price, ranging from Rs 500 to 2,000.
The 32-year-old entrepreneur says that their devices meet the government's Automotive Industry Standard (AIS) 140, adding that soon the government would make GPS devices mandatory for every vehicle on the road.
"Our turnover would increase manifold once installation of GPS becomes compulsory," says Akhtar, who studied in a Urdu medium school, but could not continue his education after class 12.
"I was a bright student and secured good percentage in the board examinations but my father could not afford to send me for higher studies," says Akhtar sitting at the headquarters of his company in Kolkata.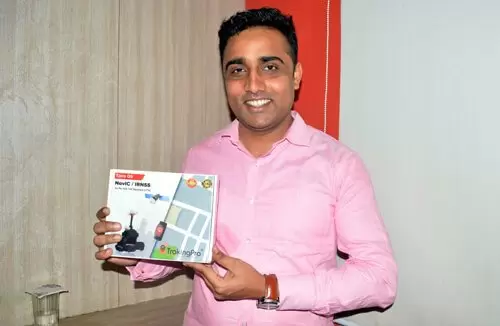 Akhtar with a Traking Pro GPS device

"He worked in a newspaper office at a very low salary, which too was not regular because of the poor financial health of the company. It was quite challenging for him to run the family, though he somehow managed to keep the kitchen fire burning,"
However, Akhtar's life took a turn when a childhood friend took him on a trip to China in 2005. "He promised to fund my travelling expenses. As I was having no work, I accepted his offer since I thought that it could be an adventure," he says.
But the fact was that his friend, a businessman, frequently visited China to import mobile phone accessories. He purchased electronic accessories in China and sold it in India for a profit.
In the next three years, Akhtar accompanied his friend to the dragon country several times and in 2008 he decided to base himself in China from where he purchased goods and exported it to his friend in Kolkata for a commission.
After four years he returned to India and got into textile business. For two years he exported ladies' garments from Surat in Gujarat to UK. "I exported about 14 containers between 2012 and 2013 and made good money but slowly competition increased and the margins started decreasing."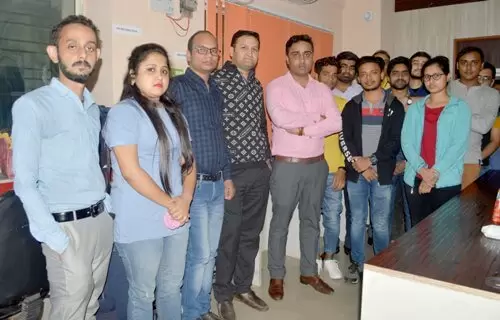 Akhtar with some of his team members at their office in Kolkata

In 2014, he decided to return to his old electronics business which was his passion, "Though the garment business brought money, it never gave me satisfaction because I was passionate about electronics."
He formed Shireen Electronics Private Limited and started importing Chinese mobile phones and sold them at shops in India. "The Chinese cell phones were a craze then. Everybody wanted to have those phones because of the loud speakers and their big size. It again proved to be a money spinner but the success was short-lived," he says.
The entry of Android phones in the market took away the craze for Chinese phones by 2016. The customers were getting attracted to the apps that Android phones had and there were fewer takers for the Chinese models, landing Akhtar in a financial mess.
So he started taking advice from friends to start something afresh when one of his school friends suggested the GPS business. Akhtar took the plunge and never looked back.
Wish to share your story?
Trending Now: