With few hundred rupees he came to Chennai, now owns a Rs 3 crore turnover mobile phone service chain
P C Vinoj Kumar
&nbsp | &nbsp Chennai
23-November-2019
Vol 10&nbsp|&nbspIssue 47
Born in a small village in Thoothukudi district, Tamil Nadu, as the sixth child among nine siblings and admitted in a children's home at six years, P Balasubramanian would get an opportunity to visit his family only during vacations.
His mother, a secondary grade teacher in a government school was the sole earning member in the family, and he lost his father, a small-time politician in their village, when he was 12.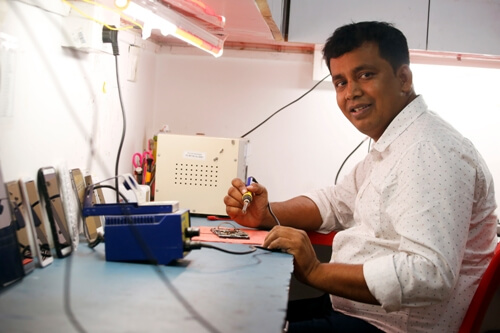 P Balasubramanian, founder, First Call, came to Chennai with a few hundred rupees in his pocket and worked as an AC mechanic (Photos: Ravi Kumar)

He was an average student and left the hostel without finishing class 12. Staying at home he completed a diploma in air conditioning and refrigeration.
At 18, he landed in Chennai after a tiff with his mother, with a few hundred rupees in his pocket and a small bag containing some dresses.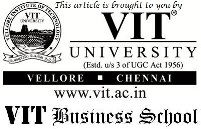 "I was aimless; there was nobody to guide me," says Balasubramanian, now 39, founder of First Call, a mobile phone repair chain in Chennai, with an annual turnover of Rs 3 crore.
First Call has seven stores and employs about 25 people, many of them technicians who repair all types of smart phones. Employees wear uniform and the stores are painted in bright red and white colours giving the place a corporate look.
Balasubramanian started the first store in 2009 with just one technician besides himself and his wife, who interacted with customers and filled up the job sheets.
"I invested Rs 2 lakh in the first store in Adyar," he shares. "The first six months were difficult with hardly any income to meet the rental expense and salary for the technician. But then the business picked up and we continued to grow."
His rags to riches journey started in Chennai in 1998 when he joined as an apprentice to an AC mechanic for a monthly stipend of Rs 500. A man from his village got him the job, and he stayed with him for a few days before finding his own accommodation, a small room on a sharing basis with another person.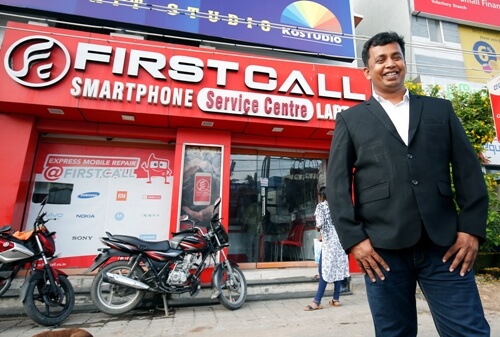 First Call has seven stores in Chennai

"I struggled a lot," he reminisces. "Many days I had starved, and most other days I had pazhaya soru as my staple meal. (Pazhaya soru is a type of rice porridge made with cooked rice that's soaked in water and left to ferment overnight and eaten the next day with curd, green chillies or onion)."
His mother, and an elder brother, who had found a job in Singapore, used to send some money occasionally which helped him to meet some of his needs.
About six months after he came to Chennai, Balasubramanian got a job in a software company as AC plant operator for a salary of Rs 2,000. He was responsible for maintaining the centralised air-conditioning system at the office, where he saw young IT professionals taking home fat pay cheques.
"I realised the opportunities that were available for educated youth. I felt sorry for myself that no one told me about these opportunities when I was studying," he says, adding, "I cried many times thinking of my situation."
But the one-year stint in the software company gave him a peek into the good life that he had never been exposed to as a boy who had spent most of his childhood days in a rural hostel and at his village home.
It ignited the quest for a better life in him, and the boy who had until now dreamt of only an AC mechanic job had the fire in the belly to make it big in life.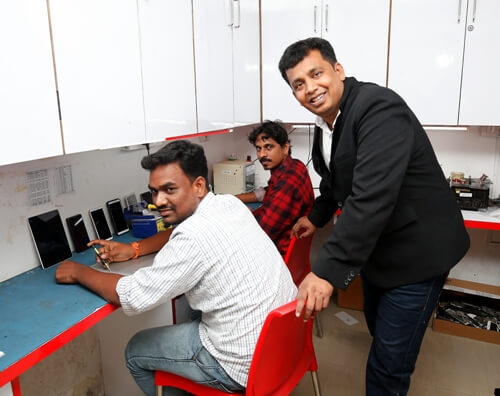 Balasubramanian started First Call with just one technician, besides himself and his wife. Now they are a team of 25

Balasubramanian's next job was at a cyber cafe, where people visited for browsing the internet paying as much as Rs 100-150 per hour.
"I used to create email IDs for customers, teach them to chat on Yahoo, and do scanning jobs," he laughs, reliving the memories of the 1990s life in Chennai, when the internet was just in its infancy.
Browsing and chatting on the internet was the in-thing then for young people who flocked to cyber cafes as few could afford net connectivity at home, which required a computer, phone and a high monthly rental.
The late 1990s was also the time when the mobile phone was becoming affordable to a larger number of people, many of whom were dumping their pagers for cell phones.
The cell phone boom provided the much needed breakthrough for Balasubramanian. A person working at a mobile store near his workplace advised him to do a course in mobile phone repair service for a lucrative career.
The man also referred him to a training institute in Lucknow, where Balasubramanian went to do a three-month training course. In Lucknow, he stayed at the home of the institute's owner who took a liking to him.
"I spent around Rs 20,000 on the course. My brother gave the money," says Balasubramanian, who set up a mobile service centre in Parry's Corner as soon as he returned to Chennai, again with financial support from his brother.
"It was a 10 ft by 10 ft space," he says. "The rent was Rs 3,000 and I invested around the same amount for the tools – a heat blowing machine, soldering machine, screw drivers, tweezer and a few other instruments."
However, that business was short-lived as the assistant he employed was not skilled in mobile hardware - an area that he lacked expertise in, since software was his strength.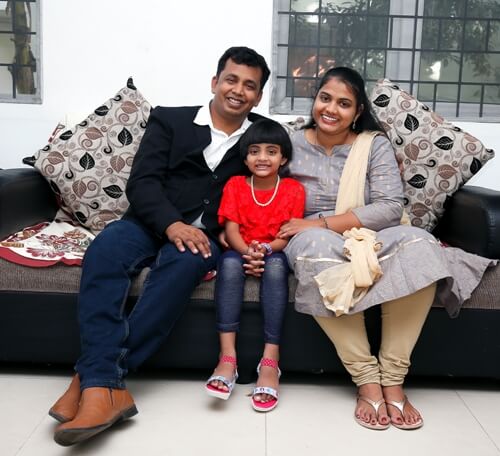 Balasubramanian at home with his wife and daughter

Balasubramanian soon found a job with a mobile phone service training institute in the city for a salary of Rs 10,000 and in 2002 started a training institute of his own - with a high sounding name, Madras Institute of Mobile Phone Technologies (MIMT), at Pondy Bazaar.
He ran the institute along with a partner until 2005, when he got married to Veena Madhuri, a girl he had fallen in love with. In 2006, he joined a mobile phone retail chain, The Mobile Store, as their technical head for Tamil Nadu for a salary of Rs 25,000.
"That's where I learned how a corporate company functioned, how they managed a whole lot of people with technology. It was valuable experience," says Balasubramanian, who later quit the company to start his own mobile phone repair centre, First Call, in Adyar, in 2009.
He now has ambitious plans for growth and is set to foray into the refurbished phone market soon.
"We are looking for funding to implement our plans," shares Balasubramanian, who lives in a 3-bedroom rented villa in the city, drives a Skoda Rapid, and has put his two children, aged 13 and 4, in Life Hub, a homeschooling cooperative, paying Rs 1 lakh fee for each of them.
The father is giving the children the life he never knew existed during all those years he spent at the hostel.
This Article is Part of the 'Amazing Entrepreneurs' Series

Trending Now: