Life is a one-time offer; use it well, exhorts India's IQ wonder K Visalini
16-September-2019
Vol 10&nbsp|&nbspIssue 37
My lifelong goal is to achieve Nobel Prize for my motherland India," said K Visalini, the 19-year-old girl from Tirunelveli whose IQ (Intelligence Quotient) is 225 as against an average intelligent person's IQ of 90 to 110 and which is India's highest and among the top three in the world.
Visalini spoke about her goal at Ethiraj College in Chennai, where she addressed students of her age group, who were in awe listening to her story as P C Vinoj Kumar, Editor of The Weekend Leader, engaged her in a conversation, as part of the portal's 'Inspiring Indians' series in collaboration with VIT Business School and co-presenters Alcis, Milky Mist and Peps.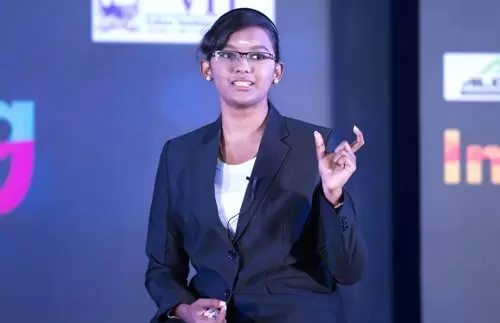 K Visalini bust myths about IQ enhancing drugs and said IQ levels of a person cannot be altered (Photos: Raghu)

Though the Nobel dream, which when realised would give Visalini the distinction of being the first woman born in India to win the coveted prize, was revealed to a question asked by a student, the conversation gave her an opportunity to bust myths about IQ enhancing drugs and exercises.
She made it clear, "It (high IQ) is God's gift, natural, and it stays with you for life. There is no improvement or reduction in the process throughout your life. Your IQ level is somewhat closely related to the number of folds your brain has and this cannot be altered…"
Rejecting the claims of websites that offer exercises to improve one's IQ, and the tablets and drugs that make similar claims she said, "If that was true, my IQ level would be some thousands now, I would have done that."
It was interesting to hear from her how her high level of IQ was discovered. "This happened when I was around 3 years old. My parents found my day-to-day activities a little different and they took me to a pediatrician. I hailed from a teacher's family. My grandma would have seen thousands of school kids, because she was a primary school teacher. (They found) my activities were a little different from what the regular kids do."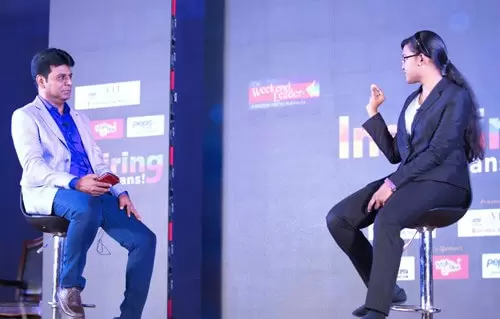 P C Vinoj Kumar, Editor, The Weekend Leader, engaged in a conversation with Visalini

The doctor wanted to check "whether I am a tape recorder or do I observe, analyse and then react… So my pediatrician prescribed for the IQ test," Visalini revealed.
She came down heavily on the fake websites offering online IQ tests. "IQ is not something that is a calculation, that is just computed by anyone, not a pediatrician, parent, teacher, a general physician, no one can – nobody has the authority to give the (official) report. There are so many fake online websites that give some puzzles to you and they claim this is your IQ. It is not the legitimate way," she asserted.
"We have to go to the clinical psychologist. I am underlining, it's not psychiatrist, it's a clinical psychologist and they have to be registered in the Rehabilitation Council of India. They are the only authorised personnel to deliver your IQ test and analyse your IQ level and then give reports."
When Vinoj Kumar asked, "So, tell me Visalini, how are you different from the other people?" the BTech graduate (yes, at 19, she has already completed BTech) said: "One thing is, my grasping power. And this is not mugging up, I learn, I do not study. There is nothing in my life called studying." Then she explained the difference between learning and studying by asking the audience, "Do you learn to ride a bicycle or you study to do it? 'Learn', said the students in chorus.
Then she asked, "You study for an exam or you learn for an exam?" After the students said "study," in unison, Visalini explained: "When you learn it, it is with you forever. So, if you stop riding a bicycle for a couple of years and then return to it, you can easily take it over. But, if you study, after the exam is over you need to revise it at least once and sometimes during the exam also. So, this is the difference between learning and studying."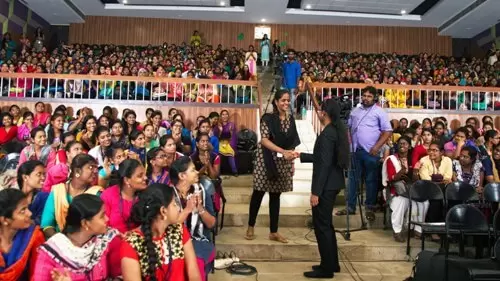 Visalini congratulating a student for asking an impressive question

One anecdote from her life that made Vinoj Kumar say a loud 'wow' was her saying that she completed reading the encyclopedia in 24 hours when she was around eight or nine years. "I liked it and I didn't come out of it. I just dived into it and the next day, the very next day I placed my grandma next to me and I started teaching it to her."
It was an inspiring conversation for the students as they cheered and applauded all through and had too many things to clarify from her and too many praises to shower on her when the floor was opened for questions. For, Visalini, even while describing the dark side of being born with an extremely high IQ, exuded positivity.
"A coin requires two sides for it to be authorised. We cannot have one sided coin," she said to the question: You didn't face any challenges or problems? And she was smiling while telling the audience that she had been beaten up by her class mates - who would be senior to her in age as she had been double promoted twice in primary school - for no reason.
The conversation brought out her achievements. The international networking certifications that she had received, her interaction with Prime Minister Narendra Modi when she was 15 years, the recognition she got from ISRO, the double promotions in school, her early enrolment for BTech, and so on.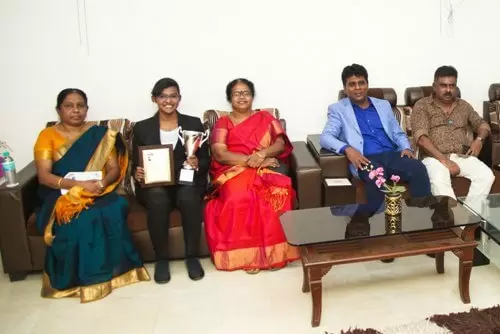 Visalini with her award, flanked by Dr G Caroling (to her right) and Dr Usharani. Also seen is senior journalist Babu Jayakumar

The event that was organised on September 5, when the nation was celebrating Teachers' Day, also gave an opportunity for Vsalini to pay encomiums to some of her teachers who stood by her and facilitated her success.
Her narration of the story of Arfa Karim Randhawa, the IQ prodigy from Pakistan, who was honoured with the most prestigious awards of that country and given full military honours when she passed away at the age of 16, however, had a hint that she felt that she had not been given the due recognition so far.
But then, she signed off, telling the students: "Life is a one-time offer; use it well."
Dr. D B Usharani, Vice Principal, Ethiraj College, had earlier presented The Weekend Leader – VIT Inspiring Indian award to Visalini and Dr G Caroling, Dean, the citation to her. - TWL Bureau

Trending Now: