A father who would not invest in gold jewelry turns his daughter into a golden girl
Rama Devi Menon
&nbsp | &nbsp Hyderabad
24-July-2019
Vol 10&nbsp|&nbspIssue 29
Naina Jaiswal is a whizkid. If the table tennis champion from Hyderabad is pursuing her PhD programme, plays the piano, can cook biryani and motivate youth with her talks, has been the brand ambassador for the Election Commission of India and can do a plethora of other things at a young age of 19, it is all because of her father.
When his daughter was born in the year 2000, friends and relatives reminded Ashwani Kumar Jaiswal and his wife Bhagyalakshmi that it was time for them to start collecting gold jewelry in preparation of her marriage.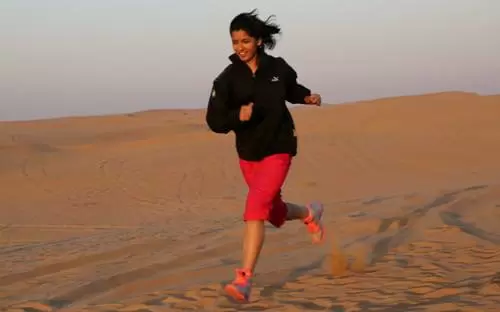 Naina Jaiswal, just 19, holds a plethora of records and is currently pursuing her PHd (Photos: Special Arrangement)

But Kumar pooh poohed the suggestion, telling them that he would not invest in jewelry for her but turn his daughter into a golden girl, which he did through sheer hard work, perseverance and determination.
So, the daughter became the youngest in India to clear the class ten exam when she was just eight years and two months.
When the State SSC Board refused to let her take its examination saying that she was too young for it, Naina sat for the International General Certificate of Secondary Education (IGCSE) examination, conducted by the University of Cambridge (CIE board), and came out with flying colours.
In 2010, she cleared her Intermediate from the Andhra Pradesh State board at the age of 10 and in 2014 completed her BA in Mass Communication from Osmania University at the age of 13, becoming the youngest journalism graduate in India.
Then she went on to do her MA in political science, picking up the degree at the age of 15 and subsequently enrolling for PhD at 16. Now Jaiswal is pursuing the research programme in Adikavi Nannaya University in Rajahmundry.
But then it was not all work and no play for this child prodigy, who was fully into sporting activities, too. Since Kumar was a state-level table tennis player, he began coaching his daughter from the age of three. "I was inspired by a photograph of Sachin holding a bat at the age of three," he recalls.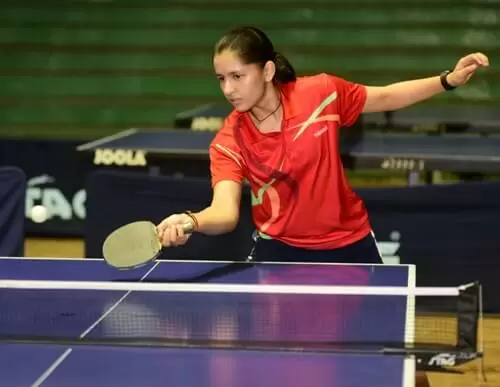 Naina is a national level player and is ranked sixth in the under-16 category

After all, the father had wanted to "change people's outlook that daughters are a liability" by bringing up his daughter as a successful rounded individual. So he also trained her in spiritual matters, which led to Naina reciting 108 shlokas from the Ramayana at the age of 7.
Besides, she operates CS2, Corel draw and Photoshop in computers and can type A-Z in 2.72 seconds. She can cook Hyderabadi biryani in 25 minutes flat and play the piano.
As a professional motivational speaker, she has made hundreds of speeches in English, Hindi, Telugu and Urdu in schools and colleges, not only across Indian cities in Andhra Pradesh, Telangana, Kerala, Madhya Pradesh, Maharashtra, Rajasthan, Haryana and Uttar Pradesh, but also in the US, Singapore, Muscat and Oman on the theme "empowering the girl child."
Her audience is not just students, but ranges from jailors to Brahmakumaris. Due to her immense popularity, the Election Commission chose her as the brand ambassador for its 'right to vote' campaign in Mahabubnagar district in Telangana.
All these achievements would not have come her way but for the law graduate father, who pulled his daughter out of school after class three and taught her at home. Kumar, who has been an educationist for 35 years, was disillusioned with the current education system and decided to teach her at home.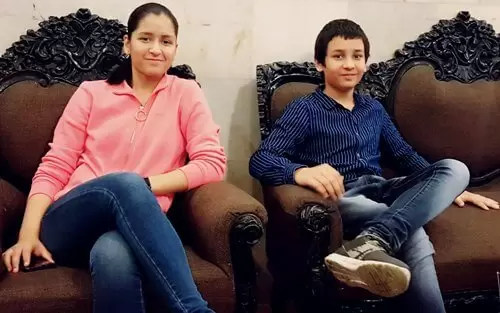 Naina with her brother Agastya, who has been nicknamed as 'Google boy' by the media

Relatives, especially Kumar's parents-in-law, were appalled by his decision to discontinue the girl's studies. However, Kumar stuck to his guns.
With his wife's support he began to coach his daughter at home teaching her all the subjects that was taught at school - English, Mathematics, Social Studies, Science, Hindi and Telugu. The home curriculum also included memory skills and handwriting.
When their efforts paid off, people said Naina must be a "miracle kid" and a blessed one. However, when he decided to educate his son Agastya, too, at home and achieved the same result – Agastya cleared SSC Board exams at the age of eight with 7.5 GPA - people began to take note of Kumar's efforts.
In fact, Agastya has never attended school. He is all of 13 now and is pursuing BA Mass Communication from St Mary's College.
The Jaiswal children unanimously attribute their success to their "super mom and super dad." "We were coached by our parents completely from KG to PG," says Naina. The children are off junk food, cell phones and entertainment television.
In fact Naina says "Aagstya has never tasted an ice cream in his life." The media had given him the nick name "Google boy" as he could answer 300 questions at the age of two and 3000 at the age of five.
"My father is a table tennis player and my wife's father is a medical doctor. So I wanted to ensure that my children excelled in both sports and academics," says the proud father, who, after living in a joint family in Dhoodhbowli in the Old City, shifted residence to Kacheguda to live closer to Lal Bahadur Stadium where his daughter goes for TT training.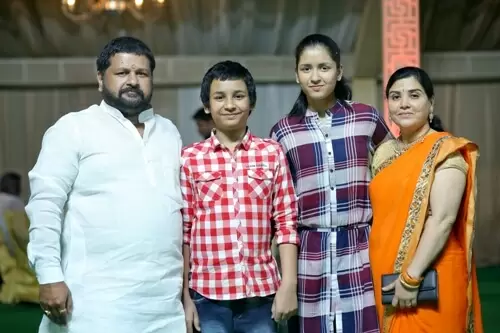 Child prodigies Naina and Agastya with their 'super mom' and 'super dad'

Currently ranked sixth in the under-21 league, Naina is the only girl from Telangana to be selected for the Ultimate Table Tennis League Season 3. "It is just like the IPL League cricket. I will be representing the Dabang Delhi Table Tennis Club in the coming season," she says with excitement.
"My parents never made me feel inferior because I am a girl child," she says and narrates an interesting anecdote as evidence for the progressive outlook of the Jaiswals.
"My name was just Naina in my passport. But some relatives urged my father to add the surname (of our caste) Jaiswal saying they are already a small community. So my dad called for a meeting of my relatives and told them he would add the surname Jaiswal if they promised to educate their daughters and refused to give dowry."
Incidentally, Naina's PhD subject is the "Role of micro-finance in women's empowerment." She has travelled Mahabubnagar district extensively and has met with self-help groups as part of her project. "Although my official guide is VC Muthyala Naidu, my dad is constantly providing inputs for my course," she says.
So how do the Jaiswal siblings unwind? Naina says "playing the piano, reading and singing help me relax."
But the proud father has no time to relax. After he repeated the "miracle" with Agastya, people began approaching him to coach their children, too.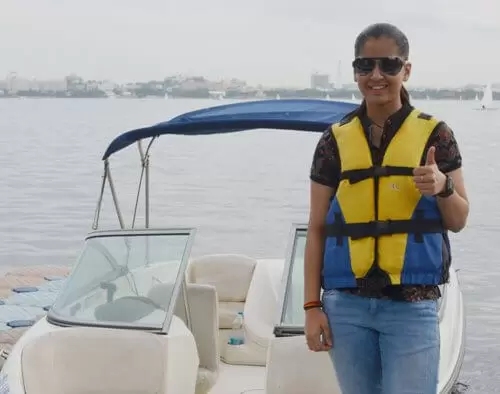 Naina is a sought-after motivational speakers in schools and colleges

Now he has a "home school" where 25 students are being coached by him. The children start their day with sports coaching at the Lal Bahadur Stadium and are allowed to pursue any sport that interests them.
Some are learning TT, some cricket and some badminton. In addition to sports, the curriculum includes yoga and meditation. After a few hours of academics, more sports training follows in the evening before the exhausted children return home and hit the bed by 7.30 pm.
In this age of cut-throat competition where parents put a lot of pressure on their wards to excel in studies, it is heartening to see the children being home-schooled in a relaxed environment.
As one gets ready to leave the place, one can't stop humming the good old Pink Floyd chart buster: "We don't need no education/ We don't need no thought control/ No dark sarcasm in the classroom/ Teachers leave them kids alone…"

Trending Now: