How a veterinary sales rep with Rs 1,900 salary built a Rs 41 crore turnover business group
Usha Prasad
&nbsp | &nbsp Bengaluru
26-June-2019
Vol 10&nbsp|&nbspIssue 25
As a qualified veterinarian, Dr N Elangovan should be treating pets. But without neglecting the interest of pet animals, he pursues two other passions, journalism and business, heading three companies with combined turnover of Rs 41 crore, and is all set to launch his first English book 'Currency Colony' on entrepreneurship.
Son of a humble Tamil Nadu government official, Elangovan started his career as a sales officer in the vet pharma division of Unichem Laboratories in Hubli, Karnataka for a monthly salary of Rs 1,900.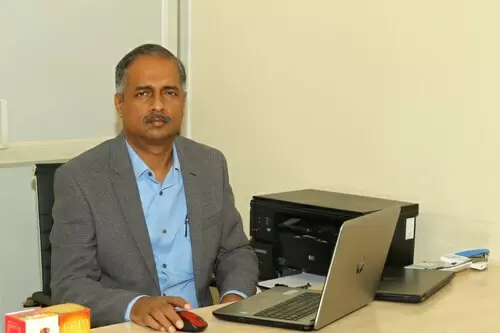 Dr N Elangovan began his career as a sales executive and rose up the corporate ladder before turning an entrepreneur (Photos: Special Arrangement)

He plunged into business, much against his father's wishes, after a friendly Gujarati neighbour in Baroda told him upfront that he was making too little for his diligence, intelligence, qualification and penchant for hard work and even asked 'why should you work for someone?'
"When I was 16 years old and was just out of school I first thought of doing business in textiles. My family discouraged me, driving home the point that studies were more important," recalls the 49-year-old Elangovan, whose successful ventures are Dream Serve Networks Pvt Ltd, Iris Life Solutions Pvt Ltd and Timo Eva Wellness Pvt Ltd – the first one a media company and the other two catering to pets and human cosmetics.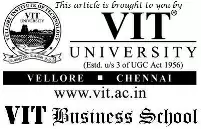 Heeding the advice of the family, he continued his studies and while pursuing his graduation at the Madras Veterinary College discovered another passion, writing. That put him on the path to journalism in the second year when Elangovan started a hand-written quarterly Tamil magazine 'Andhimazhai'.
"Andhimazhai was not a run of the mill in-house college magazine. It was like any general magazine. It carried stories of general interest, interviews of litterateurs, noted personalities and film stars but kept politics out of its pages," recalls Elangovan.
Initially, they brought out four copies, which were kept in the college hostels and library and then from 1993, when DTP became popular, 10 copies were printed.
"Some of the articles published in it would be re-published in local vernacular newspapers," he says, adding that Andhimazhai was very popular among the college students.
After his graduation in 1994, Elangovan wanted to pursue journalism as a career. But his family members insisted that he take up a job related to what he studied, and that's how he landed at the sales position in Unichem Laboratories.
After 16 months, he switched to Selvam Broilers, a poultry company, headquartered at Namakkal, Tamil Nadu, as in-charge of Karnataka region and based out of Bengaluru. Two years later, he joined a Fortune 500 company, Fort Dodge, which was into veterinary biological and worked in the sales and techno-commercial space, covering Tamil Nadu and Kerala.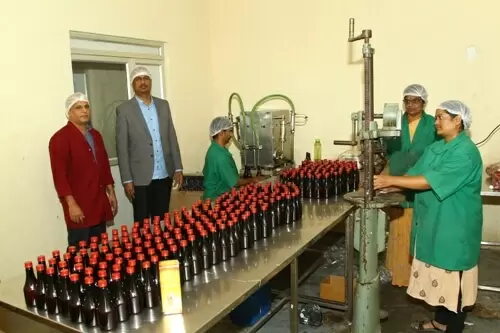 A total of 104 people are employed in Elangovan's three companies

Though he kept his passion alive by writing for leading Chennai-based Tamil publications such as Kumudam, Thamizhan Express, and Kungumam, the lure of journalism was so irresistible that in 1999 Elangovan quit Fort Dodge and took up a full-time job at a fortnightly magazine called 'Vin Nayagan' in Chennai, taking an almost 75 per cent salary cut.
However, in a year's time, he left the job as he learnt that Vin Nayagan was on the verge of closure and returned to Bengaluru to join the animal health business of Wockhardt.
The next year he joined Indo Biocare, which was also into animal health business, in Bengaluru and was subsequently promoted as National Business Head and transferred to Baroda, where he had the life-changing meeting with his neighbour in 2004.
"At that time, I was earning well. Life was well settled. I used to travel for around 20 days in a month covering the length and breadth of the country. And it was after one such official tour, the Gujarati, who lived opposite to my place, stopped me as I was taking the car out to go to office and invited me to his house for a chat," Elangovan recalls the incident that resurrected the dormant entrepreneurial urge in him.
The neighbour told him bluntly that all his diligence and hard work was not worth the salary he was getting and that he should think of doing something on his own for the skills and talents he possessed.
That conversation set him thinking on turning an entrepreneur. Though his family was not too keen and did not lend him support, Elangovan took the call.
While holding his corporate job that would provide him regular income, he started Dream Serve Network Pvt Ltd in 2004, and launched 'Andhimazhai' as an online magazine the same year.
Andhimazhai, the magazine he had started in college, was being brought out by students of his alma mater until he registered the title in his name in 2004. Since 2012, Andhimazhai has also been coming out as a monthly print magazine. Dream Serve has published more than 31 books in Tamil as well.
In 2007, finally, Elangovan launched his dream venture, Iris Life Solutions Pvt Ltd by investing Rs 16 lakh from his savings.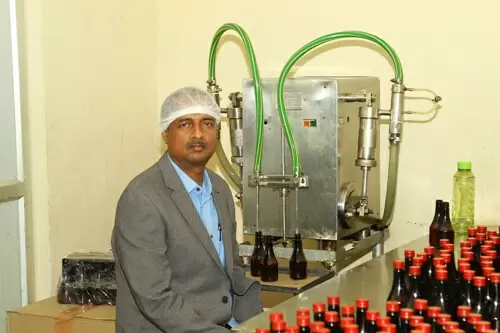 Iris has a range of 32 products for pets, poultry and livestock

"The basic idea was to create 100 jobs," says Elangovan. Initially, they were marketing dog grooming products, shampoos and dog biscuits and later added poultry feed supplements in 2008 by acquiring the brands of Vepha Healthcare, a company run by Elangovan's friend.
The friend, who found the going tough, later offered to sell off the manufacturing unit, too. Elangovan pumped in Rs 3 crore into the company in five years.
Most of the money was from his savings, though some friends too invested in the venture. The production facility of Iris was set up in 2008 at Bommanahalli, Bengaluru. Elangovan availed bank facilities to expand his business only after 2013.
"My father was not happy with me starting a business. He advised me not to borrow from anybody in the family. As we needed more funds, in 2009, I sold my house in Chennai, which I had bought during my previous jobs," he says.
Though the first year turnover was just Rs. 4.75 lakh - which was much lesser than his annual take home salary in his last job - Elangovan persevered.
"My strong resolve was to hang on for 1,000 days whether the business runs into profit or loss. When we crossed the 1000th day, I wanted to expand and set the next benchmark for another 1000 days. This went on like that, and here we are today," he says.
Of the various brands taken over from Vepha, Iris has retained only three but has added new ones. Today, they have around 32 products covering pets, poultry and livestock. They also manufacture products for two other companies, besides importing and marketing a few other products.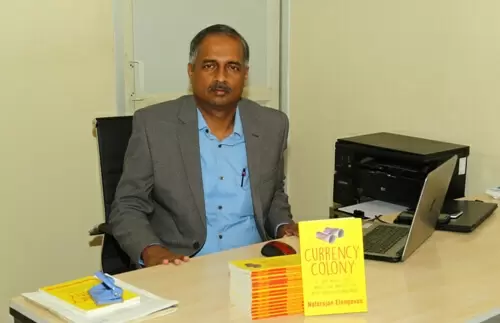 Elangovan's first English book, 'Currency Colony' is ready to hit the market shortly

In the meantime, in 2012, Timo Eva Wellness, which is into animal health products and human cosmetics, was launched. Together all the three companies made Rs 41 crore in the last FY.
Recalling the tough times he went through, Elangovan says, "Many times I have regretted my decision to quit a successful job. At such moments I would read biographies of entrepreneurs and successful people and get motivated."
He says the story of Sanjay Lalbahi, owner of Aravind Mills, was the most inspiring one that made him not to lose hope.
With 104 employees on the rolls now, the company has achieved its goal of jobs for 100. "I wish to give more weightage to the human element. My team, customers and partners made my ventures successful," says Elangovan, who hails from a middleclass family from Tirunelveli in southern Tamil Nadu. He is currently based in Bengaluru with his wife and two sons E T Alanzo and Kathir Vithuran.
This Article is Part of the 'Amazing Entrepreneurs' Series

Trending Now: