Duo quit IT jobs to start tea shops and achieve Rs 7.4 crore turnover in two years
Radhika Sudhakar
&nbsp | &nbsp Chennai
04-May-2019
Vol 10&nbsp|&nbspIssue 18
Move over coffee, Chennai loves its own cuppa. This was proved right by two city boys, whose desire to build a brand of their own impelled them to pick tea for business. It brewed well in a multi-flavoured fashion that they took home Rs 7.4 crore from their 17 outlets during FY 2018-19, just two years after launching Chai Kings.
The success story of Jahabar Sadique and Balaji Sadagopan, comrades in arms, first at the IT industry and then in the business of brewing a wide range of flavoured tea to suit the changing tastes of Chennai, sounds more like a fairytale.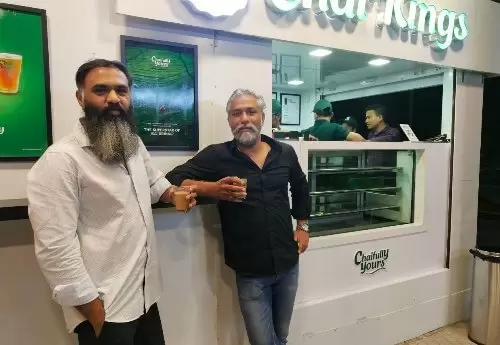 Jahabar Sadique (left) and Balaji Sadagopan started with a single tea shop in 2016. Now, Chai Kings has grown into a 17-outlet tea chain (Photos: Special Arrangement)

Before launching Chai Kings, they had tried some other businesses. "We came down to tea after we realised that there were no tea houses with an offer of a range of teas in Chennai," recalls Sadique.
First, the duo transcended the city's quintessential middle class aspiration: To study engineering, find a job in the IT industry, get married and settle down in life. Of course, Sadique and Sadagopan went through the rigmarole, bit by bit, but skipped the last bit of it. When their peers were preoccupied with targets, projects, onsite opportunities, appraisals and promotions, they wanted to break free.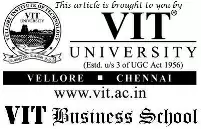 Sadagopan, son of a bank manager, was the first to broach the subject of starting a business with colleague Sadique, a bank cashier's son, who was sceptical about his friend's childhood dream. As a boy he had watched his father doing his own business in the cable television industry and burning his fingers.
Yet when it came to real action, Sadique took the plunge first. He quit his job from an IT company to start JBS ventures, of which Sadagopan was a distant partner, in 2012. The company did franchising for a few known brands, a salon and a fast food chain besides taking up ITES services.
Prior to that, Sadagopan, now 42 years, and Sadique, two years younger to him, had spent close to a decade and a half in the IT and ITES industry managing huge manpower that at times spread out to many countries from the east to the west.
The friends had grown up in middle class households in north Chennai and had done their BE in different engineering colleges. They first met at their work place in 2002 when Sadagopan joined the team led by Sadique at an IT firm in Chennai. They worked together for seven years and stayed in touch even when Sadique moved to another firm.
When the JBS venture began doing well, Sadagopan too quit his job to join Sadique full time and it was during one of their jaunts to Delhi that the idea to start their own brand was born.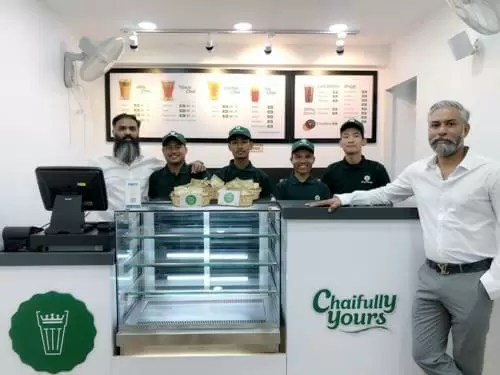 Chai Kings has a staff strength of 150

"Working with franchises gave us an insight. The idea of a beverage shop had first struck in 2007 when we discussed the possibility of opening a coffee shop like the one we were then passing by," says Sadagopan. "It struck us that creating 'an ambience for tea at a price' could be a feasible business idea," says Sadique.
Chai Kings was born in October 2016 with the first outlet at Kilpauk in a 350 sq ft space with an investment of around Rs 25 lakh. In fact, they had planned four outlets, each with an average space of 400 sq ft, in posh localities in central Chennai area with an investment of Rs one crore, all coming up within six months.
Everything went as per plan. So, with the starting price of a cup of tea at Rs 20 - which was slightly more expensive than the regular tea stalls that dot the streets of Chennai, but lesser than the plush cafes where customers usually lounged - Chai Kings captured the imagination of the city's tea aficionados.
More than anything else, there was the twist to the known taste of tea at Chai Kings. The teas were flavoured, ranging from Ginger to Hibiscus to Hyderabad Sulaimani to Kerala Dum. There are a variety of herbal options, too.
Snacks served at Chai Kings ranged from noodle samosa to sandwich, cookies, dessert to noodles, along with a few milk shakes too. And they could all be booked online and a home delivery system was put in place. They not only tied up with food delivery apps but also packaged hot beverages in specially made cardboard flasks.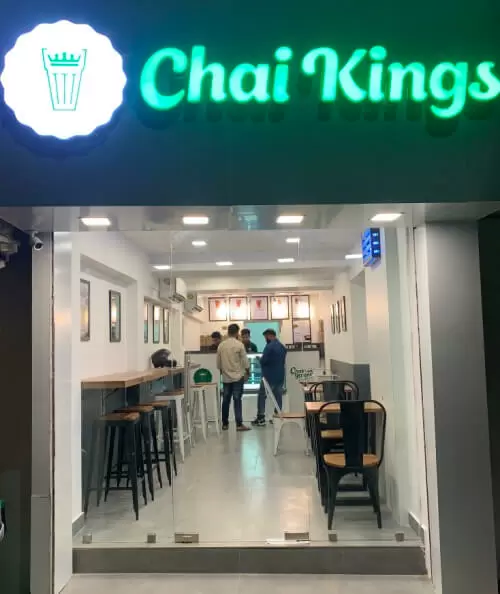 A Chai Kings outlet in Chennai; an ambience to chat over chai

With everything going hunky dory, each of the first four outlets started making Rs 7 to 9 lakh per month, which in terms of tea sold amounted to 35,000 cups per month, per outlet. Then they reached out to south Chennai with three more stores at an investment of Rs 40 lakh each.
Their revenue went up from Rs 25 lakh for the four outlets per year to Rs 2.3 crore for the seven outlets. By March 2019, they had added nine more outlets and were making Rs 7.4 crore with their staff strength standing at 150. Their 17th outlet was opened in April 2019 in West Mambalam.
"We expect a turnover of Rs 20 crore by the financial year ending April 2020," says Sadique. The duo are giving up on the earlier JBS Ventures and are selling off their franchises and inducting Sadique 's two brothers, one of them from TCS, to take over what would be left of it
With their focus now entirely on Chai Kings, they are now planning 100 outlets and a presence in multiple cities by 2021, which includes taking over a similar established tea chain in Bangalore.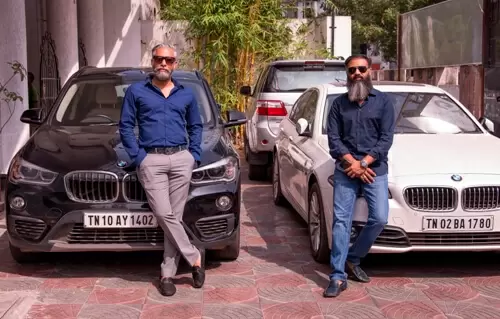 Sadagopan and Sadique are aiming at a turnover of Rs 20 crore during FY 2019-20

"I think we will still be tapping only a small portion of the market available for tea after all our expansion," says Sadique, who has declined franchise offers for Chai Kings. "We believe in running it by ourselves and maintaining the quality," he says.
After all, it was they who planned the menu and standardised the preparations with the help of experts. Their staff at the various outlets is well-trained in preparing the different kinds of flavoured tea and other snacks and milkshakes.
The duo who received a funding of Rs 2.1 crore from an angel investor in 2018 to start 10 stores, is talking to a few other investors for their current expansion plan.
"The globe will be our playground, if we focus and move this business on a steady current," say the new age first generation entrepreneurs, who share a passion for good food and sound business.
This Article is Part of the 'Amazing Entrepreneurs' Series

Trending Now: