This Kuwait based engineer from Tamil Nadu has donated Rs 4 crore to charity
P C Vinoj Kumar
&nbsp | &nbsp Chennai
25-January-2019
Vol 10&nbsp|&nbspIssue 4
When Ilangovan Sivanmalai's dream run as a serial entrepreneur started crumbling and landed him in a debt of Rs 2 crore at the age of 37 in 1995, he found himself in a far worse situation than the dreadful years of childhood poverty he had experienced.
"I sold almost all my possessions including land, vehicles, and my wife's 120 sovereign of gold jewellery to settle the debts, but still fell short by Rs 52 lakh," recalls Ilangovan. "At that time I was also working as a lecturer in a polytechnic at Coimbatore. But I knew the meagre income won't be sufficient to clear the remaining debt in my lifetime."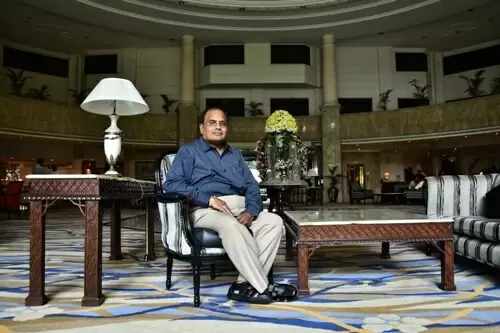 Ilangovan Sivanmalai, a Kuwait based engineer, who hails from Tamil Nadu, has provided financial aid to more than 11,000 poor students (Photos: John)

Ilangovan took up a job in Kuwait as an AC maintenance engineer. He has worked in that country since then, and is now employed at the government owned Kuwait National Petroleum Company (KNPC) as a HVAC (heating, ventilation and air-conditioning) design engineer.
Needless to say, he cleared his debts long ago - within three years of working in Kuwait - and now earns around Rs two crore annually. But what makes his success story an extraordinary one is that he donates more than 20 per cent of his income for charitable purpose.
"I have donated around Rs 4 crore to charity till date," says 60-year-old Ilangovan. In 2009, he founded Aravanaippu Trust in Coimbatore in memory of his father Kolandasamy to help the educational needs of children from poor families. The NGO also receives contributions from his friends, well-wishers and other philanthropists.
"We have extended financial support to 11,551 children, many of whom have lost their father," says Ilangovan. "I don't claim to meet their entire educational expenses. We provide an annual support of Rs 2000 to school students, Rs 5000 to arts and science undergraduates, Rs 10,000 to engineering students and Rs 15,000 to medical students."
Ilangovan also supports civil service aspirants from poor families. "We help children from poor families who clear the preliminary exams to prepare for the main exam and interview. They are given Rs 25,000 to pursue their studies. In some cases, we extend the sponsorship for two years. Out of 114 children we supported, 51 have got into IAS and 32 into IPS," says Ilangovan, whose aim is to provide financial aid to a total of 25,000 children in his lifetime.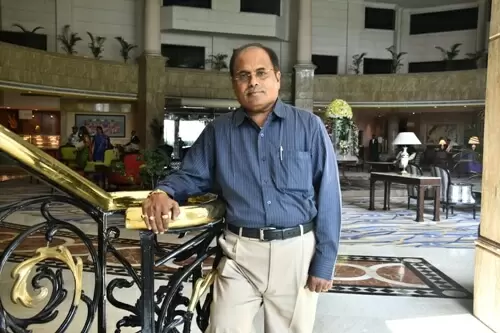 Ilangovan was born into an agricultural family that lived hand to mouth

For a man, who was born into an agricultural family that had around 10 acres of dry land, and cultivated seasonal crops such as millet, maize and beans, the year-round income came from milk they got from a single buffalo the family owned.
"My father had a wound on his chest from which blood always oozed and he could not do much hard work because of it. My mother ran the family with the money she earned through handloom weaving and from the buffalo milk we sold daily," says Ilangovan, who studied in the local village school till class five and then attended high school at Vellakovil, four km away.
The family lived hand to mouth and there were days when Ilangavon and his younger brother had gone to bed hungry. He vividly recalls a night when his mother sent him to buy rava on credit from the village store to prepare upma for dinner.
"I was around eight years old then. I went to the shop, but the owner of the store said we owed a big amount already and refused to give any more credit. I returned home without the rava and my mother made some kurenai (broken rice) gruel for all of us," remembers Ilangovan of that unforgettable night, when he kept waking up frequently due to hunger pangs.
"I kept drinking many tumblers of water to fill up my stomach. My mother who was silently watching all this woke up early that day at around 3.30 a.m. She got milk from the buffalo and prepared a hot glass of milk with panang karkandu (palm sugar) for me."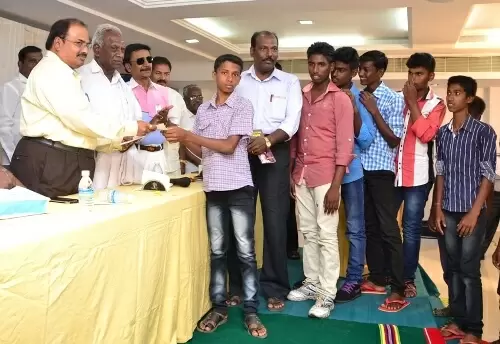 Ilangovan distributing financial aid to students in Pondicherry

The life of poverty motivated him to study well and come up in life. After his SSLC (Secondary School Leaving Certificate), he joined Natchimuthu Polytechnic at Pollachi, a nearby town, with the financial help he got from various family members. As one of the toppers in the first year, he was able to get a seat at Coimbatore Institute of Technology, an engineering college, in 1976. Later, he completed his post graduation in mechanical engineering from Government College of Technology, Coimbatore.
"I stayed in the hostel and visited my village (which is about 100 km from Coimbatore) during the study holidays and weekends. At home we still didn't have electricity and so I had to study under the light of a kerosene chimney lamp," says Ilangovan, whose burning desire to make money made him take up a part time job as an agent for Peerless Insurance when he was doing his PG course.
He worked for around a year, and using a Royal Enfield bullet motorbike that an uncle lent him enrolled policy subscriptions worth Rs 97 lakh, a huge sum those days. He was declared the top agent in the state and earned a good commission from the job. The successful stint as an insurance agent gave Ilangovan the confidence to get into numerous businesses in the future.
"In 1983 I completed my ME and in the same year got a job as a lecturer at Kovai Sandwich Polytechnic for a monthly salary of Rs 512," says Ilangovan. In 1985, he married Devika – who came from a well-to-do family and who would stay by him through the ups and downs of his life.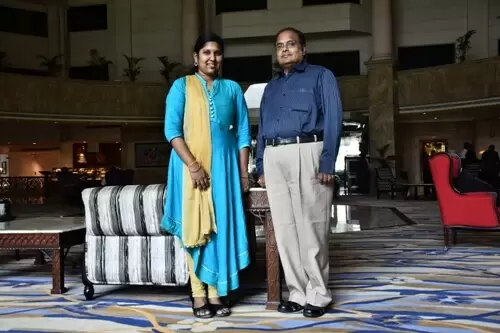 Pavithra, one of the beneficiaries, with Ilangovan

Three years later, he set up his first business, a wet grinder assembling unit in Coimbatore and sold wet grinders under the brand name of DIVIJ. "We sold 4800 pieces in the first year itself," shares Ilangovan, who soon launched more partnership ventures – Kamadhenu Hardwares, Maruthi General Stores, and Aristo Garments to name a few. But one of his ventures, AQ Apparels, collapsed, grounding with it all other businesses and landing him in serious debt.
In 1995 Ilangovan left for Kuwait to make a fresh start. He toiled hard, taking tuitions during after work hours to earn extra money, and lived a frugal life to pay off his debt.
He continues to work hard in extreme conditions. "In Kuwait, temperature touches around 127- degree Fahrenheit during peak summer. It can be quite tough to work under these conditions when you are out in the site," says Ilangovan. But he forgets all the pain because he knows the money he earns is going to help some person in need. "There were many who helped me when I was struggling. I am glad I am able to give back to the community now."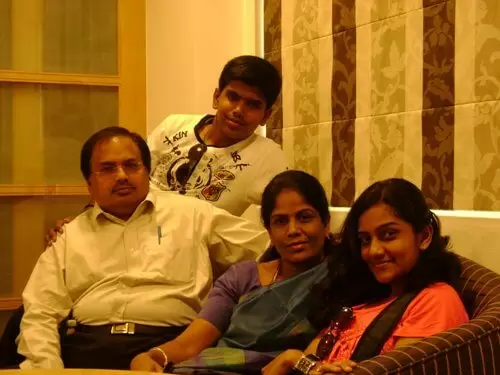 From the family album: Ilangovan with his wife Devika and children Vinodhini and Suseendra Gugan

On the flipside, Ilangovan – also fondly known as Aravanaippu Ilangovan – says that many beneficiaries do not bother to acknowledge or appreciate the help he renders. "They receive the money and it's the end of the matter. I don't bother to stay in touch with the beneficiaries, unless they get back to me," he says. But a few like Pavithra remain grateful to him for his timely help. "He paid one semester's fee of around Rs 5000-6000 when I was studying microbiology at Valliammal College, Chennai, when I was in great need. How can I forget him?" she asks.
Ilangovan's wife Devika, who is also the managing trustee of Aravanaippu Trust, is a pillar of support to him. The couple's daughter Vinodhini, 38, a medical doctor, and son Suseendra Gugan, 28, an engineer- entrepreneur, are well settled and look up to their parents as role models.
Wish to share your story?
Trending Now: