Giving dignity to the homeless and abandoned
Mudita Girotra
&nbsp | &nbsp Gurugram
07-December-2018
Vol 9&nbsp|&nbspIssue 50
When his single mother could not take care of the mentally-challenged boy Rinku, she brought him to a homeless shelter in Bhandwari village on the outskirts of bustling Gurugram (formerly Gurgaon), one of India's fastest-growing cities and home to scores of multinational companies in glittering glass and steel towers. When the six-month pregnant Sarita Devi was abandoned by her husband, she was also sent to this open-to-all shelter by a court.

Now both of them have not only found a home, but also new families at the Earth Saviours Foundation (ESF), also called Gurukul. Like them, around 450 other homeless people, including over 300 mentally-challenged persons, found a home at this two-acre site in a rustic setting not far away from Gurugram's self-absorbed modern urbanity.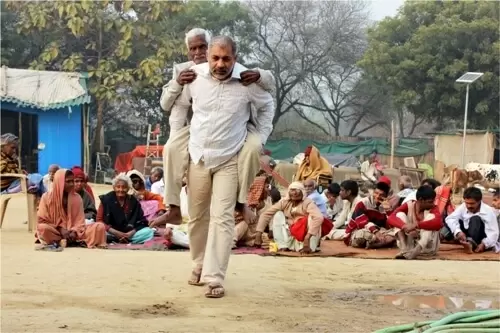 Ravi Kalra, who founded the Earth Saviours Foundation, left everything to dedicate his life to seva (service)

Reached by a narrow and bumpy road, ESF was founded in 2008 by Ravi Kalra, 49, who was earlier a martial artist who had no idea of his future mission.

Inspired by the tough demeanour of his father, who was a police inspector in Delhi, Kalra learnt taekwondo, a skill that took him places. He even got to work with the US Army in recruiting soldiers from Nepal during the war with Iraq in 2007.
Having earned a fair bit of money, he wanted to give it back to society by doing "seva" (public service). While he always had this urge to do something to improve the lives of the needy, he got his epiphany when he came upon a beggar child scouring garbage along with street dogs on a busy Delhi road.

"I despised my wealth at that time. I felt as if I haven't done anything good for society. That was the moment I decided to leave everything and to dedicate my life to seva," he recalled.

A few months after that incident, he started his foundation and, since then, has dedicated himself to improving the lives of abandoned senior citizens, physically and mentally disabled, victimised women, and people suffering with incurable diseases. "I feel all of them deserve to live with dignity," he said.

And dignity is the gift that Gurukul has given to people like Rinku and Sarita.

When asked about his family, Rinku, now 36 years old, would make an adorable gesture by pointing towards Anand Rao, who is himself physically disabled but takes care of him like a son.

"That is how we function here. Everybody has a friend or companion who he or she takes care of," said Rao, 62, who used to work as a cook at a hotel in Gurugram.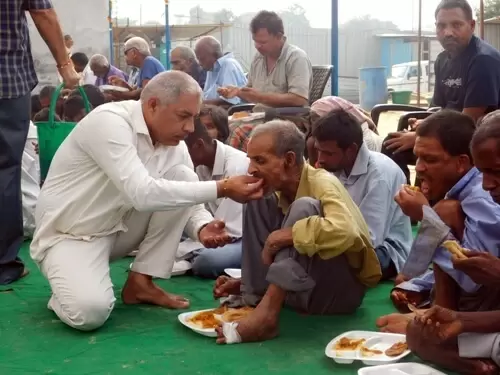 The Earth Saviours Foundation has beds for around 450 people, but always has its doors open for the homeless

The residents of Gurukul said that the boy couldn't be taken care of by his mother, a single parent, because of his aggressive demeanour. "He can't stay in isolation."

Unlike others, his real family didn't abandon him though. "They pay visits every now and then," Rao said.

At Gurukul, one doctor and three nurses are available between 9 am and 6 pm every day. There are over 450 residents residing in five dormitories -- three have been allotted to women, and two to men.

For recreation, there are televisions, books, newspapers and a carrom board.

Sarita, 27, an orphan and later abandoned by her husband, was scared when she first arrived at the shelter home.

"I thought how would I stay in this madhouse, but I didn't have any other place to go to," she said. "I feel very different about it today."

"These people have become my family. My husband wants to get back with me, but I won't go with him."

She worked as a housemaid earlier and is now a volunteer at the foundation.

The Earth Saviours Foundation runs without any government support, doesn't have enough beds for the 450 people who reside there, but always has its doors open for the homeless.

"I used all my hard-earned money and now we rely on all those people who generously offer monetary support to us."

The inception of this foundation was not without any struggle. Kalra initiated his service with about 15 to 20 people in Vasant Kunj in south Delhi.

"That place caught fire and we had to move to somewhere in Rajouri Garden. Our centre there got flooded and we had to change several places before coming to Bandhwari, where I had my own land."

"People in the village didn't allow it initially and thought we were bringing mad people here. Eventually, they understood we were doing good work. Today, everybody in the village knows of this place," he said.

According to Kalra's observations, the beggars we see on the roads of Delhi are not necessarily people from poor families.

"I have come across NRIs, retired army officers, IAS officers who were abandoned by their families in old age. There is a lot of suffering in the world."

A resident at Gurukul for last three years, Harsh Gautam is an amputee. Despite his disability, he takes charge of administrative work in the absence of Kalra.

Gautam had his leg amputated few years ago due to gangrene. "I spent all the money I earned as a private security officer on my treatment. The Gurukul people picked me up from outside Safdarjung Hospital when I had no place to go," he said.

Every now and then, an ESF van makes the rounds of hospitals in the National Capital Region to spot those who need help.

"This place is my home for the rest of my life. I work here with the administration team, and in reuniting people. We also cremate unclaimed bodies. I work for that as well," Gautam said.

He said the foundation has cremated over 5,000 unclaimed bodies so far. - IANS
This article is part of the 'Inspiring Indians' series
More Inspiring Indians

Trending Now: