Starting from a 150 sq ft space with a second hand sewing machine she built a Rs 9 crore turnover garment business
P C Vinoj Kumar
&nbsp | &nbsp Pondicherry
23-June-2018
Vol 9&nbsp|&nbspIssue 26
A garment unit in Pondicherry started by a woman entrepreneur with a single sewing machine, one tailor, one pattern master and two other women employees in 2002 has scaled into a Rs nine crore turnover company powered by a strong commitment to sustainability and women empowerment.
"Pondicherry is where I grew up and what better way to give back to the women of Pondicherry than by creating jobs for them," says Anjali Schiavina, managing director of Mandala Apparels, a private limited firm formerly known as Creative Art of Souls. "We have 220 employees today, out of which 90 per cent are women. We train women in tailoring and give them jobs in our company."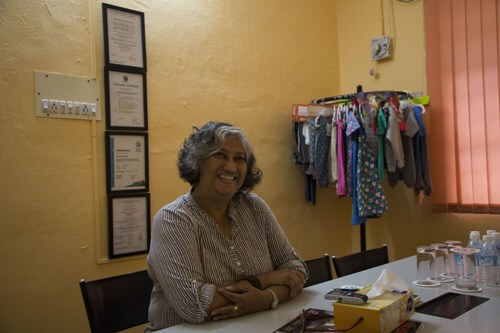 Anjali Schiavina operates Mandala Apparels with a lot of emphasis on sustainability and women empowerment (Photos: Babu Kumar)

The company's social commitments include working with organic cotton farmers, reducing and recycling the cloth waste generated during production process, and ensuring that partners in the supply chain too adhere to their cherished principles.
"The cloth waste produced at our factory is recycled into paper and used as price tags on our finished garments," reveals Anjali, and declares that they are a fair-trade certified company. "We fulfill all the criteria for the certification and comply with gender equality, fair wages, and no child labour rules."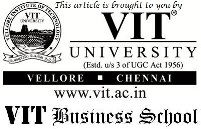 They abide by the minimum wages fixed by the Pondicherry government and employees are paid not less than Rs 8,700 per month at entry level today.
"One can move up the ladder. A woman joined as a tailor after receiving training from us for a salary of Rs 5,500 about four years ago. Now she is earning Rs 12,000 and she stitches the sample pieces," says Anjali.
Anjali's family moved to Pondicherry from Kolkata when she was around five years and they lived at the international township of Auroville on the city's outskirts. She studied at Aspiration School in Auroville in a liberal atmosphere along with her two elder brothers.
"Children of all age groups studied together at Aspiration. We sat under trees and chose the subjects we wanted to learn and also had freedom to choose our teachers," says Anjali, now 51, looking back fondly on the early years of her life in Pondicherry.
Her father worked as general manager for a British company in Kolkata, but his desire to put his children in a school that offered alternative education led him to Auroville, an international city built to promote universal love by spiritual leaders Sri Aurobindo and Mirra Alfassa, popularly known as the Mother.
The Aspiration School at Auroville met his expectations. However, the family left Auroville and settled in Pondicherry city a few years later. Anjali's father got into business and became the Indian representative for German, Italian and French companies dealing with leather tannery machinery.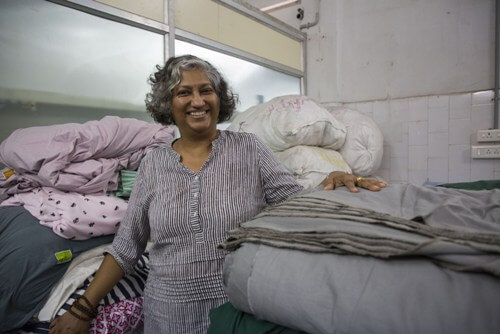 Mandala exports children's, men's and women's garments to many countries in Europe, UK and the US

"He represented those companies in India," says Anjali. "He did business with tanneries in Ranipet, Agra, Kanpur and other places. He also travelled overseas frequently."
Anjali joined the Aurobindo Ashram School in Pondicherry as a 12-year-old. "I did rest of my schooling at Ashram School and also finished my BA in arts there. I studied painting and English literature during my graduation," says Anjali.
In 1991 she married Aurofilio Schiavina, an Italian national whose family too had migrated to Auroville during the mid-sixties." I met him at Ashram School when we were both 17," shares Anjali. The couple left for Italy soon after marriage.
Aurofilio then enrolled for his masters in coastal management in Newcastle University, UK. "We started our life in Torino (Italy) with $1,000 that we received as a gift from a friend. Initially, my husband worked in an aquarium while I registered for my masters in arts.
"After he too decided to go for higher studies, we realised that both of us can't study and one of us had to work. I volunteered," says Anjali, who discontinued her studies and started representing her father's business in Italy.
Two years later, she joined Fratelli Rossetti, the well-known luxury shoe brand, where she was in charge of marketing the product in English speaking countries. But it was her passion for cooking Indian cuisine that opened new doors.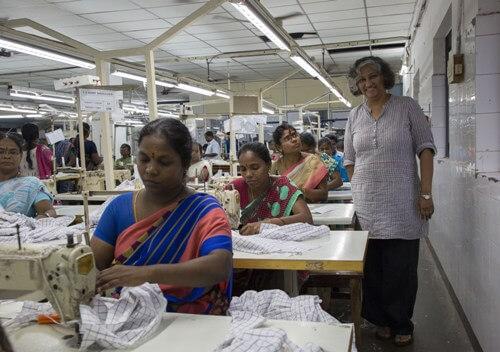 Starting with four employees, Mandala has 220 employees on its rolls now, out of which 90 per cent are women

People in her circle liked the food she made and she started catering for family and friends. "I became known for making exquisite Indian food. At that time there were no Indian restaurants in Torino," says Anjali, who later opened a chain of Indian restaurants in Italy partnering with Esmaralde, a daughter of the founder of Bisleri water, Felice Bisleri.
"We set up six restaurants spread over Torino, Milan and Venice. My aim was to create an ambience of India in Italy through these mini restaurants," shares Anjali. "As a woman entrepreneur I got a lot of recognition in the Italian media. The restaurants became successful and our turnover touched three to four million dollars in two to three years."
That was when she and her husband decided to return to India. "I sold my stakes in the venture for around a million and a half dollars," she smiles.
Anjali returned to Pondicherry in 1999 and started the garment unit with an investment of Rs 12,000 in 2002 after contemplating for a long time on a career choice.
"There was no pressure to earn, so I was thinking of ways I could work for betterment of children and women. I even worked in a couple of NGOs for few months, but realised soon that these didn't give me the satisfaction I was looking for," she says.
When a designer friend in Torino suggested that she start a garment unit assuring her of his support, she seized the opportunity and took over eight sick looms in Pondicherry from the traditional weavers who were already in financial trouble. She let them run the looms and gave them work.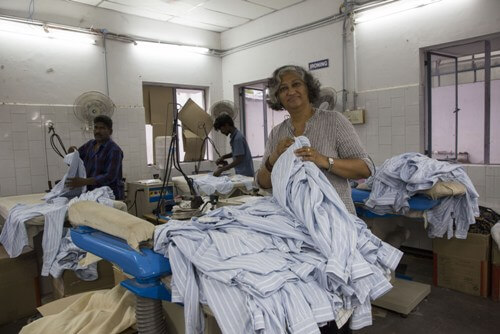 Impact investor Aavishkaar pumped in Rs 9 crore into Mandala, which helped in expanding the capacity and setting up of a new factory

"We started from a 150 sq feet room with one tailor and one pattern master. I purchased a second-hand Merit sewing machine for Rs 1,000 and set up a vegetable dyeing unit. That was my investment," recalls Anjali. "We used to stitch around 200 men's jackets per month and ship it to my friend in Italy. He would give us the design, colour, everything, and we would make the garments and export."
Her venture grew by word of mouth. Pondicherry being a former French colony attracted a lot of French tourists who came in contact with her. The contacts translated into business opportunities.
"Till 2011, we were primarily working with French buyers. Our first year's turnover was Rs 50 lakh, the next year it went up to Rs 80 lakh and the third year it touched Rs 1.5 crore," says Anjali, who began to focus on the sustainability model right from the early days.
Since 2004 she has been buying organic cotton from a group of farmers in Telangana and Odisha, paying a premium price for it. This has helped around 300 farmers to come out of their poverty cycle and attain a certain level of financial independence.
Impact investor Aavishkaar pumped in Rs 9 crore into Mandala in three installments between 2013 and 2015 and picked up 48 per cent stakes in the company. It led to more growth and Anjali set up a new factory with capacity of 200 machines in 2016.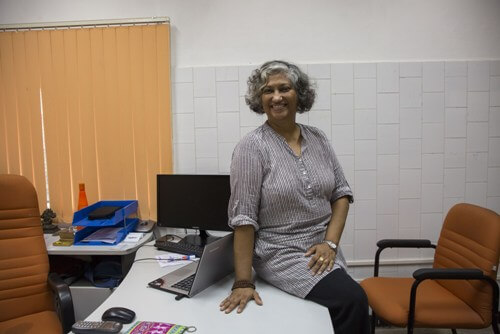 Anjali says Mandala is set for major expansion in the next three years

Currently exporting children's, men's and women's garments to many countries in Europe, UK and the US, Anjali aims to add 500 more machines in the next three years and scale up the business.
Her husband Aurofilio who co-founded an NGO called Pondy-CAN (Citizen Action Networking) works for the protection of the coastline, water tanks and beach nourishment. The couple's son Sathya, 18, who is passionate about robotics engineering, is studying in class 12 at Ashram School.
This Article is Part of the 'Amazing Entrepreneurs' Series
More Amazing Entrepreneurs
Neelam Mohan, Founder, Magnolia Martnique Clothing Pvt Ltd

Trending Now: