This Former School Teacher Turned Street Food Vendor Earns around Rs 8 lakh Per Annum
Sofia Danish Khan
&nbsp | &nbsp New Delhi
31-March-2018
Vol 9&nbsp|&nbspIssue 14
It is not often that you witness this sight: In Sector 14 of Gurgaon, NCR, a lady stands behind an orange food cart, selling the popular north Indian street-food, chhole kulche.
She stands out amongst the many food carts here: 35 years old, a woman in a male dominated area, speaking perfect English, well dressed, and clearly an oddity on this unofficial food street of Gurgaon.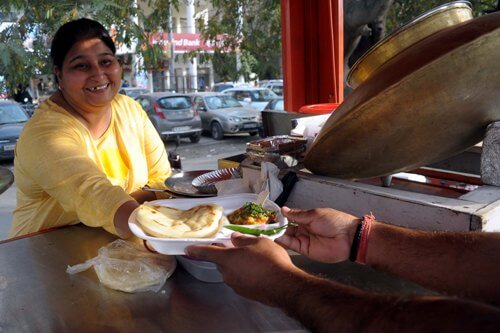 Urvashi Yadav set up a food cart to meet the family's expenses though she lives in a Rs 3 crore house (Photos: Navnita)

Urvashi Yadav stands out for more reasons than that. Her story is one of grit and determination – a devil-may-care attitude that saw her chuck her staid teacher job and take up this unconventional role when her life's circumstances demanded it.
She did not stop to think what people might think or say about her selling food on the streets - though she lives in a Rs 3 crore house in a posh locality and the family even owns an SUV. .
"My husband met with an accident in May 2016, fractured his toes and was bedridden," explains Urvashi who has two children aged 14 and eight. "He was working at Oris as a facility manager and I was working as a teacher at Kidzee but once he was incapacitated, I had to come up with a way of earning more."
She left the teaching job that earned her Rs 13,000 per month, and started her food cart after an investment of just Rs 25,000. She now makes up to Rs 8 lakh per year.
The idea came to her one day when she had stopped on the very street she started her food cart for a bite to eat.
"A few days after the accident I was returning from the hospital, it was around 12.30 pm and I was very hungry and stopped at our favourite chhole kulche joint," recounts Urvashi. "In the half hour I was there I saw a huge rush for the food. I spoke to the cart owner at length and the idea struck me."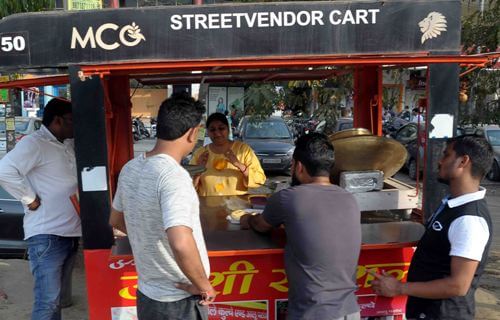 Urvashi works from 10.a.m. until 4.30 p.m. and is back home by the time the children return from school

It was a low investment business and within a month, on 16 June 2016, Urvashi had set up her cart. She spent Rs 25,000 in buying and setting up the cart. The business started rolling.
Now, her day begins at 7 a.m. when she prepares the chhole (chickpeas curry) and does all the prep for setting up. The cart timings are 10 a.m. - 4.30 p.m. and she can still get some family time in.
"I take a power nap to regain my energy and then I can get time with my kids as well as for myself," she says, giving us a glimpse of a day in her life.
Her daily expenses are about Rs 500-600 – spent on buying and cooking the chhole, and buying readymade kulche (flatbread) from Sadar Bazar, Gurgaon. The returns are Rs 2,000-2,500 per day, making it a fairly profitable business.
However, she has already seen a major setback during her brief journey as an entrepreneur. On the suggestion of her friends, she had started a restaurant but had to shut it down within six months after suffering heavy losses.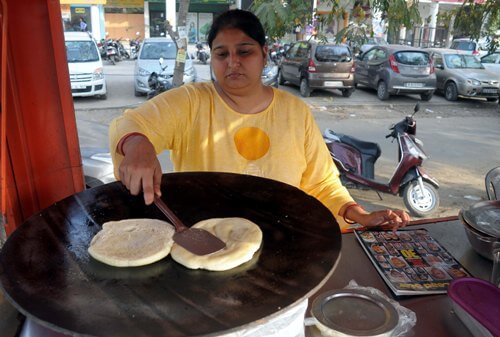 Urvashi's chhole kulches are popular with her customers

She now sticks to her food cart and is slowly recovering the losses. After moving her cart from place to place, she recently bought a licensed cart from Municipal Corporation of Gurgaon at Rs 85,000.
"At least I won't have to move from this location now, because we have all the requisite permissions," she says, having built quite a loyal clientele already.
The additional spike in her income means that Urvashi has successfully managed to maintain her lifestyle despite the setback to her family. Her children go to a good school and she wants to fulfill their dreams.
Her husband Amit Yadav is on the road to recovery and has started driving, and now helps her business by purchasing raw material from the market.
Born in Delhi, Urvashi went to Kendra Vidyalaya in Janakpuri and finished her graduation by correspondence and also got a diploma in Montessori Education. She married Amit in 2004 and lives in a joint family with her in-laws.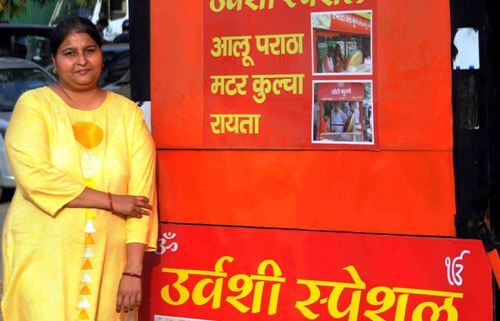 Urvashi wishes to set up a split-level restaurant in the future

Says Urvashi: "My husband and father-in-law have been a great support. They never bothered about what the world would say when my own family is still against what I do… But I don't care about what people say. My children wave at me happily as they pass in front of my cart in their school bus."
Being on the street as a woman is not a cakewalk in India but Urvashi manages to ignore the odd remark she gets from men, and focusses on the job at hand.
A split-level restaurant is part of her ambitious future plans. She also wants to have an all-day langar, serving free food to the needy. For now, though, she is happy maintaining the apple, or shall we say the chhole kulche, cart.

Trending Now: