The Kid Who Sold Jeans in School Now Heads a Rs 20 Crore Turnover Company
Gurvinder Singh
&nbsp | &nbsp Kolkata
26-February-2018
Vol 9&nbsp|&nbspIssue 9
At 38, Alkesh Agarwal runs India's biggest printer cartridge recycle network, Re-feel Cartridge Engineering Private Limited, that clocked a turnover of Rs 20 crore in 2016-17.
Not too long ago, he used to be thankful for every 25 bucks he could earn, which he did by selling jeans to friends and acquaintances when he was still in school.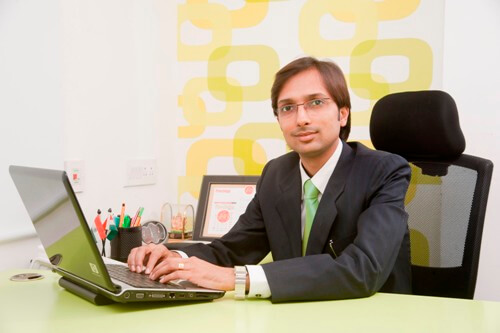 Alkesh Agarwal started selling computers in 1998 along childhood friend Amit Barnecha and developed his business gradually (Photos: Samir Verma)

Born to a rich family in Kolkata, on 11 April 1979, Alkesh fell on bad times early in life when his father, who used to have a mustard oil business, passed away, and the family suffered major financial losses.
Alkesh lost his mother early too, as soon as he started working. Recovering from all these setbacks, today, as one of the four founders of Re-feel Cartridge Engineering, he employs over 800 people.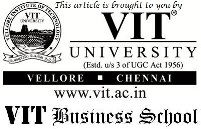 "We had a joint family set-up and the financial condition was good. But everything changed suddenly when I lost my father in 1991. He died in a road accident in Kolkata," explains Alkesh.
"We were immediately ruined. My uncles had their own businesses and families to look after. Nobody can ever replace a father. My mother suffered severe emotional trauma and never fully recovered from it. Suddenly, we had no money."
Alkesh tells his story while sitting at his company's headquarters at Laketown, Kolkata.
"Money became such a constraint that I had to change from Gyan Bharati School in Kolkata to another which had a lower fee. For the next five years, even our food menu was fixed. It was potatoes and daal every day," he continues. "Even the landline phone was disconnected."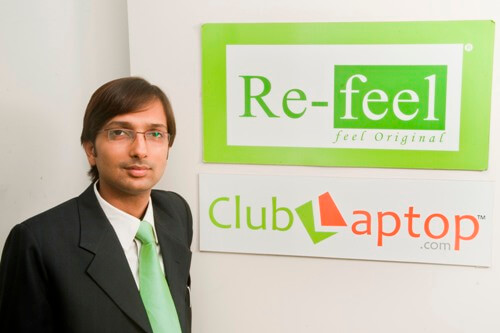 In 2011, Re-feel Cartridge Engineering launched Club Laptops, an outlet that deals in laptop repairs and accessories

In Class nine, he first began to earn. "An acquaintance of mine used to deal in jeans. He just gave me a few jeans and I used to go to my friends and well-wishers asking them to buy jeans from me," Alkesh recalls.
"I still remember earning Rs 25 from my first sale. I kept my earning as pocket money and I have never taken a single penny from my family since then."
He took admission in Umesh Chandra College for classes 11 and 12, and completed his graduation, in the commerce stream, from the same college, in 1999.
"In college, attendance was not so strict, so I utilised my time by going to a relative's office who ran a Chartered Accountancy firm," says Alkesh.
"He had a computer in the office. There, I developed an interest in computers. I decided to buy a computer. Computers were costly in those days, around Rs 42,000, but my mother sold her ornaments to fulfill my demand."
By this time, he was also taking tuitions and earned Rs 800 every month. Computers were not common in those days, so his neighbours used to take his advice on the type of computer they could buy.
"I sensed a business opportunity there and built a rapport with the shopkeeper who had sold me the computer. I used to refer customers to him and he gave me a cut on every unit sold!" laughs Alkesh.
In 1998, he, along with his childhood friend Amit Barnecha, formed Nexus Computers and started selling computers.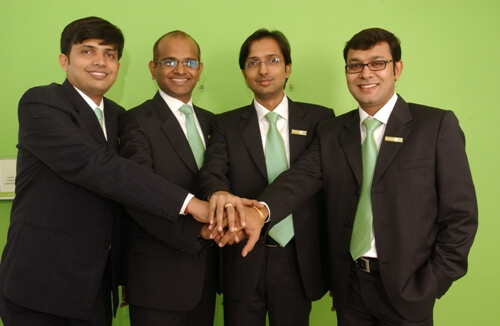 Alkesh (second from right) along with other co-founders of Re-feel Cartridge Engineering, Amit Barnecha, Samit Lakhotia and Rajesh Agarwal

"We started from a 40 sq ft cabin that was a portion of Amit's father's office in Kolkata. Amit also pumped in Rs 50,000 as investment," says Alkesh, who had no money to invest at that time.
"My younger brother Rajesh also joined us. We used to assemble computers, took orders, and travelled in buses to deliver them."
Sometimes they would carry the heavy machines and walk through narrow lanes to deliver the computers.
The firm worked well and clocked a turnover of Rs 5 lakh in 1998-1999. Life was progressing well when he lost his mother to a brain tumour in 2001. "I was virtually broken after her death," says Alkesh.
However, the turnover of his firm kept going up and reached Rs 5 crore in 2004-05. In the same year, the three partners decided to do something different and decided to foray into the cartridge business.
"We found that cartridges had a great scope and the sector was not organised," says Amit (40), who is the head of administration of the company.
In 2006, Alkesh married Rajni and the couple was blessed with a son in 2008.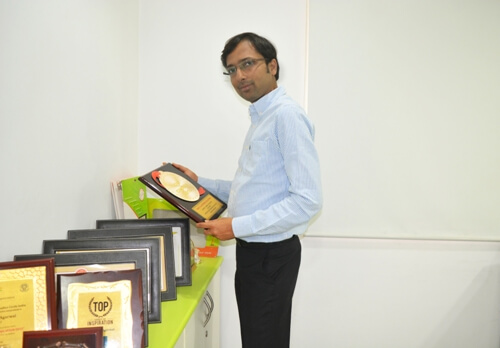 Re-feel Cartridge Engineering hopes to achieve a turnover of Rs 24 crore in the current fiscal

On 9 February 2007, they launched Re-feel Cartridge Engineering. Their acquaintance, Samit Lakhotia (40), joined in as the fourth partner in the new firm.
"We rented a space of around 700 sq ft at a monthly rent of Rs 7,000 in Laketown. We invested Rs 5 lakh for the infrastructure from our income in Nexus computers and began to give franchise to people who wanted to start cartridge shops," explains Rajesh (37), who heads the technical and IT section of the company.
"We let them use our logo and help in setting-up their shops. We import, package and supply cartridges and charge around Rs 8-10 lakh for the franchise."
In 2011, they launched Club Laptops, an outlet that deals in laptop repairs and accessories. They have 120 Club Laptops shops now. Along with their cartridge shops, they now have a total of 250 franchise stores in 86 cities across the country.
"We have a total of 800 staff members on the payroll. Our collective turnover is expected to close around Rs 24 crore in 2017-18," says Alkesh.
Samit reveals that they have now ventured into selling trophies to wholesalers. "We have become eastern India's largest importer of trophies," he informs, "and we want to only expand in the coming years."
About their mantra for success, the quartet says unanimously, "Never give up hope and remember that if there are problems, you are on the right path."
This Article is Part of the 'Amazing Entrepreneurs' Series
More Amazing Entrepreneurs
C K Ranganathan, Founder, CavinKare Private Limited

Trending Now: