How a Man Who Sold Saris on the Streets of Kolkata Became the Owner of a Rs 50 Crore Turnover Company
G Singh
&nbsp | &nbsp Phulia, W. Bengal
16-December-2017
Vol 8&nbsp|&nbspIssue 51
It's been nearly four decades but Biren Kumar Basak can never forget the days when he used to roam the streets of Kolkata, carrying heavy bundles of saris on his shoulders, knocking door after door, looking for customers.
Today, at 66, he is a successful entrepreneur in the sari business, a wholesaler with buyers across the country and an annual turnover of over Rs 50 crore.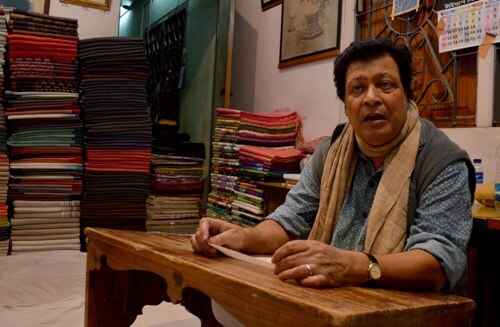 Biren Kumar Basak who used to sell saris door-door-door in Kolkata has grown into a successful entrepreneur dealing in hand-woven saris and working with 5,000 weavers (Photos: Monirul Islam Mullick)

His enterprising mind and hard work led him to open his own shop in 1987 with just eight people, and lead his business to success step by step. Today, he sells 16,000 hand-woven saris across the country every month, has 24 employees and works with around 5,000 weavers.
His long list of customers includes illustrious names like the West Bengal Chief Minister Mamata Banerjee, former cricketer Sourav Ganguly, noted classical musician Ustad Amjad Ali Khan, actress Moushumi Chatterjee among several others.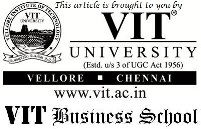 However, from the very first instance, his simplicity and politeness strikes a chord, when I visit him at his Phulia residence, in Nadia district, nearly 100 km from Kolkata.
There is nothing to suggest that he owns a palatial bungalow and has a fleet of several high-end cars parked in his garage. Biren comes across as a down-to-earth person who is content with what he has and refuses to have a 'hunger' for money.
Born on 16 May, 1951, at Tangail district in East Pakistan (now Bangladesh), Biren was the youngest of six siblings with four brothers and two sisters. He belongs to a family of weavers. His father, Banko Bihari Basak, was a weaver who doubled as a poet.
"My father's income was not enough to run the family and his poetry earned him Rs 10 for a single performance," recalls Biren. "It would've been difficult to arrange for two square meals a day, but luckily we had a small land of around an acre, and its agricultural produce helped us have food essentials."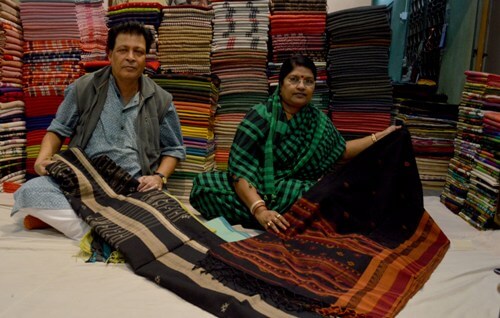 Biren's wife Bani has been a pillar of support in his business

He studied at Shibnath High School at Tangail till class 6, which he cleared in 1961. "I used to learn hymns from a local priest along with my studies. I had a natural inclination towards God since my early age. It gave me peace and calmness," he says while recounting his childhood memories.
In 1962, communal tensions in his area forced his family to migrate from Tangail and run to Phulia where some of his relatives lived. "We fled during the night as it was risky to be out during the day," says Biren. "I, along with my elder brother and parents, came here as some other family members had already reached before us."
He still remembers that his father had run out of money when they crossed the border and reached Alipurduar in North Bengal.
"I was wearing a gold chain that my father had to sell to arrange money for our food. We sat on the floor of the train during our journey to the city, as we didn't have money to buy tickets," he says, remembering the time when they had to leave everything behind in Bangladesh.
The financial constraints didn't allow him to continue his education anymore. Phulia was a hub of weavers, and he started weaving saris at a local unit and earned around Rs 2.50 per day. For the next eight years, he worked in the same factory to supplement the family income.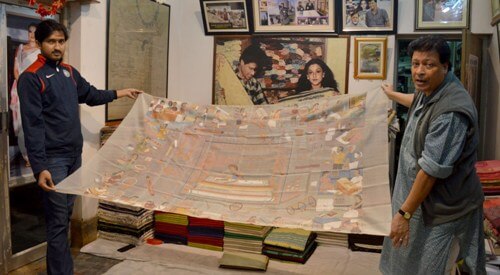 Abhinaba (27), Biren's son is being groomed to join his father's business

In 1970, he decided to start his own business and took a loan of Rs 10,000 by mortgaging the house that one of his brothers had purchased in 1968 in Phulia.
Along with his elder brother Dhiren Kumar Basak, he then started travelling to Kolkata, carrying bundles of saris for sale. "We used to purchase saris from the local weavers and then took them to Kolkata for sale," explains Biren.
"We took a local train to the city every day at 5 am and went from door to door carrying around 80-90 kg of goods on our shoulders. Often, we walked for several kilometres. We returned late at night and left again in the early hours."
However, their hard work paid off as they started getting lot of customers because of the good quality of saris and the low prices they charged.
"The client base started increasing and we started getting good orders. We began to make profits," he says. The two brothers were jointly earning around Rs 50,000 per month by 1978.
In 1981, the duo purchased a 1,300 sq ft space at a cost of around Rs 5 lakh in south Kolkata. In 1985, the brothers set up Dhiren and Biren Basak and Company, their shop, and started selling saris out of there. The turnover of their shop was around Rs 1 crore in the next one year.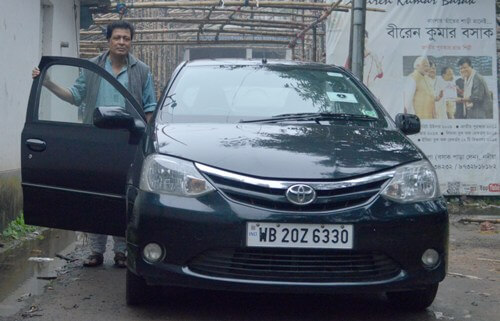 Biren's financial success has brought him wealth, but he still has his feet firmly on the ground

But soon the brothers decided to part ways and Biren returned to Phulia in 1987. "I had around Rs 70-80 lakh in savings. I returned to my village because I loved rural life and lived in Kolkata only for livelihood. After ending my association with my brother, I decided to return to my roots," explains Biren.
He also wanted to pursue his love for devotional songs and not just chase money. "People who have a religious mindset should not have greed for money," he smiles.
He decided to become a sari wholesaler because he always had a creative mind and loved to design saris. Soon after his return, in 1987, he set up his own shop, Biren Basak and Company, at his house with around eight staff members.
"We started with around 800 weavers with whom we placed orders for saris," says Biren. "I had already developed contacts with sari dealers and informed them about my new venture. As I started to grow, the sales of my brother's shop in Kolkata began to register a decline as I was more creative and people preferred the saris designed by me."
2016-17, his firm registered an annual turnover of around Rs 50 crore but he still remembers the first day of his business, when he sold his first sari for Rs 60.
Biren married in 1977 and his wife, Bani, has been a huge support. The couple have a son, Abhinaba (27), who is yet to step into his father's business.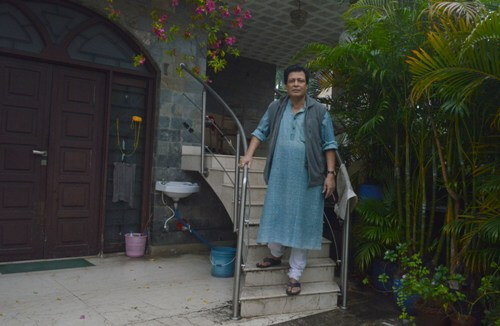 Biren attributes his success to his dedication to work, honesty, and belief in God

"I have yet not allowed my son to enter into my business and he does a small-time thread business," says Biren. "The motive is to teach him how tough it is to earn money in life. He will enter my business once he realises the importance of money, as only then can he hope to succeed."
The entrepreneur has won several awards including the prestigious Sant Kabir Award conferred by the Union Ministry of Textiles in 2013. More than his hard work and dedication, he attributes his success to the almighty and his unflinching spirituality is the centre of his life even now.
His advice to budding entrepreneurs: Work with dedication and honesty and believe in God. And, importantly, never become arrogant when you become rich.
What an advice from a man who started from scratch and still has his feet firmly on the ground.
This Article is Part of the 'Amazing Entrepreneurs' Series
More Amazing Entrepreneurs
Narayan Poojari, Founder, Shiv Sagar Foods and Resorts P. Ltd.

Trending Now: