She once slept on pavements, but now is a millionaire charging up to Rs.4.3 lakh for her motivational speeches
G Singh
&nbsp | &nbsp Kolkata
18-November-2017
Vol 8&nbsp|&nbspIssue 47
Her tale seems like a favourite potboiler of Bollywood whose protagonists defy all odds to make their dreams come true – except that this is a real life story and the plot is more heart-wrenching than most scripts.
The story of Jillian Haslam is straight from the movie Slumdog Millionaire: she has slept on pavements, ate leftovers, endured a childhood of poverty, and come out of it all to script an astonishing success story in life.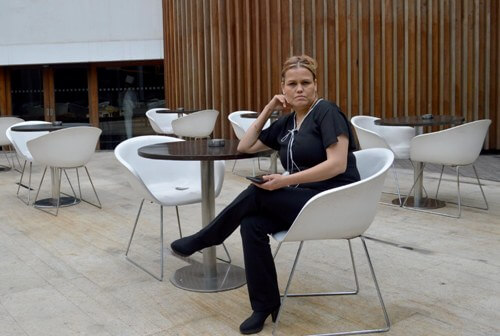 Jillian Haslam, author and motivational speaker, had a difficult childhood in Kolkata. Today the millionaire speaker is doing charity work in the same city (Photos: Monirul Islam Mullick)

Today a successful entrepreneur, author, speaker and philanthropist, she lives in the UK and earns between £1,000 and £5,000 (Rs 86,500 - Rs 4,30,000) for her motivational speeches.
She is now working on her second book, The Irrepressible Mind, has six businesses and five charities, and her annual income on speeches alone is approximately £300,000 (Rs 2.5 crore) but Jillian could never forget her humble beginnings in Kolkata, where poverty and cruelty were her constant companions.
Born on October 4th, 1970 in Kolkata, she was the fifth of 12 children born to Roland Terrance Haslam and Margaret Althea Haslam.
"My father served as a captain in the British Army and refused to leave India after the Partition in 1947," Jillian begins to tell me her story.
"The British were given one year to return to the UK but my father loved the country and the people here, so he decided to stay back.
"His sister left for Britain with her children but he wanted to bring up his children with values of the country that he held in high regard."
Jillian charges anywhere between £500 and £5000 to deliver a motivational talk

This decision proved to be the start of a steady decline in their fortunes. No Indian organisations were ready to give him a job because of his British identity and their financial condition started deteriorating rapidly.
"When I was born, my father, who was 48 at the time, was doing petty jobs to keep the kitchen fire burning," says Jillian.
"My parents had already lost their two daughters Carrol and Mini, even before my birth. I still remember that my family slept on pavements, on verandas of people's houses and ate whatever was offered to them. Our condition was so pathetic that even the word poor sounded like a luxury to us."
Her older siblings were sent to St Thomas Girls School in Kidderpore, where they were provided with food and accommodation with the help of some foreign sponsors, while she, her younger sister, Vanessa, and her elder sister, Donna, stayed with their parents because they were too young for school.
Jillian recollects that she was three years old when her father managed to get a teacher's job at a school in Dum Dum in north Kolkata, with the help of his friend Nazareth.
"The school required an English teacher, and even though he wasn't a qualified teacher, my father perfectly fitted the requirement," explains Jillian.
The salary was around Rs 500 per month. They were also provided with accommodation: a small room, no more than 150 sq ft.
Then an even bigger tragedy struck the family. They lost the infant twins, Kimberley and Alan, to malnutrition even before they were six months old.
"We had no money even to arrange coffins for their funeral," recalls Jillian. "My father bought tealeaf boxes and put them inside it before burying them."
Life was uneventful for the next few months until the family came to know that Naxalites in that area were planning to kidnap their second eldest daughter, Donna, who was very fair and beautiful.
"The villagers asked us to leave. My father was devastated. I still remember running from the house in the dead of night, leaving everything there," says Jillian. "We reached the Dum Dum railway station and waited quietly for the first train to arrive. It was a horrific night."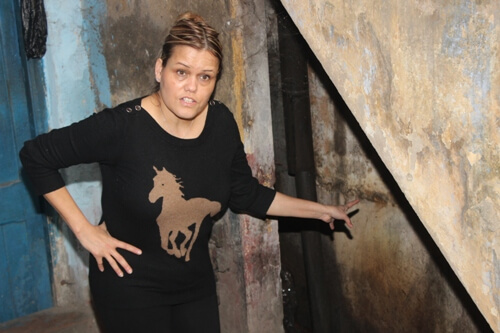 This is the staircase under which the family lived during their difficult years

The loss of four children coupled with this took a toll on her father and he passed out in the train.
"He was rushed to the Salvation Army who looked after former British soldiers," she says. "The doctors found that he had lost his eye-sight due to a cardiac arrest he had suffered. He was admitted for treatment."
Life was not worth living for Jillian, her siblings and mother, who were virtually forced to stay outdoors on Princep Street in Kolkata.
"We lived under the staircase of a house, in exchange my mother worked for two ladies," she says.
"The staircase was a dirty, filthy place with a stinking drain. It was surrounded by rats, cockroaches and insects. It was a common passage where children relieved themselves… And we used to eat and sleep in that place. The house owner used to regularly beat my mother, demanding more work from her."
The only relief came from people of the Anglo-Indian community who would occasionally offer some money. Her mother put Donna to stay at a relative's house because she was beautiful and it was a dangerous place for her to live in. But those horror-stricken days continued.
"We stayed under the staircase for years before we got sick by living in such abominable conditions," says Jillian.
"My mother then sent me and my sister Vanessa to the house of her acquaintance Madam Cleofas, but the lady was cruel and hard. She used to lock me up inside the dark toilet that was full of cockroaches. I used to cry with trauma and also wet myself."
Her mother decided to take her back to the staircase shelter and after a while managed to send all three daughters to St. Thomas Girls School, where Jillian completed her education at age 17.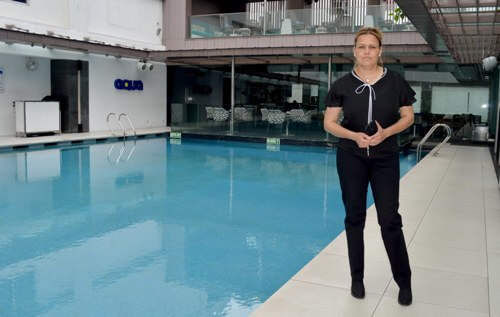 Plans are underway to make a film based on Jillian's life

Meanwhile, her father recovered and also got his eye-sight back – he had learned stenography with the Salvation Army and got a job in a private company in Kolkata.
"My father managed to rent a small shanty of 8x10 ft in Kidderpore," she says. "The rent was Rs 100 per month, and even that my father couldn't afford.
"He earned around Rs. 750 per month but there was food, electricity and other children's expenses to bear. Three common toilets were shared by 3,000 people. The condition was simply horrific."
In 1989, her luck turned for the first time when she moved to Delhi, where her elder sister had managed to get a job as a secretary in a private company.
"I did a secretarial course as well and I too managed to get a job in a private company in 1990 on a monthly salary of Rs 900," she says.
"I worked there for a year and then managed to get a job with a German firm at a payment of Rs 1,500. I moved my mother from Kolkata to Delhi as she was suffering from cancer."
Her father stayed back with other siblings and continued to work in Kolkata. Her mother passed away in 1997.
"I had taken a year salary in advance in order to pay for my mother's treatment," recalls Jillian, "and therefore had to work a whole year as a singer at restaurants in order to pay the company back and sustain myself and two of my siblings.
The major break in her life came when she was selected by Bank of America as an executive secretary to the CEO Ambi Venkateswaran in 1995.
She was selected out of 250 job aspirants after several rounds of interviews and given a handsome package of Rs 60,000. She also looked after the charity work done by Bank of America.
Jillian went to England in the year 2000 after working with the bank for five years, and landed the job of executive secretary to the Managing Director at ABN AMRO bank at a package of £50,000 per annum (Rs 43 lakh). She now had a secretary of her own.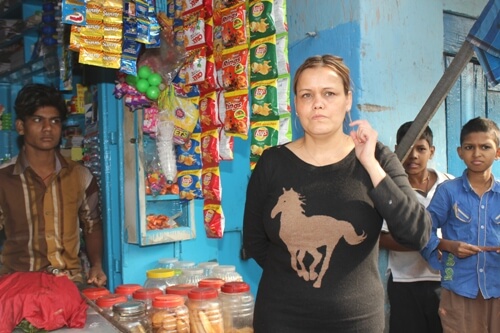 Jillian is running five study centres in Uttarpara, where around 300 street children are being educated

She married a banker Kartik Daswani, an NRI, in the same year. In 2005, the RBS (Royal Bank of Scotland) acquired ABN AMRO and she worked with RBS till 2012, albeit in a different role.
She then quit working full time and authored 'Indian.English.', her autobiographical book, which has sold around 2,50,000 copies across the globe. Jillian also got trained as a motivational speaker, and now charges anywhere between £500 and £5000 (Rs 43,000 – Rs 4.3 lakh) per day, depending on the size of the audience.
She does charity work and has five study centres in Uttarpara, a Kolkata suburb, where 300 street children are being educated. A movie is also being planned on her story.
"The goal is to reach more and more people and inspire them that anything is possible with hard work," says Jillian. Her life is truly inspiring.

Trending Now: