Milk is Not Just the Secret of His Energy, But Also His Financial Success
G Singh
&nbsp | &nbsp Kolkata
28-October-2017
Vol 8&nbsp|&nbspIssue 44
In 1997, Narayan Majumdar started his dairy business by collecting milk from farmers in his village on a bicycle. Two decades and many years of struggle later, he can boast of an annual turnover of Rs 255 crore, three milk processing plants and 22 milk chilling plants spread across eight districts of West Bengal.
His company, Red Cow Dairy Private Limited, is now one of the largest suppliers of milk and milk products in eastern India.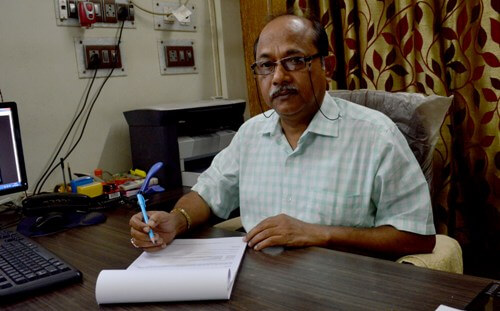 From collecting milk from farmers on his bicycle and supplying to a dairy firm where he was employed, Narayan Majumdar has risen to great heights. His company, Red Cow Dairy Private Limited, sells five types of milk, apart from dahi, ghee, paneer and rasagulla (Photos: Monirul Islam Mullick)

They sell 1.8 lakh litres of packaged milk, 1.2 metric tons of paneer, 10 metric tons of dahi, 10-12 metric tons of ghee, 1,500 cans of rasagullas and 500 cans of gulab jamuns every day.
For 2017-18, he is aiming at a turnover of Rs 300 crore.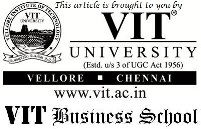 However, Narayan believes in high thinking rather than high living and, despite attaining this stupendous success, continues to live a simple life – a nod to his humble beginnings.
Born on 25 July 1958 at Phulia village, in Nadia District of West Bengal, Narayan is the second of three siblings, and has two sisters. His father, Bimalendu Majumdar, was a farmer while his mother, Basanti Majumdar, was a housewife.
"My father had an acre of land in the village but that was not enough to run the family," says Narayan. "Sometimes he would do odd-jobs to add to the income, but he still never managed to earn more than Rs 100 or so a month at the time I was born. The financial situation was stressful."
Today, as he narrates this story, Narayan sits in his posh office in Dankuni, around 15 kilometres from Kolkata.
In 1974, he completed his schooling from Phulia Shiksha Niketan, a Bengali-medium government school in his village. He still remembers that their financial condition was so bad that his father had to sell a portion of his land in 1973, to afford his elder sister's wedding.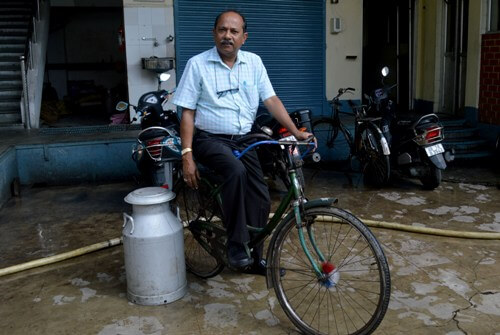 One for the Album: Narayan, on a bicycle, posing for our photographer

Narayan started his graduation in chemistry at Ranaghat College but lost interest within a year. "I wasn't really interested in chemistry, plus I needed to start earning soon," he explains.
"A livestock officer in my village advised that I would get a job sooner if I do a course in dairy farming instead of an honours degree in chemistry. I liked his suggestion and decided to change the course of my study."
In 1975, he started his B.Tech in Dairy Technology at the National Dairy Institute in Karnal, Haryana. It was a four-year course. To assist his living expenses he started work as a salesman at a milk parlour from 5 a.m. to 7 a.m. every day.
"I earned Rs 3 a day," remembers Narayan. "My father had already sold another piece of his land to pay the course fee of around Rs 12,000, so I started working for my daily expenses."
After completing his course in July 1979, Narayan did a series of jobs, with three long stints.
He joined an ice-cream company in Kolkata as a dairy chemist at a monthly salary of Rs 612, but he soon moved to another cooperative dairy at a better designation and salary – he was now a dairy supervisor in Siliguri in North Bengal.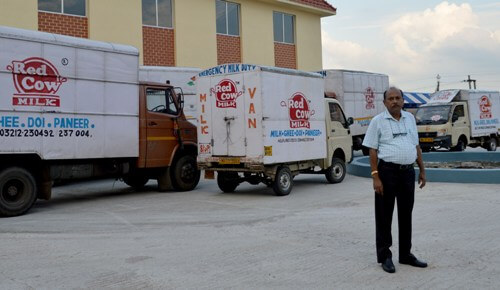 Red Cow owns three milk processing plants and 22 milk chilling plants, located in eight districts of West Bengal

"I worked there for more than a year and resigned in December 1980 when I joined a different dairy company in Kolkata at a salary of Rs 1,300 per month," Narayan says, charting his career path. "I worked there for the next five years and quit as senior technical superintendent at a salary of Rs 2,800."
In between, in 1982, he got married to Kakali Majumdar and his son, Nandan Majumdar, was born two years later.
In July 1985, Narayan did a short stint with a Danish dairy in UAE, where he earned a sizeable salary of Rs 18,000, but he returned after he was denied a family visa.
He went back to his previous job as technical superintendent and this time he stayed there for 10 years. When he finally quit in 1995, he had risen in the ranks and become the quality control officer.
The same year he joined yet another dairy firm as general manager with a salary of Rs 50,000 per month. This company made milk and milk products, and he worked with them for 10 years, till 2005. It was during this job that things turned for Narayan.
"The owner of the company was very nice to me. He encouraged me to start my own business," he says. "It was mainly because of his encouragement and inspiration that I started procuring milk from farmers and began supplying it to the same firm I worked at."
On 19 June, 1997, at the age of 40, Narayan turned entrepreneur. He began riding his cycle from one door to another, collecting milk from villagers. He collected 320 litres of milk on the very first day.
He started a proprietorship company called Red Cow Milk.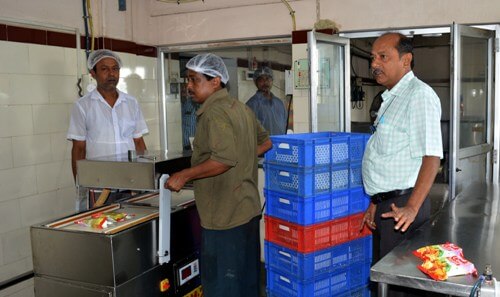 Red Cow sells 1.8 lakh litres of packaged milk daily

"Some of the village roads were too bumpy to ride a cycle and I often walked for several kilometres for procuring the milk," says Narayan.
"My business involved collecting raw milk from farmers and supplying it to the company. I had no profits in the first year as I spent all the money I earned on expanding the milk collection process to newer areas."
In 1999, he got his first milk chilling plant in Arambagh, Hooghly District, at a monthly rent of Rs 10,000. At this time, he was still employed.
By 2000 his collection of raw milk had increased to 30,000-35,000 litres, and his company's annual turnover rose up to Rs 4 crore. In the same year, he entered into an equal-share partnership with his wife and named the company Red Cow Dairy Partnership Company.
In 2003, he turned this company into Red Cow Dairy Private Limited, with both him and his wife as directors and with equal shares in the company.
In the same year, he also purchased 59 decimal of land at Udaynarayanpur in Howrah District and set-up his own chilling and pasteurisation plant at a cost of around Rs 25 lakh. With this, he began to supply milk in Jharkhand and Assam, and the turnover of 2003-04 went up to Rs 6.65 crore. He now had 20 employees.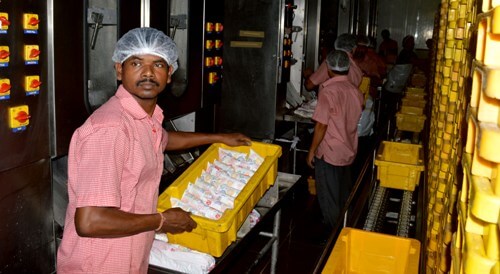 Red Cow Dairy is the largest private sector dairy company in West Bengal and employs over 400 people

Things really took off from here on and the company began to grow at a rate of 30 percent per year. By 2008, his milk procurement had increased to 70,000-80,000 litres every day.
He decided to expand his product line to sell toned and double toned milk, and outsourced the packaging of Red Cow milk packets to a private firm in Dankuni.
At present, Red Cow sells five types of milk, apart from dahi, ghee, paneer and rasagulla.
"December 2009 was a turning point for the company," says Narayan. "This was when my son Nandan joined us."
An MBA, Nandan joined as a director and brought modern sensibility and expertise to the business. In 2011-12 the turnover jumped to around Rs 74 crore.
In 2012, the company added another director, Nandan's wife Urmila. Two years later, he set up a full-fledged processing plant in Udaynarayanpur, investing Rs 2.84 crore – the new plant had a production capacity of 50,000 litres per day.
In 2016, he built another state-of-the-art seven-acre plant in Jogra, in Burdwan District, at an investment of Rs 18 crore. The plant has the production capacity of 3.5 lakh litres per day.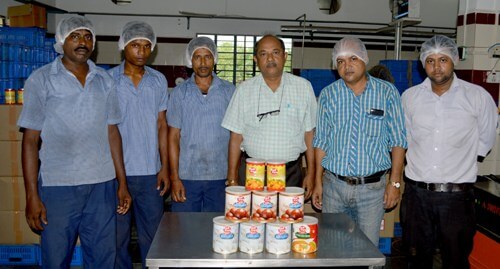 Narayan with some of his staff at his plant near Kolkata

As of today, Red Cow Dairy is the largest private sector dairy company in West Bengal, with over 400 employees and 225 distributors across the state.
"We are planning to add dairy creamer and packaged drinking water to the product line," says Narayan, adding that he is aiming for a turnover of around Rs 400 crore in the next five years.
The 60-year-old entrepreneur attributes his success to hard work and manufacturing quality products. "Work hard, be honest, get a good education, and move ahead with confidence to attain success in life," says Narayan. He has really milked this mantra to great success.
This Article is Part of the 'Amazing Entrepreneurs' Series
More Amazing Entrepreneurs
Subhash Kapur, Chairman, Steelbird Hi-Tech India Public Limited

Trending Now: