The first woman to join the 89-yr-old family business doubled revenue from $44 million to $100 million

Usha Prasad
&nbsp | &nbsp Bengaluru
12-October-2017
Vol 8&nbsp|&nbspIssue 41
Lavanya Nalli's great great grandfather Nalli Chinnasami Chetti started selling silk saris in Chennai in the late 1800's. He brought saris on a bicycle from his hometown Kanchipuram and sold it in Chennai, (then known as Madras) located about 70 km away.
In 1928, he opened a small retail store in Chennai at T Nagar. Nearly nine decades later, Nalli Silks is a marquee brand in silk saris with 32 stores located across the country and abroad, including two in the United States and one in Singapore. The family also forayed into retail jewellery in 2012.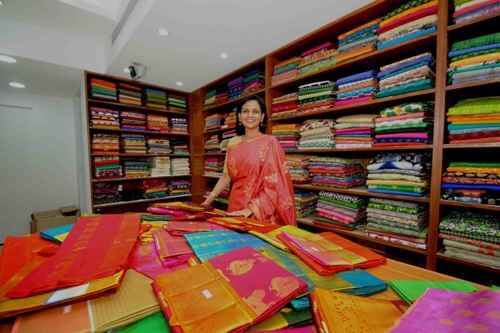 Lavanya Nalli, a fifth generation scion of the Nalli Group, launched Nalli Next stores for the younger crowd and contributed to the overall growth of the family business since 2005 (Photos: H K Rajashekar)

Lavanya, 33, the first woman to join the family business, had proved her mettle within a short span. The soft-spoken scion of the Rs 650 crore turnover Nalli Silks played a pivotal role in setting up new stores and increasing the revenues of the company.
"My father was initially very ambivalent about me joining the business. As I was firm on being a part of it and wished to learn the nuances of running a business, he agreed," says Lavanya, who soon after joining in a masterstroke launched Nalli Next, a sub-brand to cater to the tastes of contemporary women in 2007.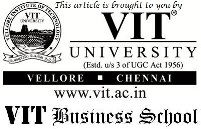 The idea to launch Nalli Next came following her interactions with the younger customers who visited their stores. She found that the general impression among the customers was that Nalli was the place to shop for wedding saris or silk saris and did not offer much for the younger people.
Their collection of designer saris was not getting noticed. "Customers would go straight to the silk saris section and finish their shopping without looking at our other collections," says Lavanya, who started studying customer behaviour to understand the business better.
"My learning had to be on the ground, on the job and shadow the people working in each store," she says. In the course of her research, she asked the watchman at their flagship store in Chennai to find out how many shoppers actually left after making purchases, which could be inferred by the Nalli bags they were carrying.
Her hunch proved right. "We observed that though young girls accompanied their parents, they bought nothing for themselves," says Lavanya.

With the launch of Nalli Next that stereotype was broken. "To test the concept, I did a pilot by opening a small store at Alwarpet in Chennai. It did well. Later, we opened two more stores in Bengaluru and Mumbai each," she says.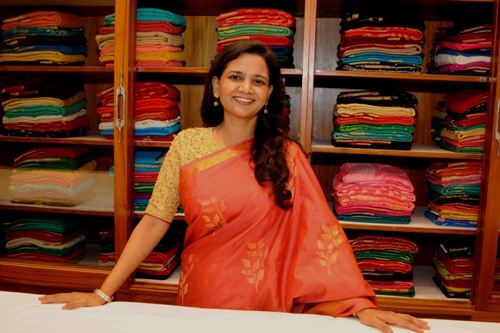 Lavanya holds an MBA from the Harvard Business School

Lavanya worked with various artisans to source designer products. Nalli Next sells designer saris, including crepes and chiffons, readymade garments and running materials.
Her first stint at Nalli was from 2005 to 2009 soon after she graduated from Anna University with a bachelor's degree in computer science. In that period Nalli's revenues doubled from $44 million to $100 million and the store count increased from 14 to 21.
Lavanya took time off to do her MBA and joined the Harvard Business School in 2009. After graduating from Harvard, she worked at McKinsey & Company in Chicago for three years.
It was at Harvard, Lavanya met Abhay Kothari, an alumnus of IIT Kanpur. Both got married in 2011 and moved to Chicago. While Lavanya joined McKinsey, Abhay joined Booz & Company.
The couple travelled extensively on work and stayed away from each other from Monday to Friday. This went on for three years. To spend some quality time together, both decided to take a sabbatical and caught up on some travelling before coming back to India.
After she returned to India in 2014, Lavanya joined Myntra.com, a fashion portal, as vice president for revenue and shopping experience.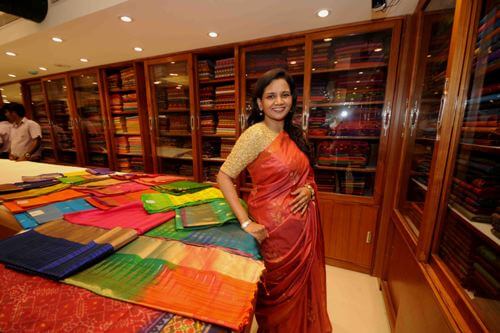 Lavanya worked briefly at Myntra.com a fashion portal, as vice president for revenue and shopping experience before returning to Nalli Group

"After I came back, I met a friend who was with Flipkart in Bengaluru. Since I was passionate about consumer and retail, he suggested that I join Myntra, which was getting acquired by Flipkart," she reveals.
Lavanya quit Myntra in 2015 end and re-joined Nalli as its vice chairman heading the e-commerce and Omnichannel platform. "My dad, who wasn't that happy when I joined the family business after my engineering, was more welcoming this time," she says.
While Lavanya takes care of the e-commerce and private label, her father Ramanathan Nalli oversees operations, exports and off-line stores, and younger brother Niranth Nalli is in charge of the jewellery arm of Nalli.
On the family's commitment to the business, she recalls how during the Second World War, there was a perception that Madras might be bombarded and traders started moving out of the city.
"But the Nalli family stayed put. Chinnasami's son, Narayanasami Chetti, who was known as a man of ethics, decided to keep the store open.
"With Nalli being the only store open in the entire city, people from all over Madras came to the store even to buy a hand kerchief. Thus, the reputation of the brand got bigger and it became known for its unrelenting purpose of selling quality fabrics," explains Lavanya.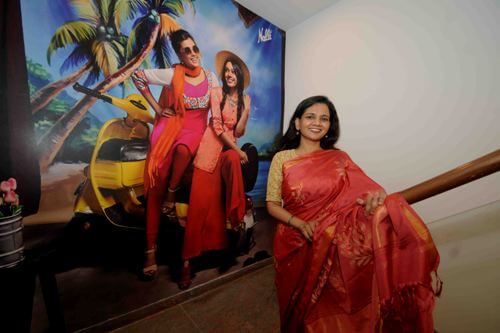 Nalli Next with its designer collection succeeded in wooing the younger women, which the parent brand was unable to

Nalli witnessed major growth under the leadership of third-generation Kuppuswami Chetti, who took over the reins in 1956. Later, Lavanya's father Ramanathan Nalli, joined him and took Nalli Silks beyond Chennai by opening outlets in Delhi and Mumbai.
"With business going well, my father realised that there was opportunity everywhere and decided to do his Executive MBA from Harvard University in the late 80's. This experience of his has added a lot of value in scaling the business," she adds.
Lavanya herself interned at a couple of hardware companies and at Nalli as well while doing her engineering. After her BE, at 21, she took over as president of the Nalli Group in 2005.
Lavanya, who is now settled in Bengaluru, is not only busy focusing on Nalli's growth, her hands are equally full bringing up her seven-month-old son Rudra. Her husband Abhay has set up his own business in building an end-to-end integrated cold supply chain solution.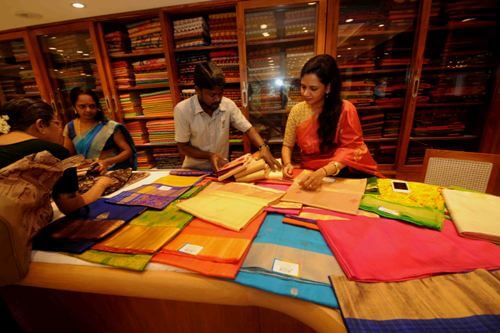 Lavanya at their recently opened showroom in Bengaluru is seen attending to customers

Lavanya's immediate target is to double Nalli's footprint in the market in the next five years, while not compromising on the core values of the group. For instance, she has no plans to review the strictly no-discount policy of the group.
"Decades ago, in 1940's, my great grandfather decided not to go by the model of offering discounts on our products. The decision he took then has helped us in our operational excellence.
"Whatever changes I bring about, the core values of the business built over generations will remain unchanged," she asserts.
This Article is Part of the 'Amazing Entrepreneurs' Series
More Amazing Entrepreneurs
Abhishek, Harsh, Abhinav, Rakesh, Founders, Osam Dairy

Trending Now: