Bamboo entrepreneurs fought back from the brink of a washout with the resilience of a bamboo tree

Ajuli Tulsyan
&nbsp | &nbsp Hyderabad
02-May-2017
Vol 8&nbsp|&nbspIssue 18
Around 11 years ago, a young couple in Hyderabad was looking for an eco-friendly sofa-set for their home, and the search took them to a village in Tripura on the Indo-Bangladesh border where they got the idea of starting a business of building bamboo houses.
How the couple built their business that has now achieved a turnover of Rs one crore by bouncing back from the brink of a washout, with a piled-up debt of Rs 60 lakh, makes for an astounding success story.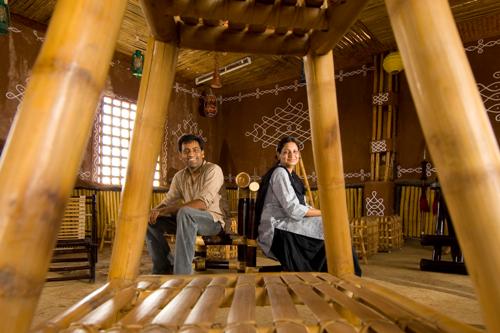 Prashant Lingam and his wife Aruna Kappagantula are owners of Bamboo House India, a Rs one crore turnover proprietorship based in Hyderabad

Six years ago Prashant Lingam and his wife Aruna Kappagantula, owners of Bamboo House India, a proprietorship concern, were neck-deep in debt.
"I can never forget that phase, about two and a half years, when we barely had one meal a day," says Prashant. "It has been a big teacher for me."
This took a turn for the worst when Prashant lost his father and thereafter Aruna lost hers. With a huge debt looming on their heads, they decided to sell whatever jewellery they owned.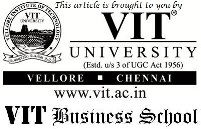 Prashant had continuously been borrowing from friends and family. And as if that was not enough, he fractured his ankle while delivering a lecture at the Institute of Chartered Financial Analysts of India (ICFAI) Business School in Shankarpally, and Aruna fell seriously ill after the delivery of their daughter, Tanya. Both Prashant and Aruna were forced to convalesce.
However, one project they bagged in 2012 turned things around for them and business picked up gradually. In the next three years they made around 150 bamboo houses (at the rate of about Rs 500 per sq feet). Most of them were either penthouses or farmhouses.
Now 40, Prashant, a reluctant student during his younger years and an MBA dropout has a fabulous story to share with budding entrepreneurs.
"Studies were never my cup of tea," says Prashant, who along with his wife is a 'Chief Labourer' at Bamboo House India. Chief Labourer is somewhat a humble euphemism for CEO or COO.
Prashant completed his Class XII from VV College, Koti, Hyderabad, following it up with graduation in Economics and Commerce, in which he just about scraped through with 40 per cent marks. His parents persuaded him to take the entrance test for an MBA at Osmania University.
He got in but couldn't bear more than a semester there, and stopped going to college. No one in the market was willing to give him a job with an incomplete MBA. In 2001, a disappointed Prashant decided to start out on his own, setting off a chain of events of which no one could have predicted the outcome.
Back then in 2001-2002, a friend offered a business partnership in his company, Equation 28.6, which mainly imported LPG gas geysers, along with some items from China.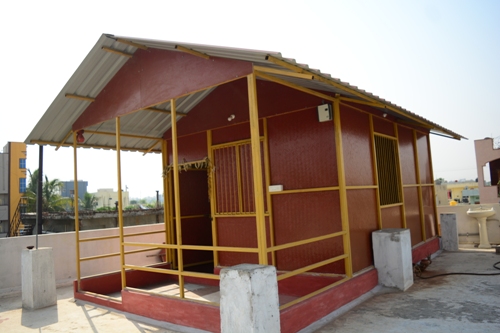 A bamboo house can be built for as low as Rs 1 lakh

Prashant did not have money to invest as he came from a middle-class family – his father was an Indian correspondent for Novosti, a Russian newspaper, and later joined the Communist Party newspaper, New Age, while his mother was in the HR department of a private company.
Though his friend insisted he would invest completely on his own, Prashant borrowed Rs 10,500 from his mother's sister to make the deal fair. Prashant's core area of work was LPG gas geysers and he proved to be an ace businessman.
When he left after four years, the company was enjoying a turnover of Rs 3.5 crore. Making his own margins on sales, Prashant was earning a sound Rs one lakh a month.
In 2006, he married Aruna in an arranged marriage, and found a friend, confidante and soulmate. They were looking desperately for an eco-friendly sofa-set for their new home on the first floor of Prashant's parents' house.
A recce of local furniture shops left them cold, but they were bowled over by some of the bamboo furniture they saw on Google.
Bamboo is, after all, a grass and fitted the 'sustainable' bill perfectly. As they found out more about the places where they could buy or get such furniture made, they decided to visit one such place on a whim.
They landed in Katlamara village in Symna district of Tripura, right on the Indo-Bangladesh border, a place abundant with lush green bamboo. The livelihood of the villagers depended on making bamboo handicrafts for the local markets. And a mission was born.
"Right there we decided, just out of the blue, to make bamboo houses – yes, this would be our business and dream project," says the young businessman. Their Google research had revealed that across the globe bamboo houses were popular while in India they hardly existed.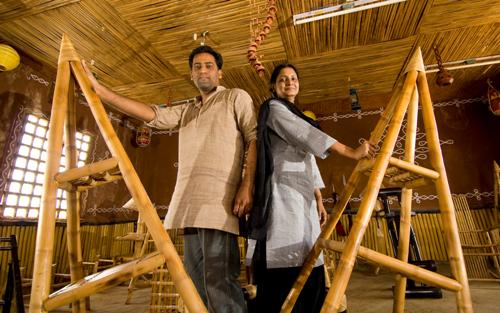 The most lucrative deal bagged by Bamboo House India was a Rs 20-lakh farmhouse project in Pune

"It was a new concept, so we researched deeper," says Prashant. "Our idea got support when a Planning Commission Report of 2003 showed that the Indian bamboo market had a potential of Rs 26,000 crores by 2015, and to top it, India was the second largest producer of bamboo after China."
But Prashant and Aruna had overlooked a very vital point: that the India Forest Act 1927 states that nobody can harvest or transport bamboo without permission from the Forest department. There were many more complex Central and State laws regarding bamboo use, and this was a challenge.
By this time he had leased half an acre of land in Uppal, Hyderabad - with money borrowed from family and friends – where he had set up a workshop and put together a 25-member team.
Aruna had also formed the proprietorship 'Bamboo House India'. "There was no looking back," shares Prashant. This was despite the fact that the politically volatile North-East region was prone to dangerous events: once Prashant survived a bomb blast a bit too close for comfort in Guwahati, lost his local guide; then he was picked up, not once but twice, by the local forest tribes (who let him go later).
Today, Prashant has reasons to smile as his work has got international attention. The most lucrative deal so far has been a Rs 20-lakh farmhouse project in Pune while the lowest billing was for a house for Rs one lakh in Hyderabad.
An average of Rs 2.5 lakh is billed per house, which includes fireproofing, waterproofing and so on, though his focus remains penthouses for affluent clients.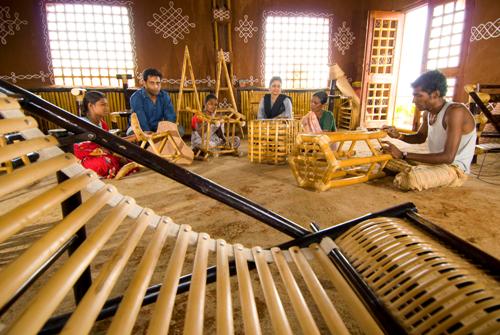 Prashant Lingam and Aruna Kappagantula employ around 20 tribal bamboo artisans at their workshop in Hyderabad

As of now 20 tribal people are a part of the full-time team of this social entrepreneur, who takes care of their lodging, medical requirements, food and children's education, besides an average salary of Rs.15,000-20,000 per person.
Annually, Bamboo House India provides employment to between 10,000 and 15,000 people in both rural and urban sectors.
B-schools across the globe have approached him and have done case-studies of his business model. "The major milestone was when the World Bank compiled my entire work as a case-study of the use of bamboo as an alternate construction material," says Prashant.
NextBillion, a US Think Tank, listed him among the Top 100 Social Entrepreneurs of the world in March 2016.
Prashant has also tied up with the Greater Hyderabad Municipal Corporation (GHMC) for a huge project for bus shelters using Pet bottles and seating made with tyres. He also plans to place pots made of tyres for plants across the city. His vision includes tying up with schools and colleges, and having students involved in collecting Pet bottles.
Weekdays are hectic for Prashant, who loves going on bike rides with Aruna and Tanya or watching old 60s' or 70s' movies on YouTube on Sundays.
"I am happy with what I have and work is my passion," he concludes. "I hope I can help entrepreneurs in their bamboo startups and spread the word on the boons of bamboo."
This Article is Part of the 'Amazing Entrepreneurs' Series
More Amazing Entrepreneurs

Trending Now: