How a man cleared Rs 55 lakh debt by selling vada pav
P C Vinoj Kumar
&nbsp | &nbsp Mumbai
05-November-2016
Vol 7&nbsp|&nbspIssue 45
With a diploma in hotel management from the Institute of Hotel Management, Mumbai, and an MBA from Symbiosis Institute of Business Management, Pune, under his belt, Dheeraj Gupta, hailing from a family that was into traditional food and mithai business, must have believed that he had all the right credentials to launch his own business in the Indian sweets segment.
"I wanted to sell Indian sweets like how they sell chocolates and make them available in all the shops. I took a bank loan of Rs 15 lakh and started a small sweet-making unit, where we made sweets like rasgullas and gulab jamun.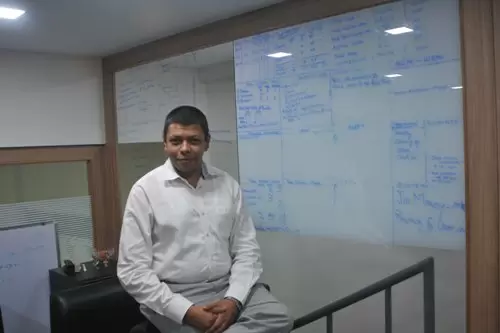 Dheeraj Gupta launched Jumboking in 2001 from a 200 sq ft shop in Malad, a Mumbai suburb (Photos: H K Rajashekar)

"I did a lot of research to increase the shelf life of the sweets. But the project ran into losses and I kept pumping in more funds. I borrowed money from my father and brother.
"I was 25 years old then. I made several mistakes in the one and a half years the project lasted and lost Rs 55 lakh by the time I shut down the business," recalls Dheeraj, who however rose from the ashes like the mythical Phoenix and created Jumboking, which is currently a Rs 20 crore turnover fast food chain that retails vada pav, a popular street snack in Maharashtra.
Looking back, Dheeraj is grateful to his father for letting him follow his heart and funding his second venture despite the heavy losses he had suffered in the first one.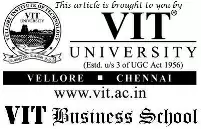 "I started Jumboking in 2001 five months after 'Shagun' my first venture folded up, with Rs 2 lakh I borrowed from my father. The first outlet we opened was outside Malad railway station in suburban Mumbai in a 200 sq ft space.
"I had my office on a 50 sq ft mezzanine in the outlet itself. I had four employees and we started making profit from day one, touch wood. The real MBA had happened at Shagun no - though it had cost me Rs 55 lakh," he laughs, sitting now in a larger, air-conditioned mezzanine at their corporate office in Goregaon East, Mumbai.
Initially, his decision to set up a vada pav shop was not welcomed by everyone. Only street vendors sold vada pav and it was unacceptable for many that a well educated person from a respectable family would venture into this business.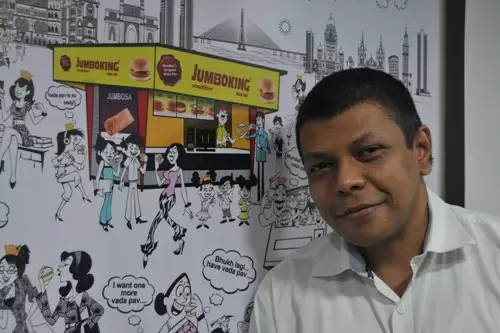 Out of 70 Jumboking outlets, 47 are located in Mumbai and Pune

But those who scoffed at the idea of an MBA grad setting up a vada pav shop are now eating humble pie, or rather the humble vada pav.
Into its 16th year, Jumboking serves 20 varieties of vada pav from 70 franchised outlets. Forty seven are in Mumbai and Pune, and the rest are located in seven cities including Hyderabad, Indore, Bangalore, Lucknow, and Amaravati.
Dheeraj has learned and unlearned a lot of things since starting Jumboking and the company has evolved over the years.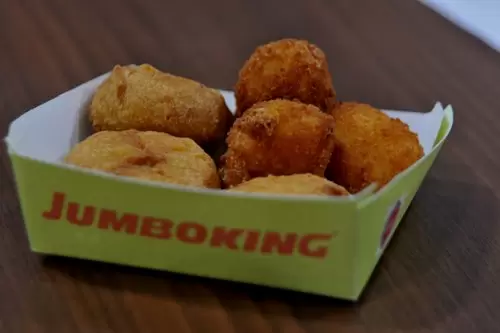 Jumboking offers about 20 variants of vada pav at its outlets

"My advice to startups is, don't be too rigid with your plans. You might have started with a certain thought process but it doesn't mean you have to stick to it. You need to identify which part of your business is working and move on in that direction.
"At one stage we expanded across India, but soon realised that there was no ready market for vada pav in many cities because the product was not well-known there.
"For the time being we have stopped expanding outside Maharashtra and turned our focus on Mumbai and Pune markets.
"We estimate there is a Rs 200 crore market for Jumboking in these two cities. We want to earn enough to set aside a sizable advertising budget before we enter new markets," says Dheeraj.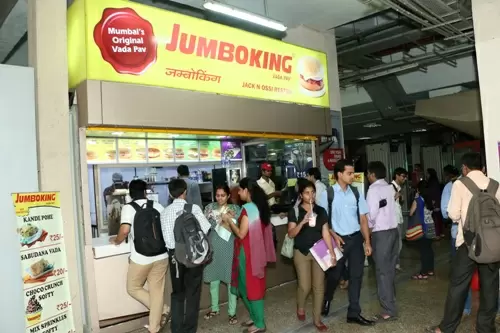 Crowds outside a busy Jumboking outlet (Photo: By special arrangement)

Jumboking's turnover in the first year was Rs 40 lakh. Dheeraj started repaying his debts and opened his second store after three years in 2003 at Kandivili, another Mumbai suburb.
As business grew, a major dilemma that Dheeraj often faced was whether he should expand through company-owned stores or franchisees. It took some going back and forth before he settled on the franchise model.
"My first three stores were company-owned. Then we decided to franchise and gave even the three company-owned stores to franchisees.
"In 2009 some HNIs (high net worth investors) invested in Jumboking and acquired 35 per cent stakes in the company. We then felt we would have better controls on operations and services if the stores were company-owned.
"So we started buying back from the franchisees. After reaching 23 stores and building a team of 153 employees, I realised I was spending more time in managing the staff, and recruiting people.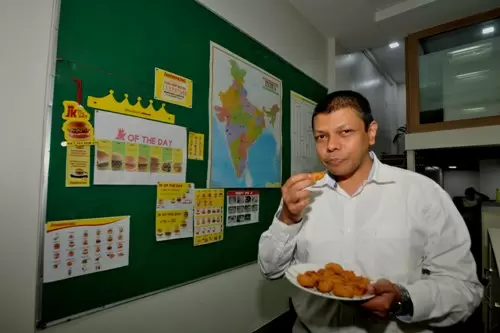 Dheeraj getting a taste of one of their products

"We decided our job was not to run the stores and reverted to the franchise model," says Dheeraj.
"A franchisee invests Rs 15-20 lakh on the store. The payback period is usually one and a half to five years. They pay eight per cent royalty fee from the total sales - which would become 10 per cent from next year, as we want to increase our ad spend for the brand," he adds.
Nowadays he devotes his attention to creating franchisees. He has developed a robust supply chain and new products.
"We have got two centralised kitchens at Mumbai and Pune and a sauce plant in Ludhiana, which can supply material to New York tomorrow if required. A lot of technology has gone into building the system," reveals Dheeraj.
For someone who grew up in a large joint family in Mumbai, with siblings and cousins to play with at home, Dheeraj, now 42, took the difficult path to strike it out on his own instead of joining the family business.
Earlier, he had fallen in love with college topper, Reeta, a South Indian from Palakkad, Kerala, while doing his MBA at Symbiosis. He married her after launching Shagun, his short-lived first venture.
Jumboking will spread to more cities once it has sufficient advertising budget in place, says Dheeraj

Reeta stuck with him through thick and thin. "She runs her own company now. She used to do marketing and PR for us. Later we thought she could use her skills for the benefit of ten other companies," explains Dheeraj.
A voracious reader, he was greatly inspired by the stories of Walmart founder Sam Walton, Ray Kroc of Macdonald's, Sony founder Akio Morito, and our own JRD Tata – which have driven him as an entrepreneur.
Dheeraj has two children, Neha, 14, and Karan, 10. Neha was a nationally ranked table tennis player at the cadet level, but has now switched to shooting.
"Her ambition is to win an Olympic gold for the country in shooting," says the proud dad, who has set a target of making Jumboking a Rs 100 crore turnover company by 2018.
This Article is Part of the 'Amazing Entrepreneurs' Series

More Amazing Entrepreneurs

Arun Kharat, Founder, Wings Travels

Trending Now: