Starting as a car washer with Rs 500 salary, he built a Rs 20 crore turnover company
S Sainath
&nbsp | &nbsp Hyderabad
21-May-2016
Vol 7&nbsp|&nbspIssue 21
Starting as a car washer at Rs 500 a month and working through a series of field sales jobs, the Hyderabad-based Battala Munuswamy Balakrishna now owns a water treatment equipment company, Aquapot, catering to both the domestic and commercial segments with an annual turnover of Rs 20 crore.
The 34-year-old Balakrishna has come far from the days when he had to count every rupee. "If I spent Rs 10 I would calculate that my parents had earned that from selling three litres of milk," he says of his youth.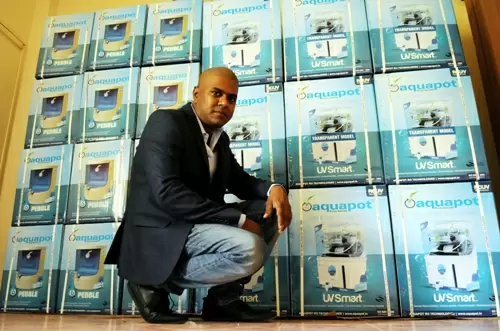 Balakrishna's first job was at an authorized Maruti car showroom in Bangalore as a car washer

The same parents now have a 33-lakh Toyota Fortuner from him, as he feels they deserve the best of the good days.
Coming from a poor family in Sankarayalapeta in Chittoor district of Andhra Pradesh, Balakrishna studied in the village school. His father was a small farmer and the family also sold milk.
In 1998-99, after completing a vocational course in automobile engineering (technical) from a government college in nearby Palamneru, Balakrishna headed to Bangalore with the Rs 1,000 his mother had given him in painstakingly saved ten-rupee notes.
He knocked on the door of every single automobile showroom, but no one hired him as a mechanic.
In 2001, he finally joined Margadarsi Motors, an authorized Maruti car showroom as a car washer under his first boss, a 15-year-old boy.
After six months, when on a holiday back home in his village, Balakrishna applied for the post of a marketing executive in CRI Pumps, which made pumping systems for residential, agriculture, building, water supply, mining and other applications.
The next three years formed a gruelling but growth-oriented period of his life. Travelling in open jeeps and rickety buses to sell pumps, conducting trade fairs, and doubling up as the company's publicity manager, Balakrishna, with his colleagues, traversed the length and breadth of Nellore, Cuddapah, Chittoor and Anantapur districts.
"We slept in vehicles and paid Rs 50 in small hotels for a bath," says Balakrishna, whose salary then was a meagre Rs 2,000 per month. However, by the time he left CRI Pumps after three years, his monthly salary had risen to Rs 4,800.
He worked for the next six years at Point Pumps, a Coimbatore company - again selling pump sets at a monthly pay of Rs 6,000 - and in Ador Welding Ltd, a Mumbai welding products company, where he held a marketing post overseeing the sales for the whole of Andhra Pradesh for Rs 12,000 a month.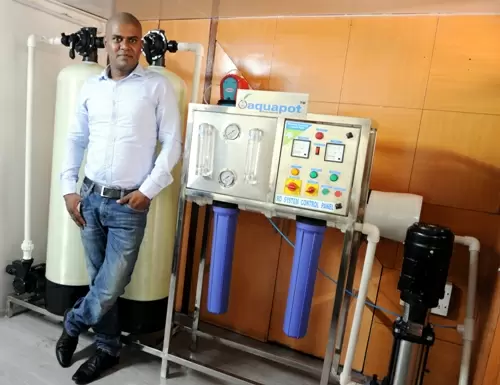 A 1000-litre capacity commercial unit is ready for delivery

By 2008, Balakrishna had collected a wealth of experience, dealing with thousands of people from different parts of the country.
He joined Rieco Industries, a manufacturer and supplier of industrial air pollution equipment. Based in Hyderabad and overseeing sales in all of Andhra Pradesh, egging it out in the sun, he would bag business worth a crore rupees, but the credit would be snatched away by a senior sitting back in an air-conditioned office.
Disenchanted with this, in 2011 Balakrishna decided enough was enough. It was just a year after his marriage.
On an impulse, Balakrishna dipped into his savings and paid an advance of Rs 1.3 lakh for office space in Hyderbasti in Secundarabad, and had to gear up to pay a monthly rent of Rs 14,000.
By this time he wasa seasoned salesman, a thorough professional, and a field person who knew how to sell a product. He felt he could take the risk of venturing out on his own. The thought of failure just did not occur to him.
But he had no idea what on earth he was going to do!

"I just wanted to start something," he says, "anything. Even sell pani puri. All I knew was that if a man has an easy option he will never progress."
It was a childhood friend Naveen who suggested the reverse osmosis (RO) based water purification business. Seeing potential in the segment, Balakrishna travelled to Chennai for a water expo to get acquainted with the industry, and then to Salem in Tamil Nadu, where a former colleague from CRI Pumps manufactured domestic ROs.
Three days of intensive self-education later, Balakrishna returned to Hyderabad with 20 units of domestic ROs from Salem.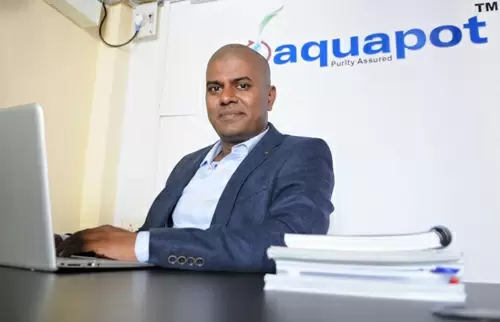 When he decided to venture on his own, Balakrishna was prepared to sell even sell pani puri

Selling products and convincing customers was second nature to Balakrishna. He sold the Rs 1.2 lakh worth of RO units within a month and realized that perhaps this was it: a market with potential growth and good margins.
He set up his company - Aquapot RO Technolgies - as a sole proprietorship two months after he took over the office space.
He started with just Rs two lakh, assembling domestic ROs, buying some parts and having others made to order and customised. Today his staff assembles domestic ROs in three locations in Hyderabad and his team goes onsite to establish commercial plants.
The company grew by 25-50 per cent every year.
Of course there were reasons for that. A stickler for quality, Balakrishna personally ensured that all the 46 components in Aquapot's domestic RO were of the best quality.
That's probably why his company is giving big players such as Kent, Eureka Forbes, Live Pure and others in the industry a run for their money.
Aquapot products are sold in Chennai and Madurai in Tamil Nadu, Nanded in Maharashtra, Hubli and Bengaluru in Karnataka, Tirupati and Vijayawada in Andhra Pradesh, and Hyderabad and its neighbouring districts in Telangana.
All Aquapot employees, 54 of them in five States, have been given smart phones and the facility of a meal and cab back home when they work late. At least three to four employees have been with the company from day one, their salaries having more than tripled in the last five years.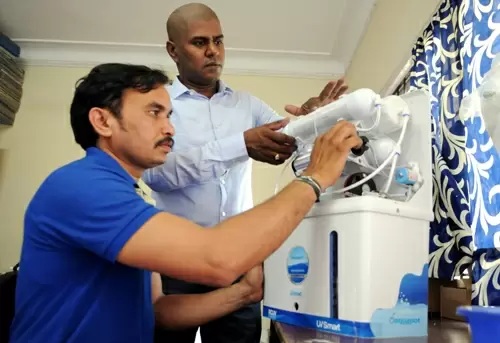 Aquapot employs 54 people. In photo, Balakrishna is seen with an employee who is assembling a domestic water purifier

When the company bagged an award - Aquapot has received at least 20 such - in Delhi recently, Balakrishna bought suits for the two employees who were flown down to Delhi to receive it.
"At Aquapot we recognise the efforts of our staff and want them to be a part of our success," Balakrishna explains his inclusive employee philosophy.
At the other end of this positivity spectrum is the customer. Balakrishna goes to any extent to make his customers happy - when a customer had forgotten to carry home a part worth Rs 30, he didn't think twice before sending an employee to deliver it at a transport cost of Rs 250.
There are close to 1,500 RO companies in India, with a value of Rs 30,000 crore in market share, and Aquapot occupies one of the top 20 slots at present.
Balakrishna says, "The only reason we are able to maintain a steady growth is due to our quality and service."
The secret of his success could well lie in his attitude to everything he does, from the smallest to the biggest task.
"There is no one who can wash a car better than me – the tiniest groove doesn't escape me," guarantees this avid reader of personality development books such as The Secret by Rhonda Byrne.
There are no two ways with Balakrishna: either you do it perfectly or do not do it at all. And no job is too small.
Aquapot is also into research and innovation. In fact, Balakrishna has jointly patented a solar-powered water purifier; with a close friend and business associate Naser Azeez.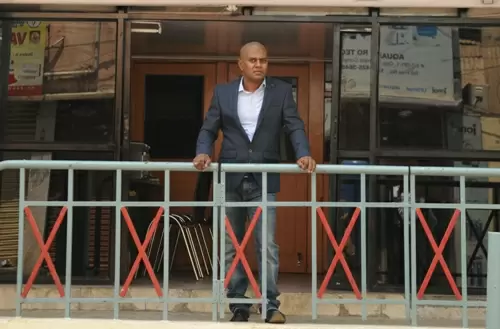 Balakrishna is looking at doubling his company's turnover this financial year

It can purify 60 litres of water in an hour and, fittingly, Aquapot – as part of its CSR – has donated five of these to schools in the Chittoor and Nalgonda districts in Andhra Pradesh and Telangana.
Having just completed a Rs 70 lakh project in Bhimavaram, Andhra Pradesh, for the fish-food processing industry, Balakrishna has set his sights on a turnover of Rs 45 crore in this financial year – twice that of last year.
Working towards that, he has already acquired a warehouse in Kompally, Hyderabad, to house Rs 4 crore worth of equipment.
It was a long hard road till here and he is not going to stop.
After all, Balakrishna has never given himself that easy option.

You might also like

From making air purifiers to innovating a fruit and vegetable purifier, he has come a long way
Wish to share your story?
Trending Now: