Mixed cropping, organic farming and water saving technologies help Naidu turn barren land into a green farm
S Sainath
&nbsp | &nbsp Hyderabad
29-February-2016
Vol 7&nbsp|&nbspIssue 9
At a time when farmer suicides continue unabated in Telangana State, a 62-year-old farmer, Gudivada Nagaratnam Naidu, defies the second consecutive drought season, setting national records in paddy and groundnut yields, and showing the way to prosperity with innovative methods and intelligent farming.

"There is even a flourishing apple tree on my farm," declares G.N. Naidu – the altitude and rainfall demanding apple tree being symbolic of what he has achieved on his 17-acre farm on what was once parched land in Taramathipet village, about 25 km from Hyderabad.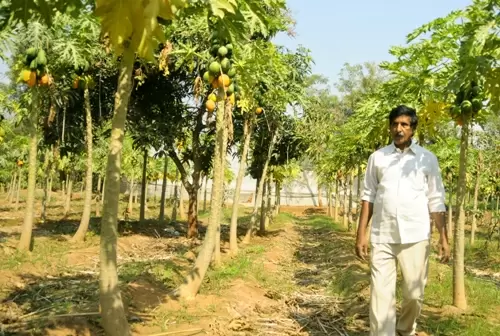 A wide range of fruit trees and flowering plants, besides paddy and vegetables are cultivated at Naidu's farm near Hyderabad (Photos: Srinivas)

Apart from the five acres set aside for paddy, Naidu grows papaya on three acres – stacking up to 45 tonnes of this fruit seasonally – besides flowers of 20 regular and exotic varieties which are transported to Bengaluru every day, and a range of vegetables including brinjal, okra, beans, tomato and green leafy veggies.
Add to that list: guava, banana, five varieties of mango, coconut, almond, jamun and sapodilla, and you know why today, apart from providing salaries to 12 employees in a massively debt-trapped population, every month Naidu takes home close to a lakh rupees – along with the coffee, pepper and cardamom he grows for personal use.

On this February morning he has just arrived at his farm at 8:30 a.m. from his modern duplex home in Dilsukhnagar in Hyderabad. Usually he takes the State-run bus, as does his 93-year-old mother Muni Ratnamma.

All along the way, through the Himayatnagar mandal of Ranga Reddy district, the landscape is the barren and rocky land synonymous with the Deccan plateau. Not a patch of green, or even a shrub. Certainly no apple tree!

This was where it started in 1989. Naidu, a service engineer, along with his wife Satyavathy, an office assistant, both working in Associated Marketing Agencies, an electronic goods firm in Hyderabad, resigned and made their way back to their roots.

Born in Balakrishnapuram village in Chittoor, Andhra Pradesh, Naidu had followed the conventional trail of school, studying electronics in a polytechnic, and finding work in the capital city. But it was farming that called to him.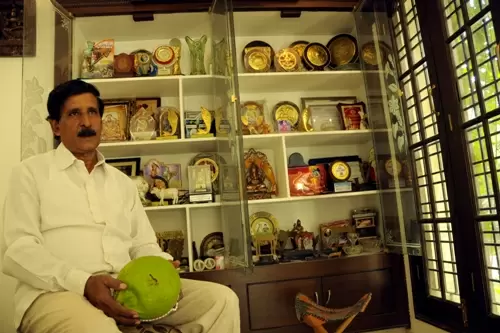 Naidu has received several awards for his achievement and is a much sought after speaker at agricultural universities

"When I first went with friends to survey the land, everyone discouraged me," Naidu says. "They said it was impossible to till in this rocky terrain." His friends were right, but Naidu was determined.

For want of money, men and machinery, he along with his wife and his mother – just the three of them –pulled out rocks, weeds and shrubs, and enriched the land with cow dung. It took all of six years and 300 lorries of rocks removed for the resolute trio to get the farm in shape.

Initially an acre was made fertile and the first investment was the purchase of two cows – now they have 12. The rocks still persevere. So does the gritty threesome. Satyavathy says, "Even now we keep removing rocks that sprout from nowhere!"

The turnaround came when Naidu read about SRI cultivation in a journal. SRI or the 'System of Rice Intensification' is an agro-ecological methodology for increasing the productivity of irrigated rice by managing plants, soil, water and nutrients.

A man of science, Naidu decide to adopt it, and learnt that long-standing misconceptions are responsible for low yield of crops, such as paddy. According to him, paddy requires water but is not a water plant as is generally believed; secondly, farmers plant too deep in the soil with their fingers. It works better to just place the plant on top of the soil and allow the roots to search for water.

Precise distances between two plants and rows, and comparatively less water ensures that "the root will search for water and absorb micronutrients in the surrounding areas."

Importantly, the number of seeds used per acre is far less in the SRI method of cultivation than traditional ways; while conventional farmers use 30 kg of seeds per acre, only 2 kg of seeds is required in the SRI method.

"If one could collect the seeds wasted every year, we could feed the nation for 22 days," says Naidu in a rough but insightful and amazing estimation. Naidu had made a good decision with SRI. It doubled his yield of paddy. If 35 bags per acre is the maximum yield that a farmer gets, Naidu managed 92 bags!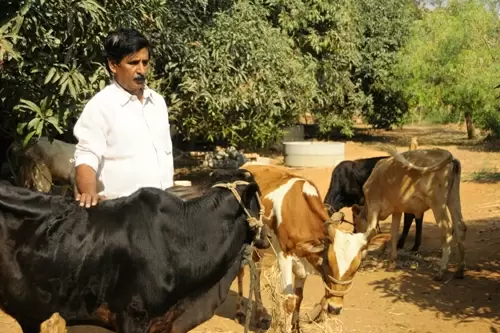 The twelve cows in Naidu's farm are an integral part of the organic farming practiced here.

This was in 2004. And there was no looking back.

News of Naidu's farm and its golden harvest spread far and wide. Accolades started pouring in from Chief Ministers and Union ministers. In the process thanks to the spotlight on it, Taramathipet village got good tar roads when the then Chief Minister of Andhra Pradesh, Late Y.S. Rajasekhara Reddy, visited Naidu's farm.

Agricultural scientists thronged to the farm – more than 40 scientists from as many countries. Not just that, in 2006 the State government chose Naidu to interact with US President, George W. Bush, who visited the then united Andhra Pradesh, where Naidu explained SRI cultivation to him.

This season, for want of water and electricity, Naidu is not cultivating paddy; instead he is relying on the fruit, vegetables and floriculture to assure him and his team of a dozen workers financial stability.

"Mixed cropping assures farmers a continuous income," Naidu says. "If I were to depend on just paddy, I too would have been in trouble." His use of mixed cropping, organic farming and dry-land water saving technologies has paid off. Naidu does not use pesticides and fertilizers; cow dung and neem cakes are enough to replenish the soil.

Naidu's agricultural philosophy and methods have become an inspiration. He is most sought after to share his rich experiences at agricultural universities and research centres. Till date he has trained more than 50,000 students across India in the farming practices he employs.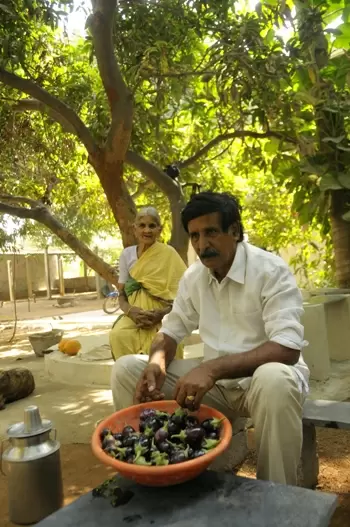 Fresh farm produce – brinjals harvested at Naidu's farm.
In India he has delivered lectures in farming communities in Gujarat, Karnataka, Maharashtra, Uttar Pradesh, Uttaranchal, Madhya Pradesh and Haryana, to name a few, and also in South Africa, Ethiopia, Bangladesh, Malaysia, Thailand, Singapore and China, among other countries.

He has bagged nearly 300 awards in the State and in the country, besides international honours such as a certificate of appreciation from the Association of Land Reforms and Development, Dhaka, Bangladesh in 2007, a letter of honour from ICRISAT (International Crops Research Institute for the Semi-Arid Tropics) in 2008 for implementing organic farming practices in groundnut cultivation and generating a record yield of 95-110 kg pods from 2 kg seeds, and the best SRI farmer award from WWF Netherlands.

In an agriculturally bleak State where 2,000 farmer suicides were reported in the last two years, Naidu stands as an affirmation of life and accomplishment, grit and determination. "I want to make impossible possible," Naidu says. And he has.

The three-foot apple tree bears testimony to this.

Trending Now: